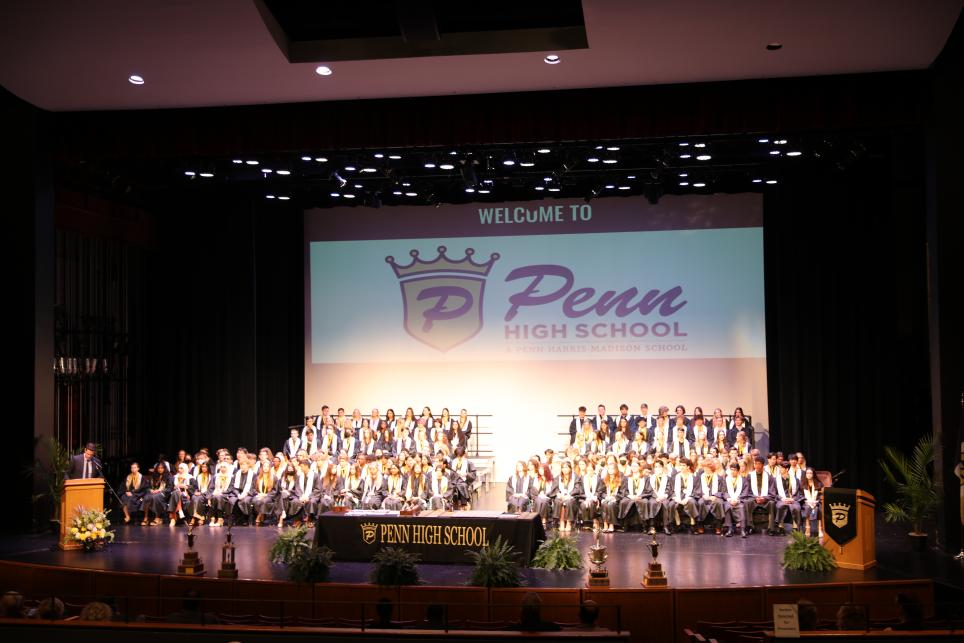 Class of 2022 Awards & Points of Pride
Posted on May 11, 2022



As of publish date of this story, approximately 842 Penn students will be eligible to graduate at Notre Dame's Purcell Pavilion on Monday, June 6, 7:00 p.m. A livestream of Commencement will again be provided to friends and family not in attendance on Penn's website, https://penn.phmschools.org/2022PennGraduation. Click here for more information on Commencement.

Principal Sean Galiher, Director of Counseling John Westra, Counseling Department, Penn Faculty families gathered in Penn's CPA Tuesday, May 10 to celebrate the accomplishments of the the Class of 2022. The event recognizes the academic success that members of the Senior Class have achieved recognizing them for awards and honors that they've earned for graduation.

Awards conferred at last night's Senior Recognition included academic excellence, leadership, service to school and community, citizenship, attendance, athletic accomplishments and a whole host of other accomplishments. The majority of these awards are recognized in this web story.

Many students were recognized for winning private scholarships during the program. So far the Class of 2022 graduates have earned approximately more than $11 million in scholarships! This number will continue to grow as notifications for private scholarships continue to come in over the summer months. We encourage students to notify the Penn Counseling Office of all your scholarships, even after you've gradated; it helps us measure the success of our graduates. Click here for a full listing of the private scholarships awarded/recognized during the program.

Nearly half, 385, are graduating with an Academic Honors diploma. To be eligible for an Academic Honors Diploma, students must accumulate a minimum of 47 credits in a prescribed curriculum and have a grade point average of 3.0.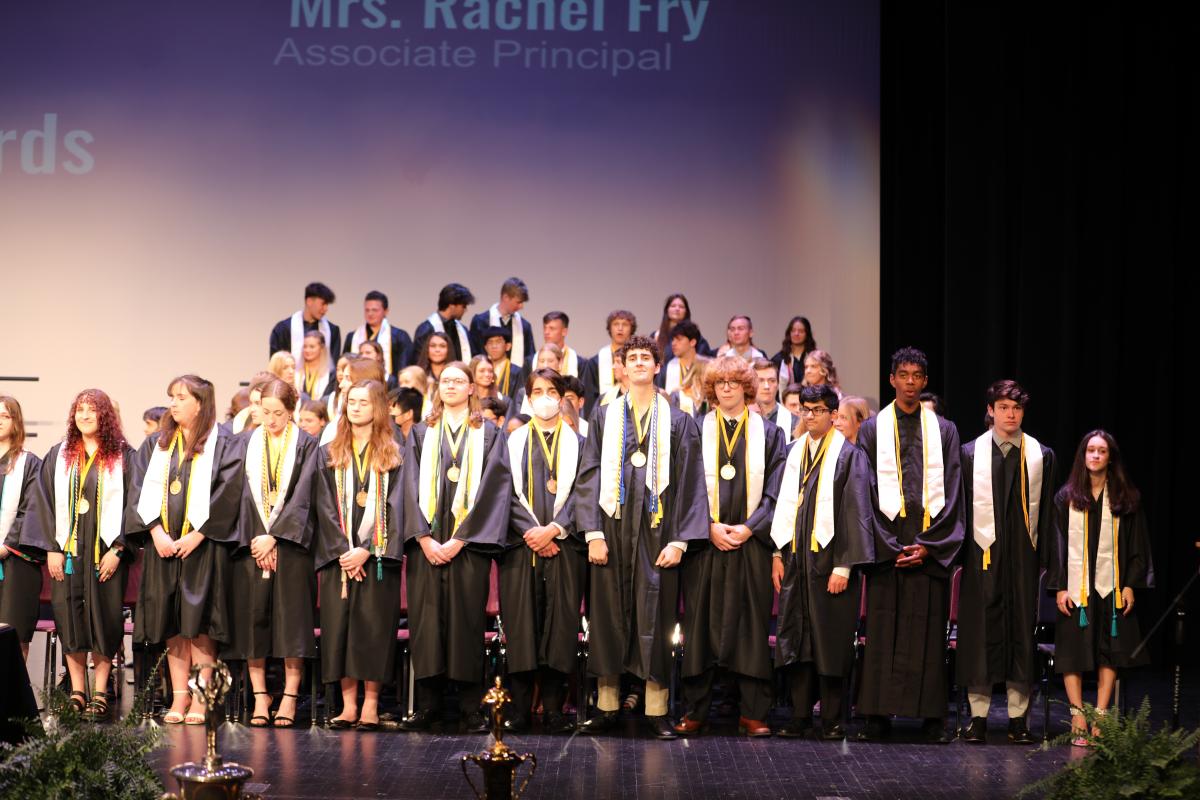 225 seniors are graduating with high honors. These students have maintained a 3.5 grade point average or above for the first seven semesters of high school study.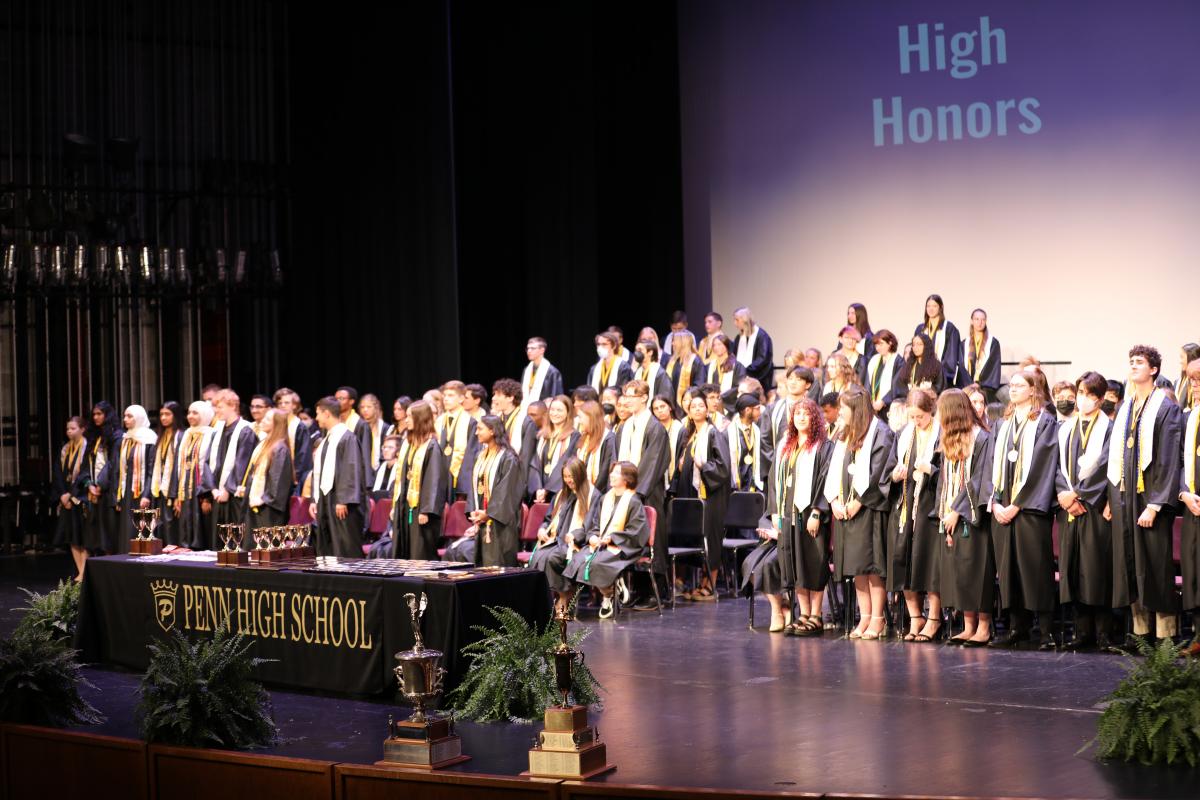 The Core 40 with Technical Honors diploma is awarded to students who complete professional internships and or college courses in a technical area; this year 51 graduates will graduate with a Technical Honors diploma.
The 2022 graduating class is the second class to receive recognition through the Latin Honors System:
22 students are graduating Summa Cum Laude with the highest praise by earning an Academic Honors diploma with a GPA greater than 4.25.
82 students are graduating Magna Cum Laude with high praise by earning an Academic Honors diploma with a GPA greater than 4.0.
97 students are graduating Cum Laude with praise with a GPA greater than 3.75.
The Penn High School Principal's Academic Excellence Award was presented to eight seniors based upon academic excellence and overall achievement: James (Wyatt) Gauthier, Matthew Jackson, Sydney Little, Anitej Waghray, August (Gus) Pogue, Vincent Anderson, Seleash Ngugi, and Ellen Trump.
The Principal's Leadership Award is presented annually to students who contribute their talent, time, energy, and motivation to the leadership of Penn's student body. Natasha Gibson and Sophia Nestler were honored for helping to make a difference in the culture of Penn on behalf of their classmates. Principal Galiher noted that the work and dedication of Natasha and Sophia went above and beyond that of any normal Penn student leader.
The Principal's Citizenship and Service Award was presented to eight Penn High School students who have selflessly donated many hours to make sure that Penn High School is well represented in whatever service project they are involved in. The winners of the 2022 Principal's Citizenship and Service Award were: Vincent Anderson, James Wyatt Gauthier, Sydney Little, SeLeash Ngugi, August (Gus) Pogue, Ellen Trump, Anitej Waghray and Matthew Jackson.
The Class of 2022 boasts 17 valedictorians. This year's valedictorians have an average GPA of 4.37 on a scale of 4.0! Click here to learn more about them and where they plan attending college.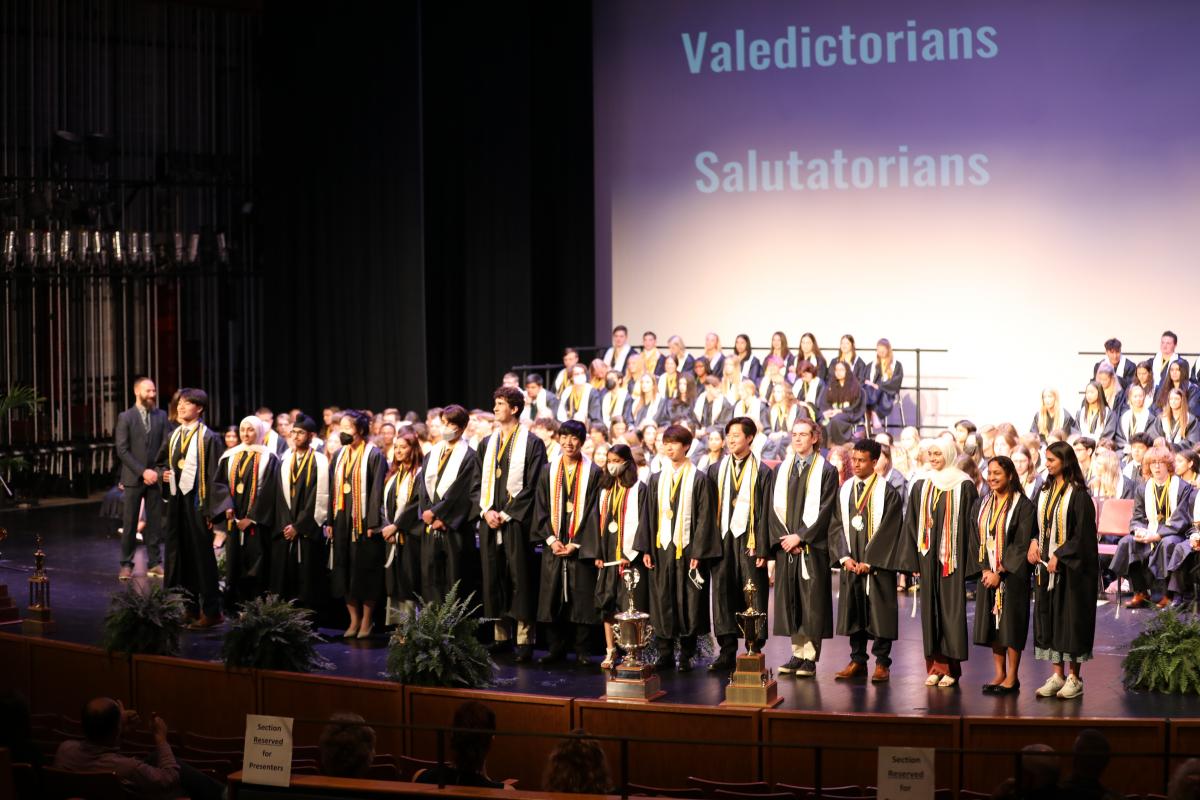 This year's valedictorians include: Parnasi Bandyopadhyay, Jason Kwok, Salem Fitwi, Shelley Shen, Amrita Kulkarni, Aisha Sirajuddin, Hala Ansari, Jeremiah (JR) Roach, Luca Nijim, Manaal Buchh, Saniya Zackariya, Matthew Zhang, Art Haines, Gurkirat Singh, Alexander Du, Nadia Ranginwala and Jedidiah Kim.
The five salutatorians are Claire Shive, Nikita Amin, Marin Chester, Kennedy Chester, Evan Nayee. Their average GPA is 4.27 on a scale of 4.0!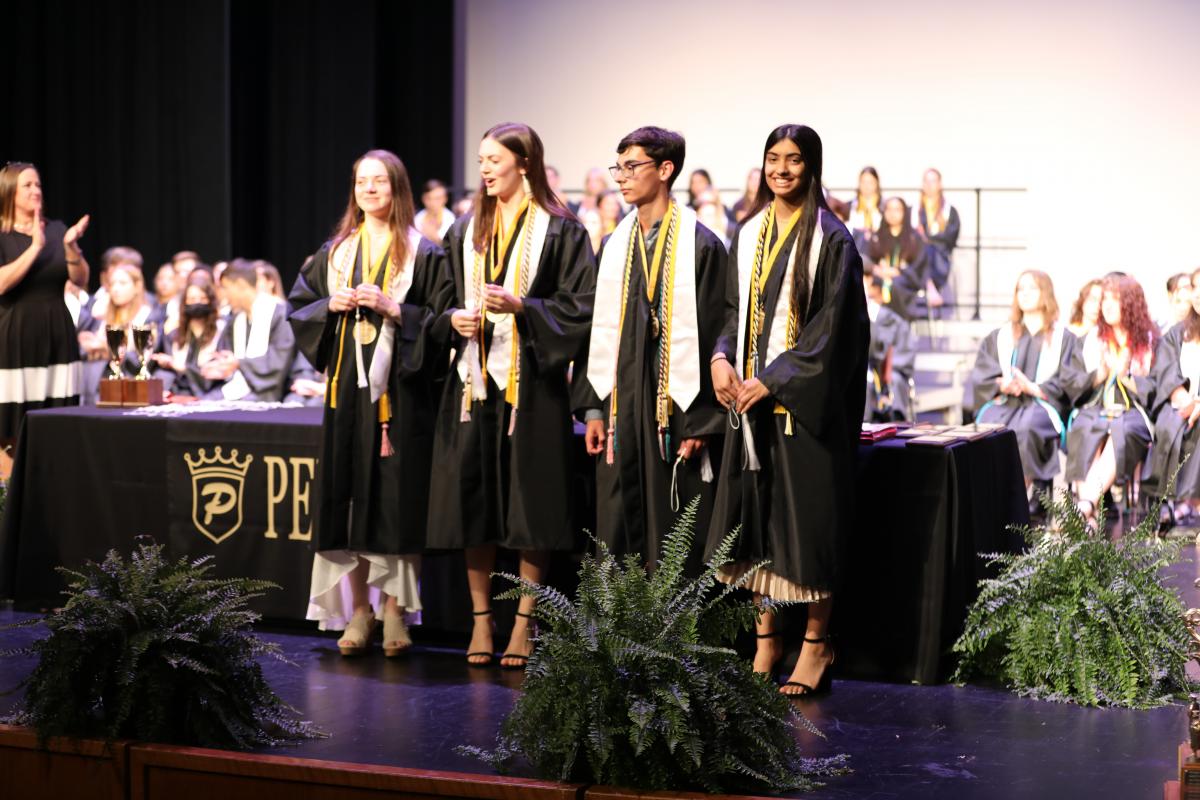 Matthew Zhang is a semifinalist for the 2022 U.S. Presidential Scholars Program! The US Presidential Scholars program was established in 1964 to recognize and honor some of our nation's most distinguished graduating high school seniors. Each year, from nearly 3.6 million graduating high school seniors, over 5,200 students are identified as candidates in this program. 620 semi-finalists are identified nationwide and advance to the final round. Of the semi-finalists, up to 161 students are named as Presidential Scholars, one of the nation's highest honors for high school students. Scholars have all demonstrated leadership, scholarship, and contribution to school and community.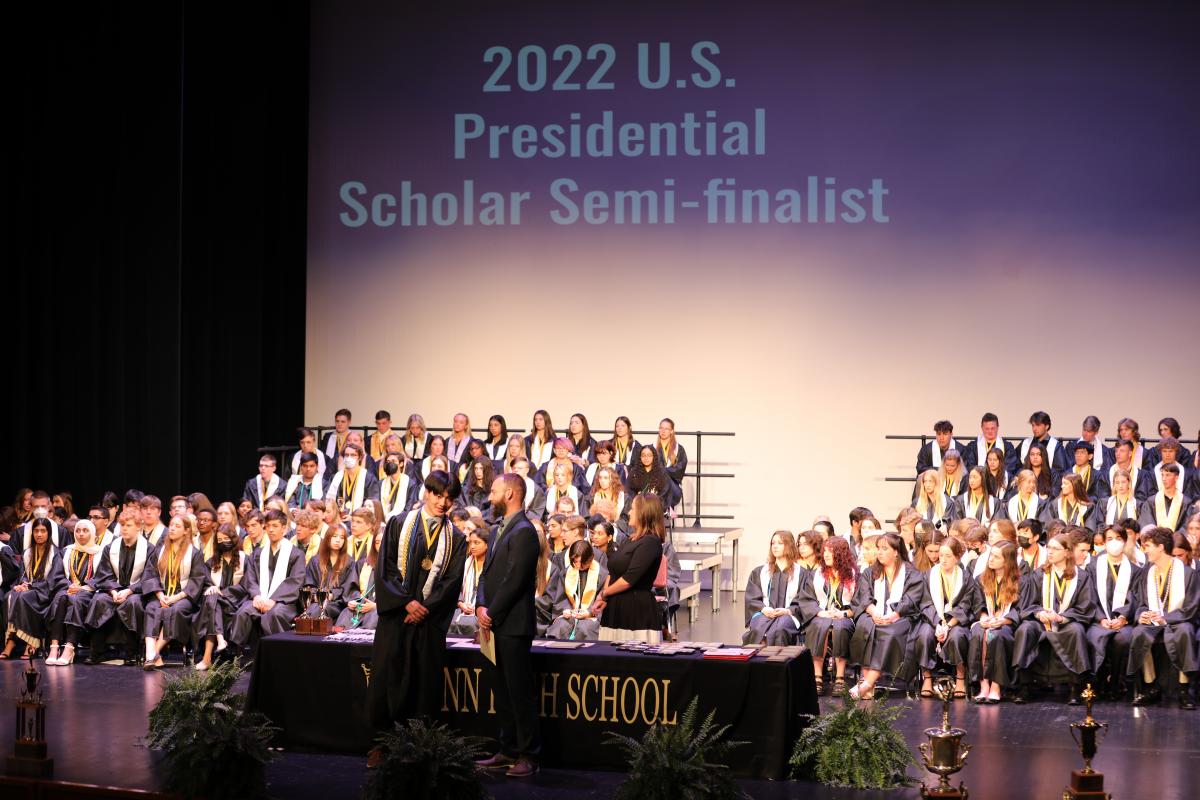 This year 10 Penn High School students designated as National Merit Semi-Finalists based upon their high PSAT scores have ALSO been named National Merit Finalists. These students advanced to Finalist standing in the Merit Scholarship competition of 2022 by demonstrating, through distinguished performance, high potential for future academic accomplishment. They are in the top 1% of all students in the country and eligible for one of the 8,000 scholarships to be awarded this spring. Penn's 2022 National Merit Finalists are: Hala Ansari, Manaal Buchh, Marin Chester, Alexander Du, Salem Fitwi, Arthur Haines, Evan Nayee, Luca Nijim, Jeremiah (JR) Roach and Matthew Zhang are among 15,000 Finalists nationwide who will compete for one of 2,500 National Merit Scholarships of $2,500.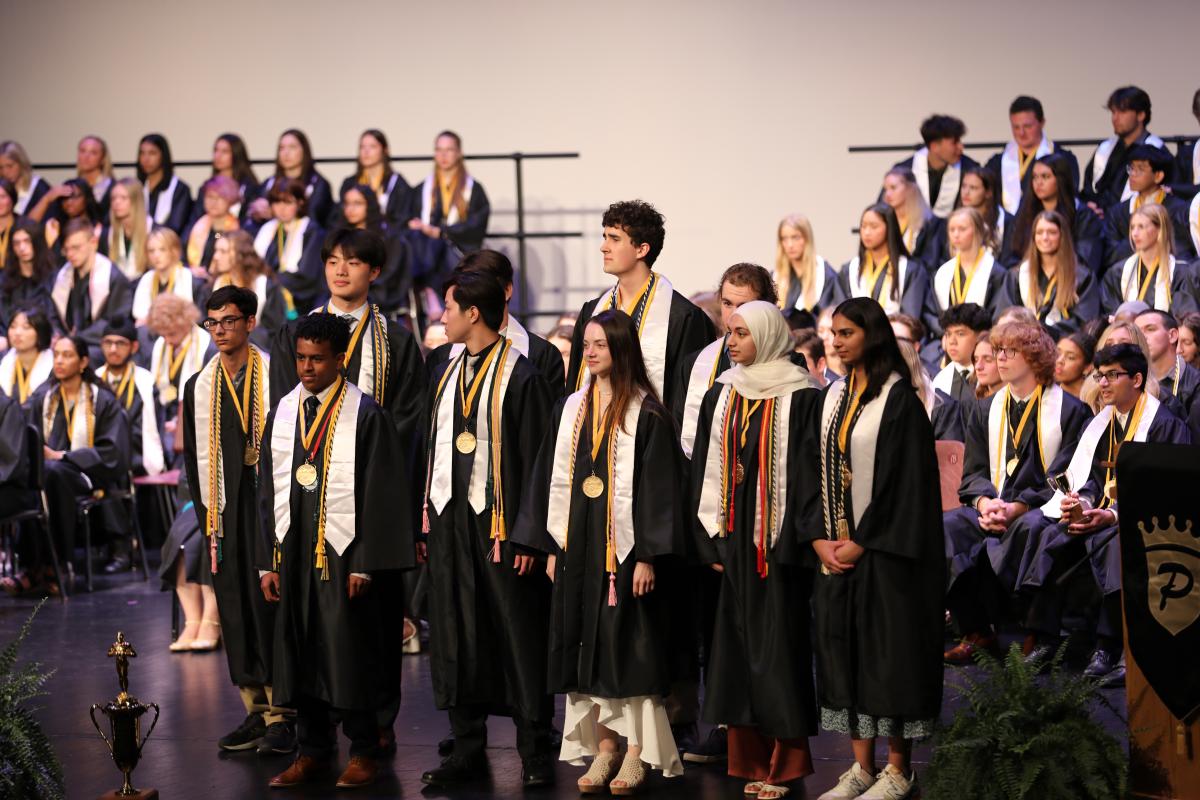 The following National Merit Finalists also received a scholarship from the National Merit Scholarship Corporation: Marin Chester and Luca Nijim.
Nine students received recognition from the College Board and were awarded National Merit Commended Scholar status: Parnasi Bandyopadhyay, Jedidiah Kim, Amrita L. Kulkarni, Augustine A. Putman, Shelley L. Shen, Claire S. Shive, Hunter B. Striegel, Anitej Waghray, and Saniya K. Zackariya.
Valedictorian Hala Ansari was also selected as a 2022 Indiana Academic All-Star. Each Indiana high school can nominate one senior for this prestigious award. Of the 100+ nominees, the selection committee chose 40 to honor as an Indiana Academic All-Star. Awards are presented to the students and an influential educator of their choice. Hala chose her math teacher Denise White to be recognized with her.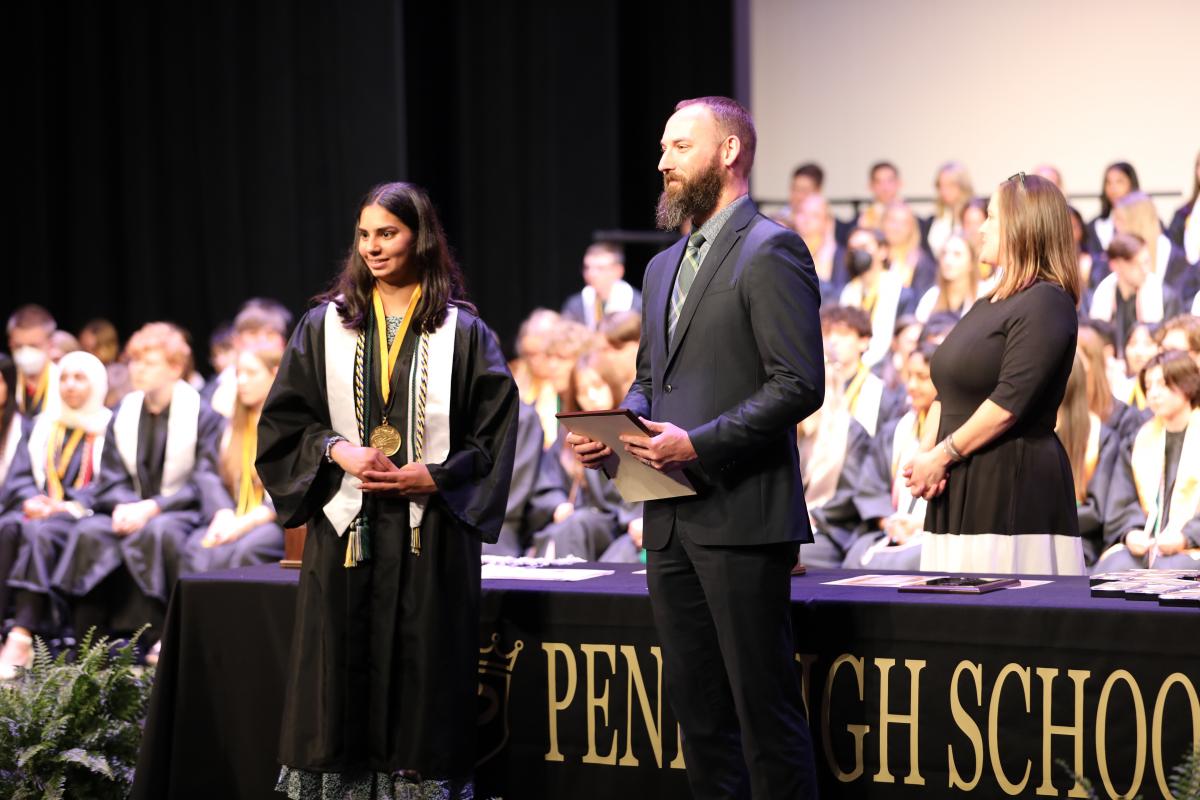 Four Penn students are being awarded the Community Foundation of Saint Joseph County Eli Lilly Endowment Scholarship based on their high academic merits and test scores. The prestigious Lilly Endowment Community Scholarship provides full tuition, required fees, required books, and equipment for four years of undergraduate study leading to a baccalaureate degree at any accredited Indiana public or private college or university. The students who received the award are Hala Ansari, Manaal Buchh, Salem Fitwi and Luca Nijim. Hala plans to attend Indiana University Bloomington , Manaal plans to attend Notre Dame , Salem plans to attend Wharton School of the University of Pennsylvania, and Luca plans to attend Notre Dame in the fall. Click to watch the video below about Penn's Lilly Scholars.
Three Penn students have been selected to receive full scholarships to Purdue University! Jake Huemmer, Johnnay Johnson, and Nikita Amin all applied and were chosen as part of the Posse Scholars program earning them full tuition and leadership scholarships from Posse partner colleges and universities. Click here to learn more about the Posse Scholarship Program. Jake, Johnnay, and Nikita are Penn's first awardees of this prestigioius award; they were selected from 1,300 nominations to become a recipient of the Posse Scholarship. As a part of Purdue University Posse, they become a member of a larger network of over 10,000 Posse Scholars and Alumni nationwide. Click to watch the video below about Penn's Posse Scholars.
Every year scholarships are also awarded for the Dr. and Mrs. Jerry Thacker Scholarship and the Larry Beehler Scholarship. Dr. Jerry Thacker is Superintendent of Penn-Harris-Madison School Corporation and Mr. Larry Beehler is a longtime member of P-H-M's Board of School Trustees. Students are in good standing and involved in extra curicuular activities. The awards for these scholarships are $1,000 each.
The 2022 recipient of the Larry Beehler Scholarship was August (Gus) Pogue. This scholarship is presented to a former Madison Elementary graduate.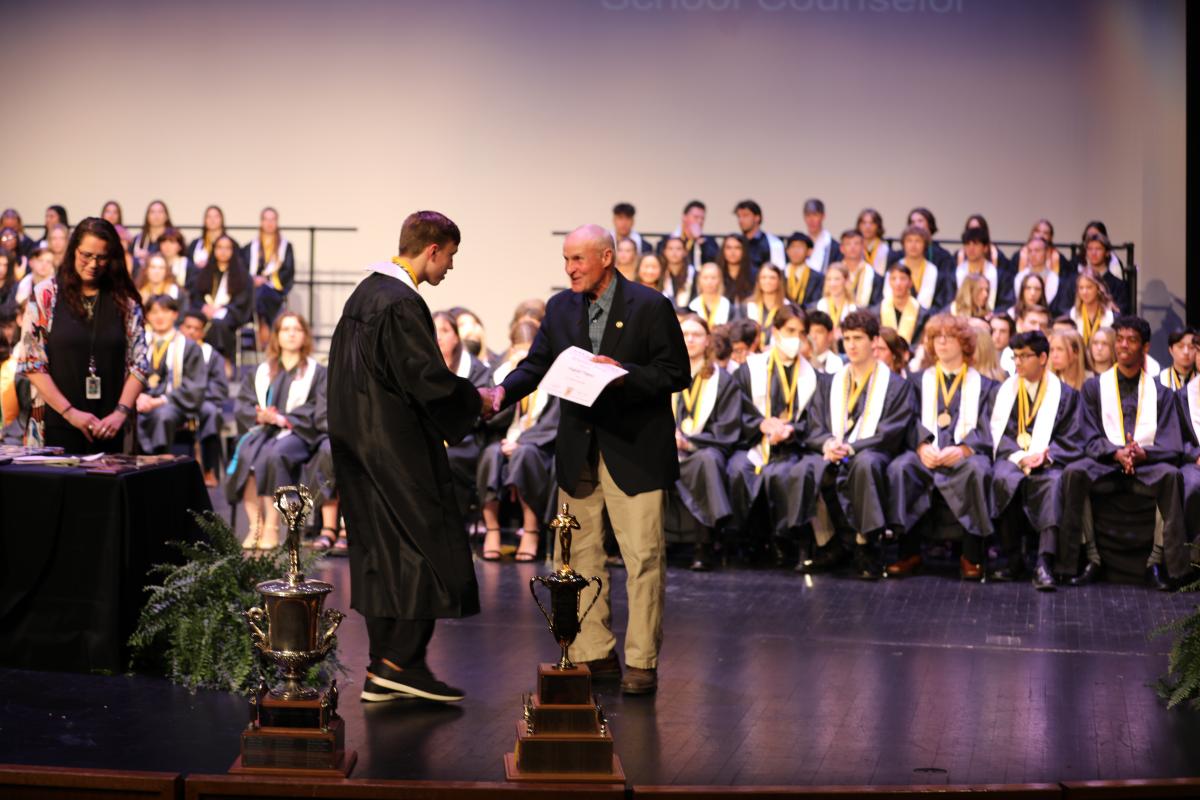 Molly Boardley was the recipient of the Dr. & Mrs. Jerry Thacker Scholarship.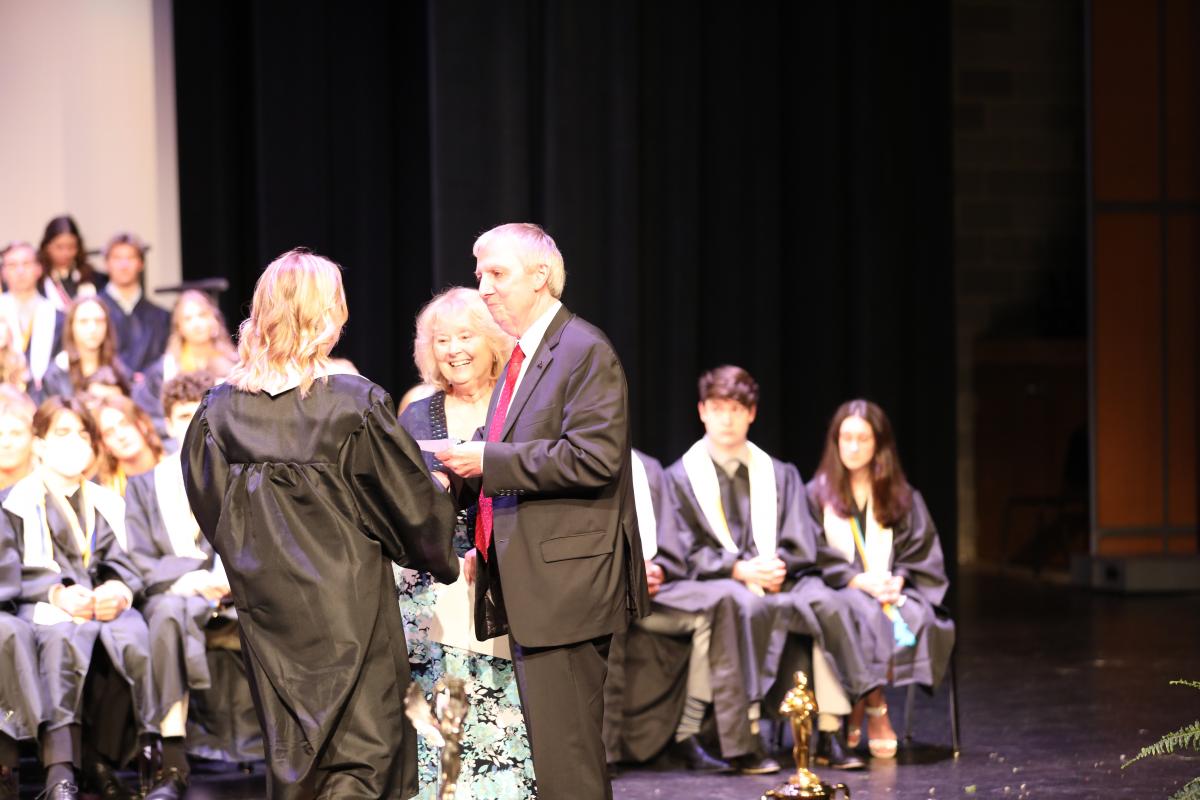 For the second year Dr. and Mrs. Thacker also donated $1,000 for the Student Educator of Color Scholarship that goes to a deserving student who will be pursuing a bachelor's degree in education. This year's awardee was Aniya Taylor. Aniya could not be present because of her participation in the Girls NIC Championship—which Penn won!
Every year since 1967, Penn's faculty vote to recognize an outstanding member of the graduating class based on service, character and leadership; the student must also, at the end of seventh semester, be in the top 10% of their graduating class. The senior selected is awarded the Paul H. Schmucker Award in memory of the distinguished member of Penn High School faculty from 1960-1967. This year's recipient is Nikolas (Kole) Black.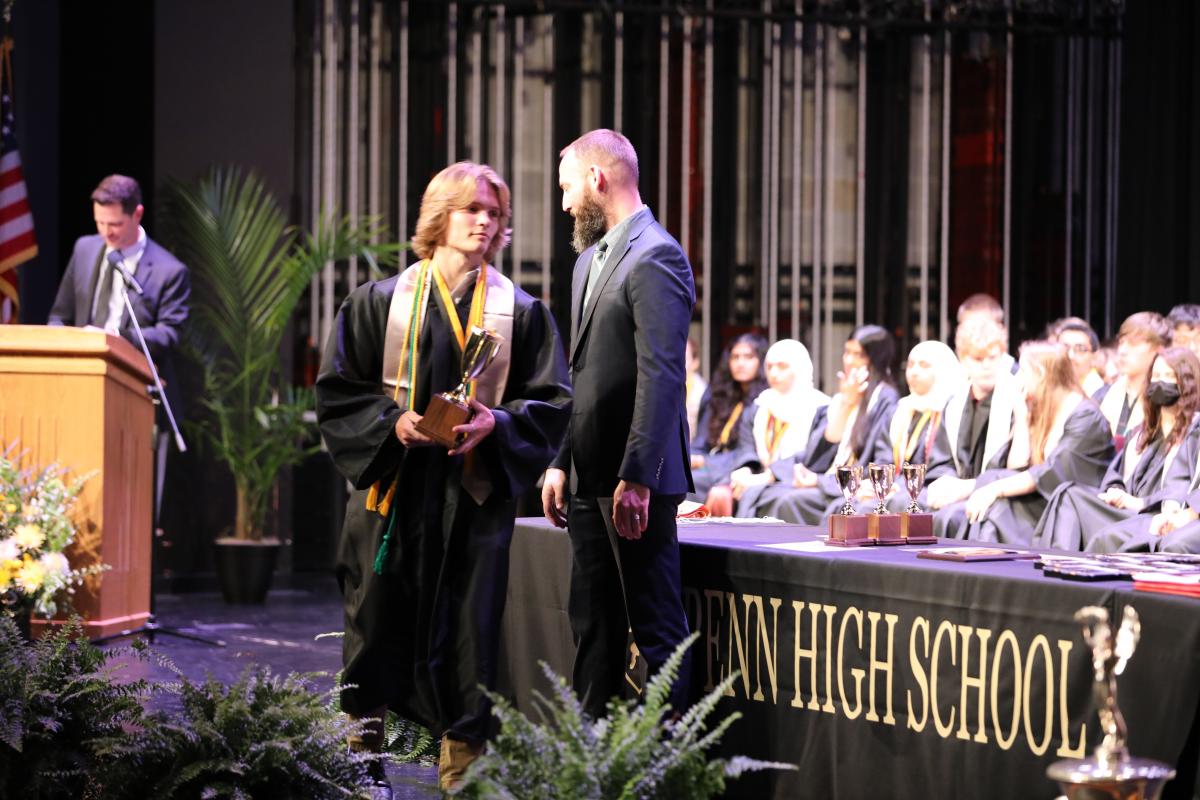 Each year, the graduating class also nominates a classmate who best exemplifies the qualities of service to his/her school community, school spirit, respect for classmates and Penn High School for the Kingsman of the Year Award. A tradition since 1970, the recipient is recognized for his/her leadership and willingness to accept challenge and is a great honor and show of respect from the recipients fellow classmates. The Class of 2022 Kingsman of the Year Award winner is Gurkirat Singh.
The Class of 2022 is the 5th cohort of the Early College Academy. A total of 105 students are graduating from Early College. Click to read more about this year's Early College Academy graduates.
This is the breakdown of what this year's ECA graduates have achieved:
students graduating with Associates Degrees: 73
students graduating with Indiana College Core: 17
students graduating with 15 or more credits: 15
51 seniors attended the Elkhart Area Career Center, many earning valuable industry certifications making them work force ready. Of these students, 5 seniors will have earned over 30 specialized college credits from Ivy Tech Community College through the completion of a certificate program.
Here are some others stats for the Class of 2022:
28 seniors have completed the Cadet Teaching program and plan to go into teaching
2 seniors completed the Start Up Moxie program
Fine Arts students Devon Newcomer and Natalie Callihan were gold National winners for photographs in the Scholastic Arts competition
Penn student-athletes won 14 of 19 Sectional Championships; Joe Radde, Aaron Dies, Joel Cummings and Connor Craig were state champions in the 200 free relay for boys swimming.
42 senior student-athletes received athletic scholarships to continue their sport at the collegiate level
14 seniors are going into the Military
To download high-resolution jpg files from the photo gallery below, just simply click the "DOWNLOAD" button on the bottom right-hand corner of the photo while viewing it in the Photo Gallery function. We are happy to provide this service to you, free of charge!
Last Modified August 17, 2022