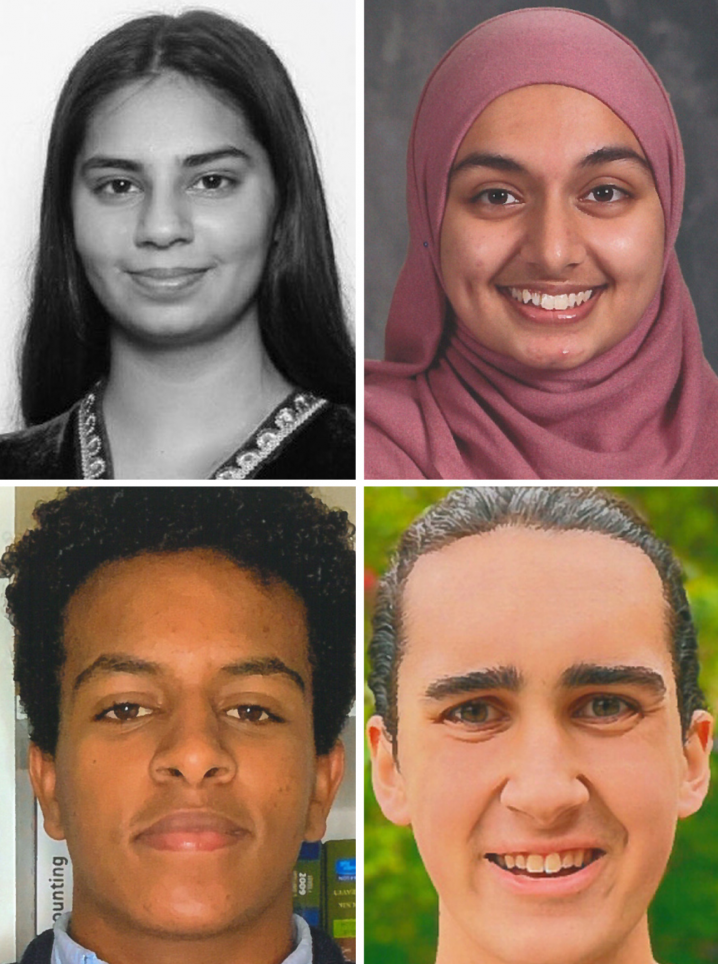 Principal Sean Galiher announced that Penn High School students Hala Ansari, Manaal Buchh, Salem Fitwi and Luca Nijim were each awarded the prestigious 2022 Lilly Endowment Community Scholarship for St. Joseph County.
Lilly Endowment Community Scholars – awarded through the Community Foundation of St. Joseph County - are known for their community involvement, academic achievement, character and leadership.
The Community Foundation received 109 applications from 14 schools, and submitted final nominees to the statewide administrator of the Lilly Endowment Community Scholarship Program, ICI, for the selection of scholarship recipients. Only four students from St. Joseph County were selected for a Lilly Scholarship, and all four are from Penn.
"We are very proud of our students who were selected for this scholarship," said Galiher. "Each student has excelled in their academic pursuits, community service endeavors and leadership opportunities."
According to a release from the Community Foundation of St. Joseph County, each Lilly Endowment Community Scholarship provides for full tuition, required fees, and a special allocation of up to $900 per year for required books and equipment for four years of undergraduate study on a full-time basis leading to a baccalaureate degree at any eligible Indiana public or private nonprofit college or university. Lilly Endowment Community Scholars may also participate in the Lilly Scholars Network (LSN), which connects scholars with resources and opportunities to be active leaders on their campuses and in their communities. Both the scholarship program and LSN are supported by grants from Lilly Endowment to Independent Colleges of Indiana (ICI).
Ansari, Buchh, Fitwi and Nijim were appreciative of the scholarship.
"Receiving the Lily scholarship is an honor I never thought I would be able to achieve, but I am so glad I did," Ansari said. "The nature of the scholarship encourages me to pursue my postgraduate education at a nearby University, allowing me to stay involved in the community, and assisting me in accomplishing my goal of improving the quality of life in our beloved town."
Ansari considering attending Indiana University or the University of Notre Dame to major in Accounting/Finance and minor in computer science.
Buchh is considering attending Notre Dame, Indiana University, or Northwestern.
"The Lilly Scholarship, to me, is the confidence that there are people in this community who genuinely see potential in my ability to give back to my community," Buchh said. "Lilly is a great honor I shall continue to work earnestly to deserve, and a great assurance I shall undoubtedly cherish for the rest of my academic career.
"Lilly gives me the opportunity to pursue the passions and interests I have at high caliber colleges while staying relatively close to my family. It also introduces me to like-minded peers who enjoy a challenging academic atmosphere as I do."
Buchh intends to pursue a double major of Neuroscience and International Studies, and hopes to attend medical school post-undergrad, and plans to be a physician.
Fitwi is considering Notre Dame, the University of Pennsylvania, and Harvard. His intended major is Finance.
"Being named a Lilly Scholar is a great honor," Fitwi said. "I couldn't be more fortunate to receive this scholarship and be able to represent my school, my family, and my community in this amazing way. I look extremely forward to where this milestone will take me, and surely, will use this scholarship to accomplish great things.
"Lilly opens up a plethora of opportunities for me,m" Fitwi continued. "The Lilly Scholars Network is just phenomenal. It'll give me the chance to engage with my fellow and past scholars in being a leader and in working together towards ultimately improving the quality of life in Indiana and in my community."
Nijim is considering the University of Notre Dame as a path to study the applications of math and computer science.
"Earning the Lilly scholarship was a tremendous honor, and it's a wonderful opportunity to be able to represent Penn on a larger scale," Nijim said. I'm so excited to be a part of this community of Indiana learners and scholars!
"After high school, I plan to continue my studies in the applications of math and computer science," Nijim continued. "The biggest advancements of this century in technology and healthcare have been driven by data, and I want to be on the cutting edge of these advancements. I could see myself going on to create new statistical methods and machine learning algorithms, helping to make sense of and draw conclusions from the data available to us."