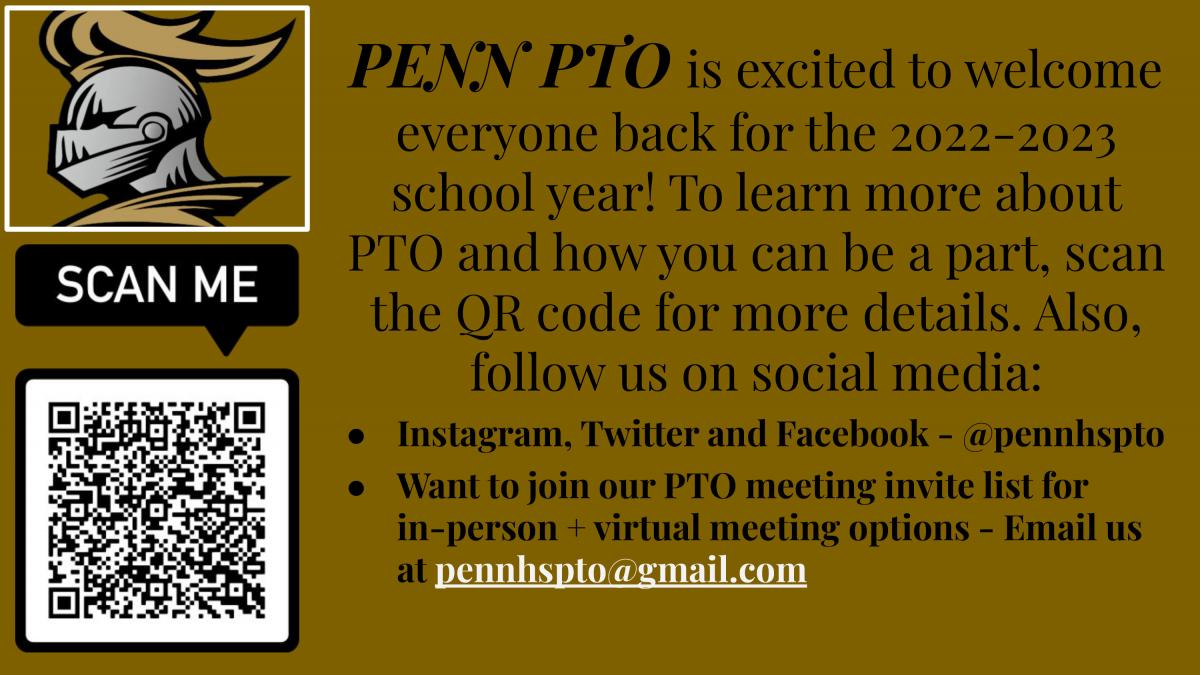 Penn PTO is a group of devoted parents and volunteers who work hand-in-hand with administration to support our students, staff and teachers through events that bring together community and show appreciation.
CLICK HERE for a PTO overview.
The PTO provides grants to our teachers, clubs and student groups.
We also coordinate snowball (an event your student will not want to miss), teacher appreciation week and monthly appreciation events for teachers and staff, as well as organizing and funding things such as Freshman Frenzy.
We have meetings once a month and would love for you to join us and learn more.
Please email pennhspto@gmail.com to be added to our meeting invite list for a virtual meeting option or check the calendar and join us in person.
Stay updated on PTO activities in #KingsmenNation.
Membership/Meetings
All parents/guardians of Penn students are members of the PTO and are encouraged to participate in monthly meetings. Meetings start at 6:15 p.m. and will either be on Zoom or in person at Penn. E-mail pennhspto@gmail.com for Zoom meeting information. Interested persons should enter Door D for in-person meetings.
Penn High School will be looking for parent volunteers for these additional times:
Prom ticket sales - late April, 2022
AP testing - May, 2022
Diploma distribution – Mid-June 2022
All volunteers must complete a permission form for a criminal background check and a volunteer intake form. Forms can be downloaded at https://www.phmschools.org/volunteer-information and turned in to the main office.
Donations
The Penn High School PTO is a 501(c)(3) charitable organization. If you are interested in making a tax-deductible donation, please contact us at pennhspto@gmail.com.
PTO Officers and Chairpersons:
President – Jessica Saros
Vice President – Melanie Palmer
Treasurer – Kelley Wassner
Secretary – Aubrey Saros
Volunteer Coordinator – Barb Zuidema
Teacher Appreciation Chair – Nabeela Gill
Social Media Admin – Zaina Arain
Snowball Chairs – Shawn + Jessica Saros