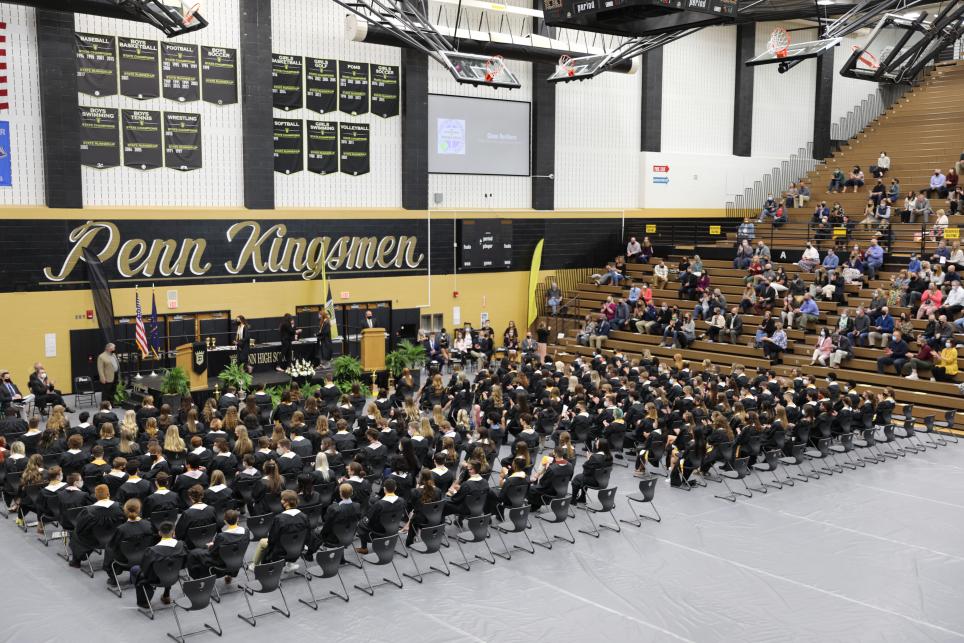 After a pause last year due to the pandemic, Principal Sean Galiher, Director of Counseling John Westra, and other members of Penn Faculty and the Counseling Department were happy to gather in person with members of the Class of 2021 and their families to celebrate their accomplishments. This year's Senior Recognition Night was held last night (Tuesday, May 11) in the Main Arena so people could socially distance and spread out. The event recognizes the academic success that members of the Senior Class have achieved recognizing them for awards and honors that they've earned for graduation.
Awards conferred at last night's Senior Recognition included academic excellence, leadership, service to school and community, citizenship, attendance, athletic accomplishments and a whole host of other accomplishments. Click here to see the full listing of Senior Awards and Commencement Recognitions of the graduating Class of 2021.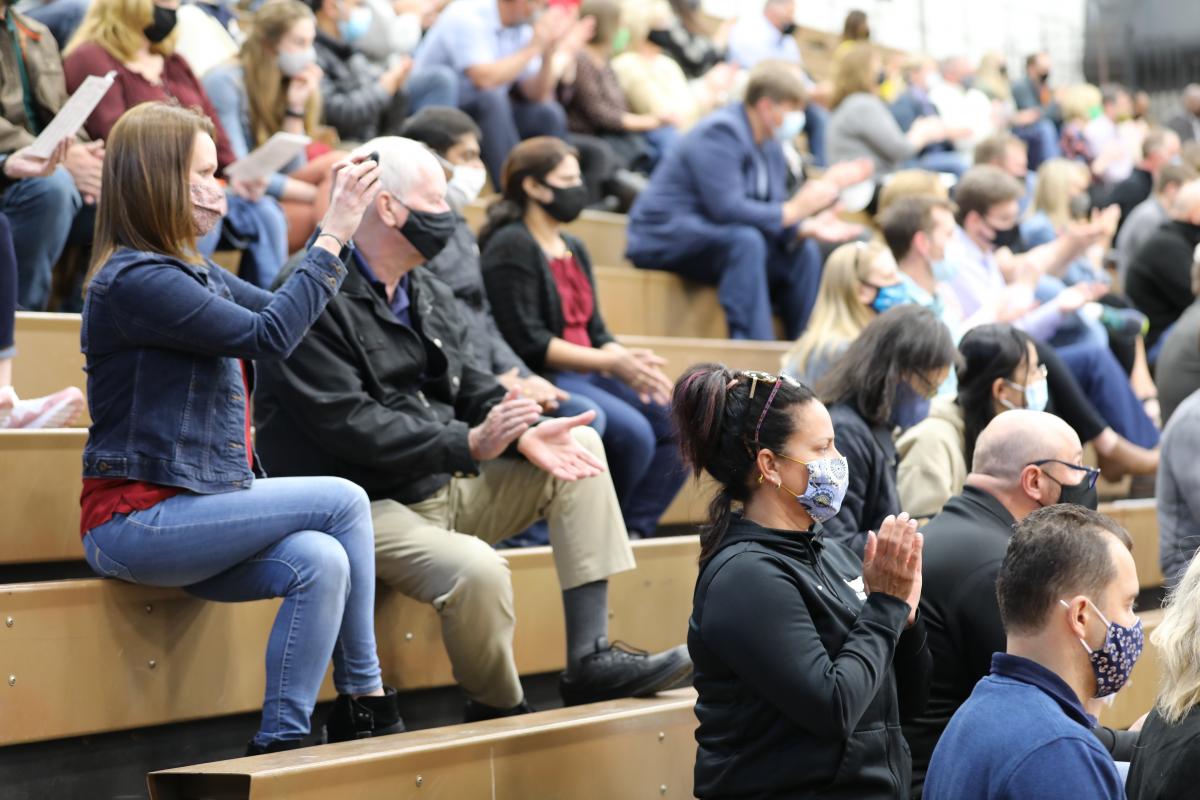 On Friday, June 4, Penn will graduate 868 students. Commencement will be held at Penn's TCU Freed Field. This year's ceremony will not be open to the public and will be a ticketed event. Each senior will receive two tickets. Click here for more information on the ticketing process and other details about the June 4 Commencement.
This year's graduating class seniors have earned approximately $10.4 million in scholarships!
More than half, 487 to be exact, are graduating with an Academic Honors diploma. To be eligible for an Academic Honors Diploma, students must accumulate a minimum of 47 credits in a prescribed curriculum and have a grade point average of 3.0.
348 seniors are graduating with high honors. These students have maintained a 3.5 grade point average or above for the first seven semesters of high school study.
The Core 40 with Technical Honors diploma is awarded to students who complete professional internships and or college courses in a technical area; this year 61 graduates will graduate with a Technical Honors diploma.
The 2021 graduating class is the second class to receive recognition through the Latin Honors System.
44 students are graduating Summa Cum Laude with the highest praise by earning an Academic Honors diploma with a GPA greater than 4.25.
114 students are graduating Magna Cum Laude with high praise by earning an Academic Honors diploma with a GPA greater than 4.0.
107 students are graduating Cum Laude with praise with a GPA greater than 3.75.

The Penn High School Principal's Academic Excellence Award was presented to eight seniors based upon academic excellence and overall achievement: Leah Eaton, Cannon Cocquyt, Derrick Pennix, Muntha Islam, Anna VanAvermaete, Sierra Norris, Hira Chaudhry, and Gabriel-Francois Gatete.
The Principal's Leadership Award is presented annually to students who contribute their talent, time, energy, and motivation to the leadership of Penn's student body. Katelyn Keough and Braxton Odle were honored for helping to make a difference in the culture of Penn on behalf of their classmates. Principal Galiher noted that the work and dedication of Katelyn and Braxton went above and beyond that of any normal Penn student leader.
The Principal's Citizenship and Service Award was presented to eight Penn High School students who have selflessly donated many hours to make sure that Penn High School is well represented in whatever service project they are involved in. Principal Galiher said of these students, "Simply put, they make good things happen at Penn!" The winners of the 2021 Principal's Citizenship and Service Award were: Connor Craig, Benjamin Boardley, Emmerson Lahey, Jacqueline Null, Grant Parker, Julia Son, Willow Fox, and Katie Casbon.
The Class of 2021 boasts 17 valedictorians. This year's valedictorians have an average GPA of 4.42 on a scale of 4.0!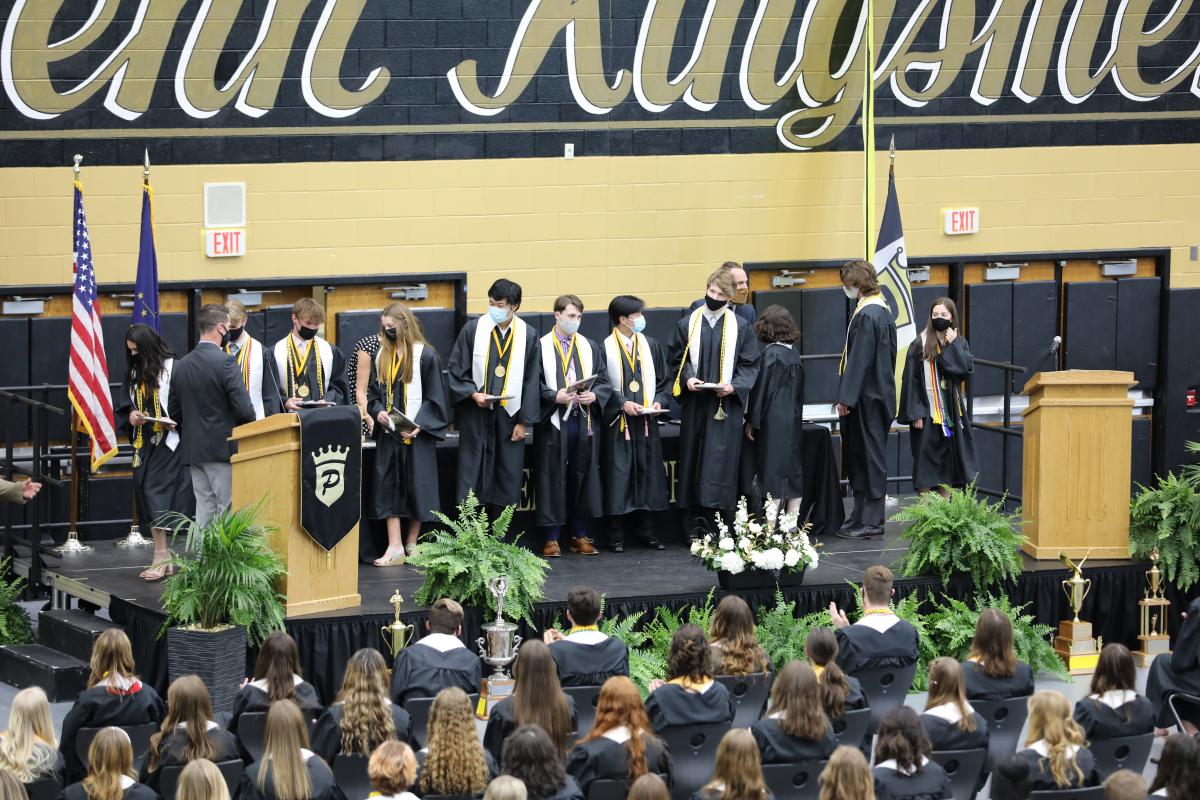 The Class of 2021's 17 valedictorians include: Aida Ansari, Benjamin Bedient, Jayden Bell, Benjamin Boardley, Samik Ghosh, Oliver Hu, Logan Huchko, Maya Kvaratskhelia, Shubham Lahane, Lauren Latimer, Evan Li, Ryan Ludwig, Mattheos P. Mattheos, Joseph Radde, Grace Waddell, David Wang Jr., and Marissa White.

The two salutatorians are Mamoon Khan and Aidan Sweeney. Their average GPA is 4.36 on a scale of 4.0!
This year 11 Penn High School students designated as National Merit Semi-Finalists based upon their high PSAT scores have been named National Merit Finalists. These students advanced to Finalist standing in the Merit Scholarship competition of 2021 by demonstrating, through distinguished performance, high potential for future academic accomplishment. They are in the top 1% of all students in the country and eligible for one of the 8,000 scholarships to be awarded this spring. Penn's 2021 National Merit Finalists are: Jayden Bell, Sydney Domal, Reagan Hoke, Anna Huber, Maya Kvaratskhelia, Evan Li, Ryan Ludwig, Joseph Radde, Aidan Sweeney, Benjamin VanderVeen, and Grace Waddell.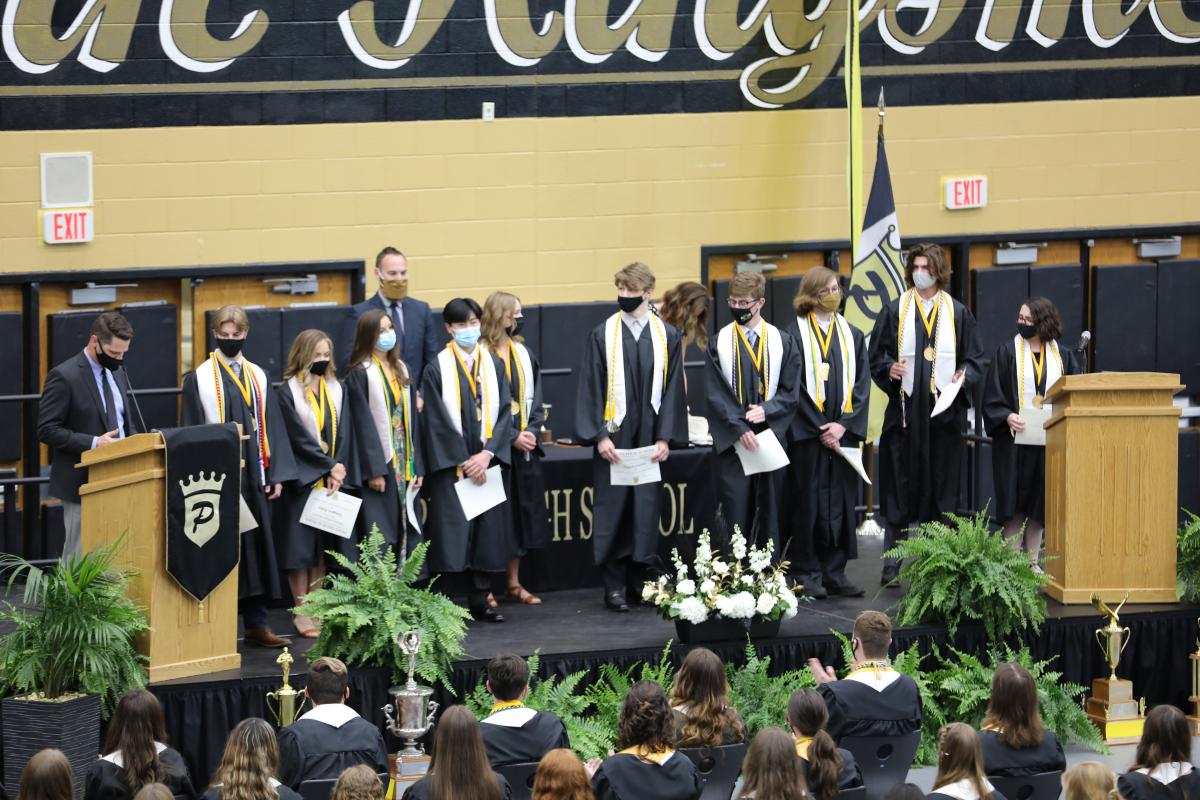 The following National Merit Finalists also received a scholarship from the National Merit Scholarship Corporation: Jayden Bell, Evan Li, and Reagan Hoke.
Eleven students received recognition from the College Board and were awarded National Merit Commended Scholar status: Benjamin Boardley, Ethan Boyer, Matthew Chapple, Taylor Cussen, Christoph Deymann, Zachary Dickerson, Alexander Goffinet, Grant Parker, Adam Poellabauer, Adalia Qazi, and Evan Rosswurm.
Valedictorian Evan Li was also selected as a 2021 Indiana Academic All-Star. Each Indiana high school can nominate one senior for this prestigious award. Of the 100+ nominees, the selection committee chose 40 to honor as an Indiana Academic All-Star. Awards are presented to the students and an influential educator of their choice. Evan chose his biology teacher, Kim Reitz to be recognized with him.
Jayden Bell and Grace Waddell are being awarded the Community Foundation of Saint Joseph County Eli Lilly Endowment Scholarship based on their high academic merits and test scores. The Lilly Endowment Community Scholarship provides full tuition, required fees, required books, and equipment for four years of undergraduate study leading to a baccalaureate degree at any accredited Indiana public or private college or university.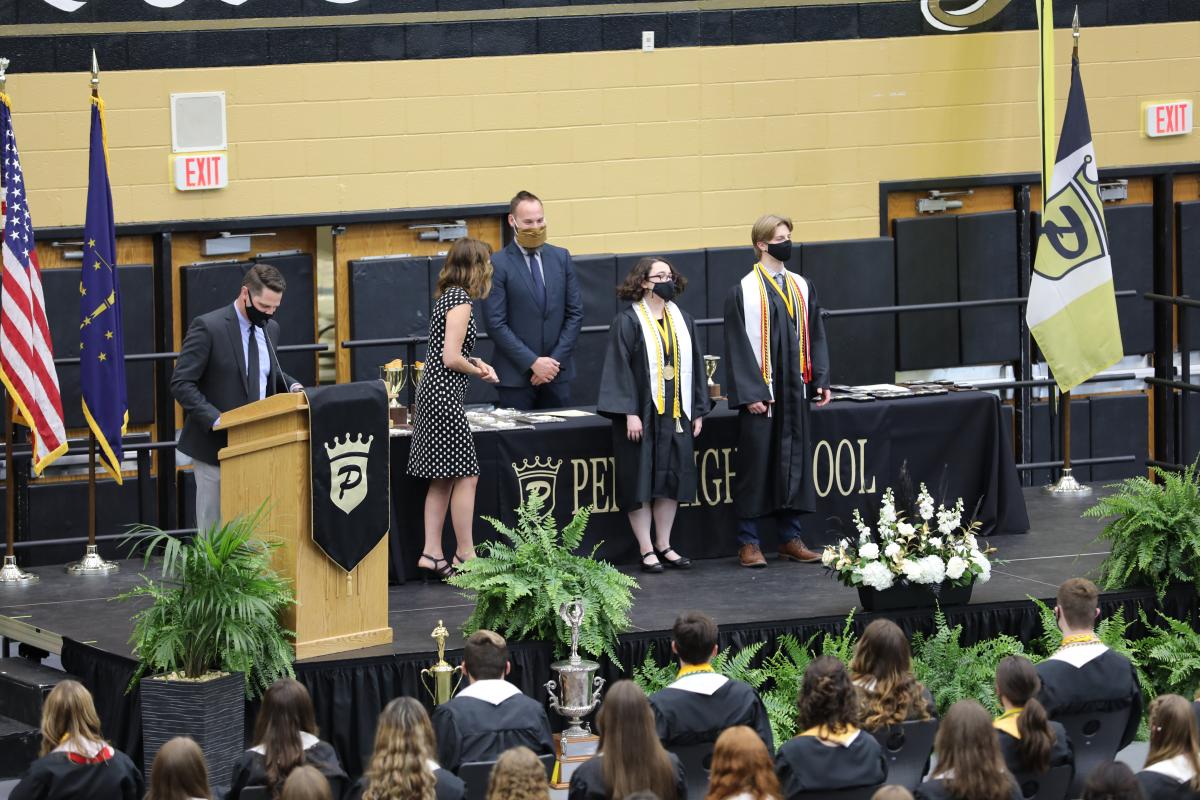 Every year scholarships are also awarded for the Dr. and Mrs. Jerry Thacker Scholarship and the Larry Beehler Scholarship. Dr. Jerry Thacker is Superintendent of Penn-Harris-Madison School Corporation and Mr. Larry Beehler is a longtime member of P-H-M's Board of School Trustees. The awards for these scholarships are $1,000 each.
The recipient of the Larry Beehler Scholarship was Addyson Farias and she plans to attend the University of Wisconsin Madison next year.
Grace Schutt was the recipient of the Dr. & Mrs. Jerry Thacker Scholarship. She plans to attend Olivet Nazarene University (Illinois).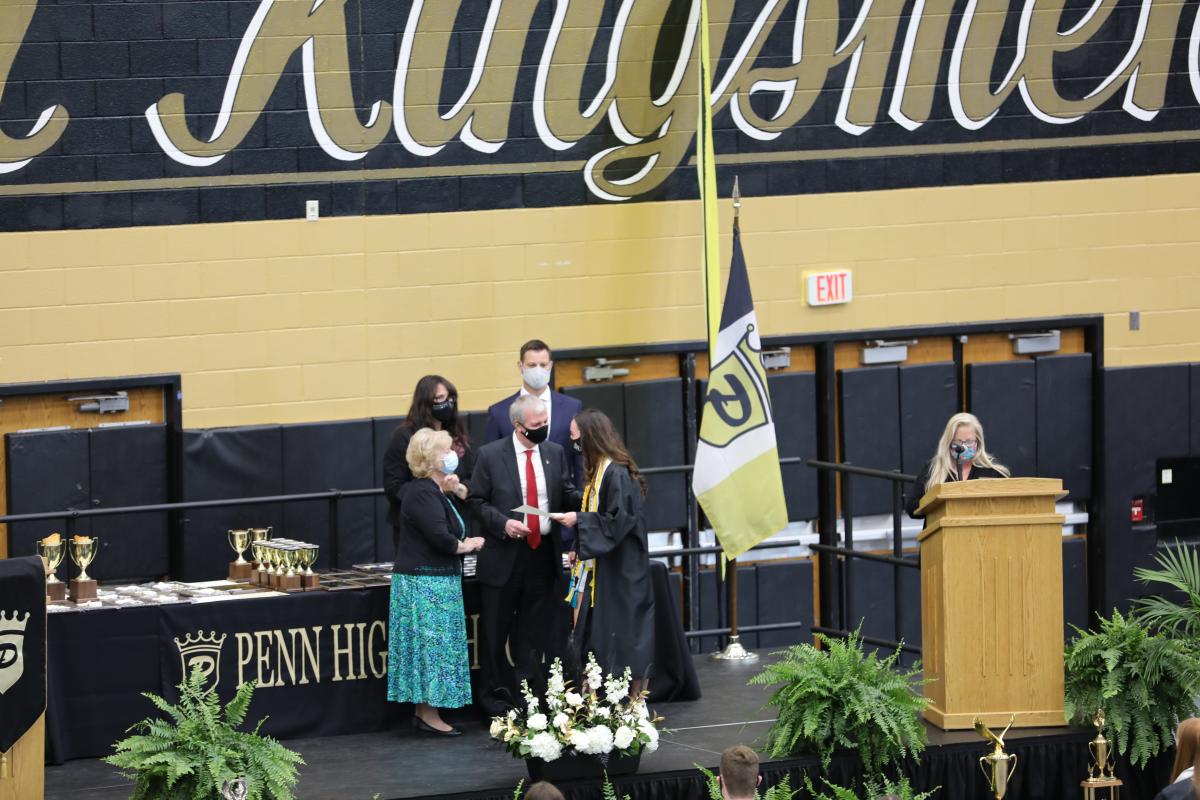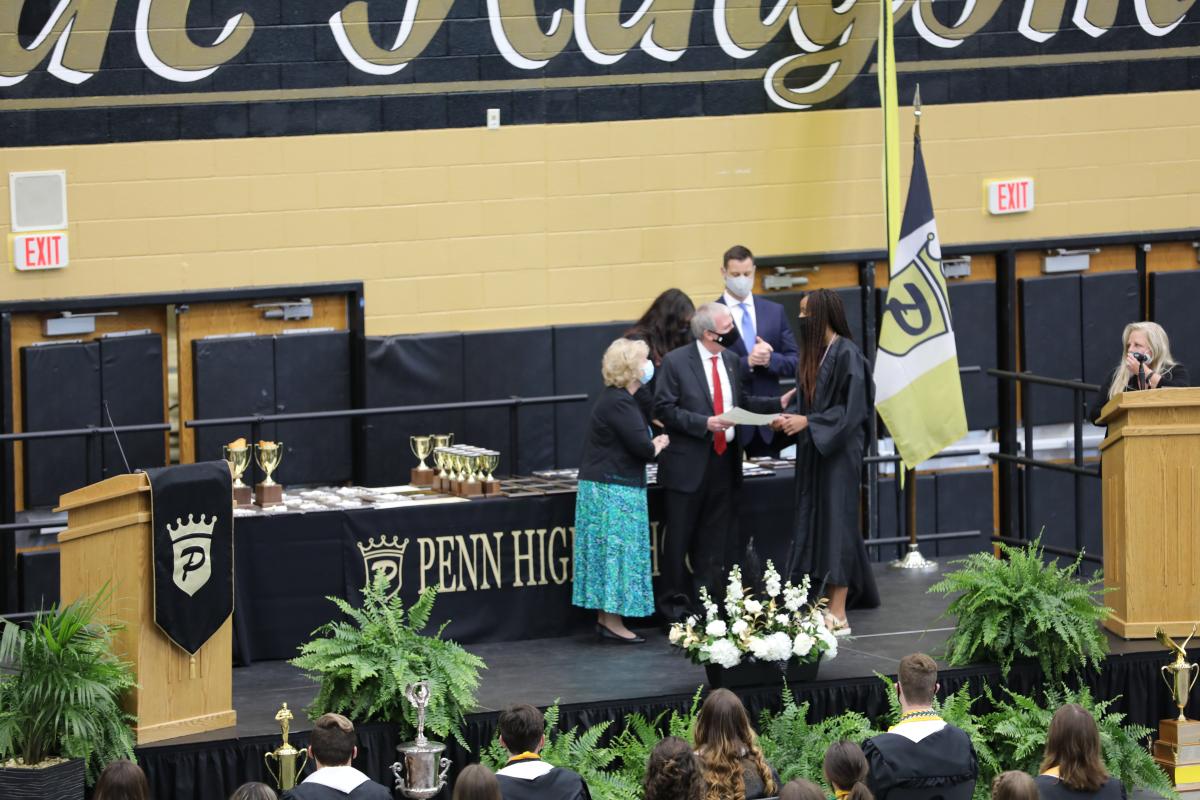 This year Dr. and Mrs. Thacker also donated $1,000 for the establishment of a new scholarship in their name. The new scholarship is awarded to a student of color that will be pursuing a bachelor's degree in education. This first scholarship winner was Blessing Bayingana.
Also new this year was the National High School Strength Coaches Association (NHSSCA) honors. Jordyn Smith and Grace Selis were named the first winners of this award. These student-athletes were selected by the NHSSCA national board as NHSSCA All Americans. Grades, athletic achievements, leadership, and weight room totals were all a part of the selection.
Every year since 1967, Penn's faculty vote to recognize an outstanding member of the graduating class based on service, character and leadership; the student must also, at the end of seventh semester, be in the top 10% of their graduating class. The senior selected is awarded the Paul H. Schmucker Award in memory of the distinguished member of Penn High School faculty from 1960-1967. This year's recipient is Benjamin Boardley.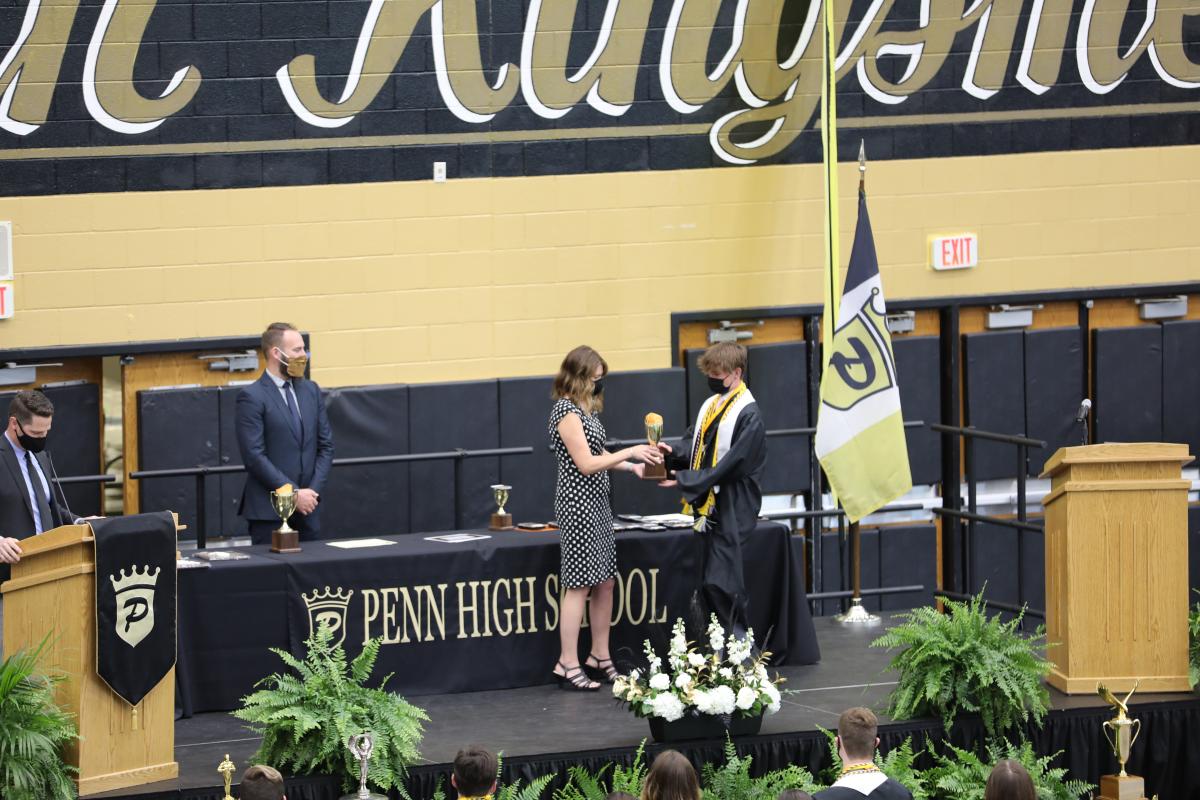 Ben was in the national spotlight when a video of his sportsmanship during the Indiana Cross Country State finals went viral. Ben saw a Brebeuf Jesuit's runner stumbled and almost fell as both were approaching the finish line. Ben stopped pulled Faizan him up by his arm. This act of kindness and sportsmanship could have cost Ben his finish in the race-- IHSSA guidelines say a runner could be disqualified for assisting another. However, an official ruled no violation occurred. The video went viral when a Sports TV Reporter in Terre Haute saw the video and Tweeted it out. The story was also picked up by the Indianapolis Star, South Bend's WNDU-TV, and it went national when Ben and the Brebeuf Jesuit runner were featured on ESPN's Friday "Feel Good Friday" segment on November 6, 2020. Ben was humble through all the coverage and just said "I guess that's how my parents raised me. They taught me to treat others how I'd want to be treated, and to be helpful when I can."
Each year, the graduating class also nominates a classmate who best exemplifies the qualities of service to his/her school community, school spirit, respect for classmates and Penn High School for the Kingsman of the Year Award. A tradition since 1970, the recipient is recognized for his/her leadership and willingness to accept challenge and is a great honor and show of respect from the recipients fellow classmates. The Class of 2021 Kingsman of the Year Award winner is Nicole Marshall. Unfortunately Nicole could not attend Senior Recognition Night because she was participating in the NIC Track Meet for Penn. The Girls Track Team did win the Northern Indiana Conference Meet Championship! Superintendent Dr. Thacker caught up with Nicole on May 12 at track practice to congratulate her on her award.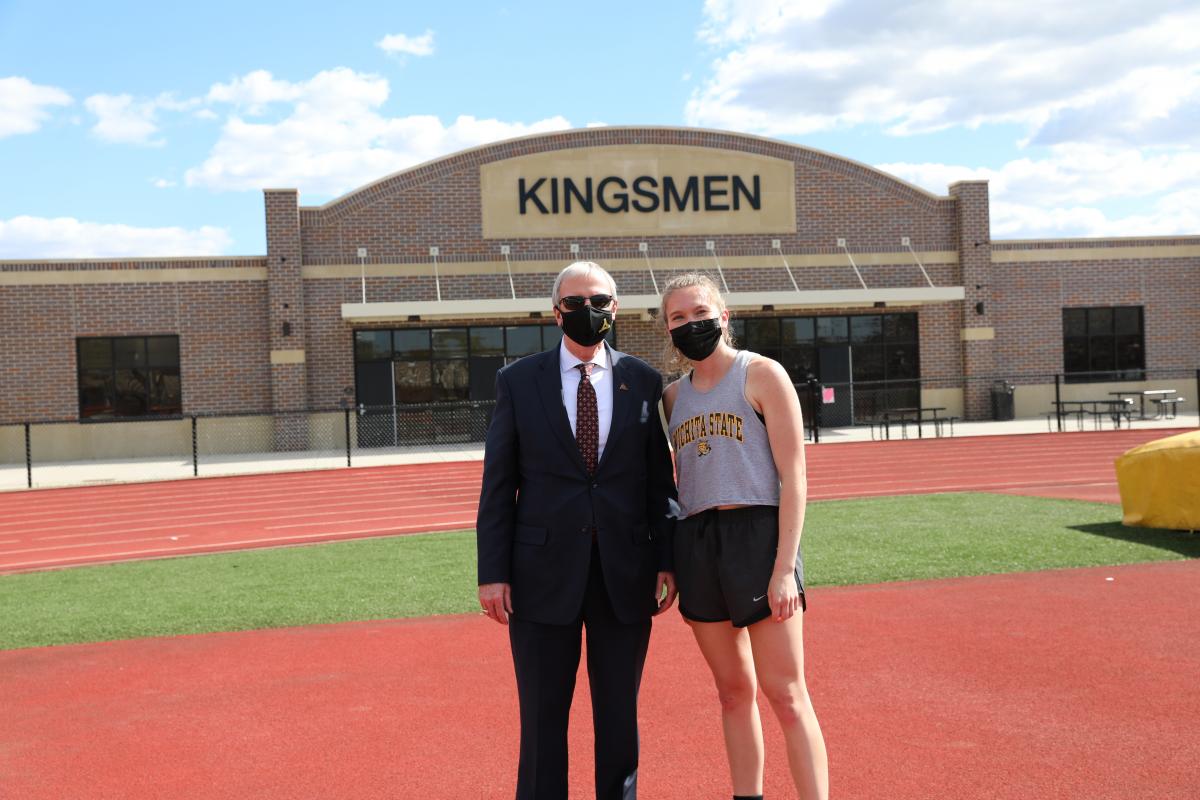 The Class of 2021 is the 4th cohort of the Early College Academy. A total of 100 students are graduating from Early College.
24 of these students have earned over 30 credits through Ivy Tech Community College, essentially completing their first year of college as high school students.
59 Early College students have earned a fully completed Associate's Degree as high school students.
Click to see the Academy and other Award Winners from the evening.
Here are some others stats for the Class of 2021:
33 seniors have completed the Cadet Teaching program and plan to go into teaching
15 seniors are going into the Military
Fine Arts students Devon Newcomer and Natalie Callihan were gold National winners for photographs in the Scholastic Arts competition
Penn student-athletes won 14 of 19 Sectional Championships; 50 senior student-athletes received athletic scholarships to continue their sport at the collegiate level