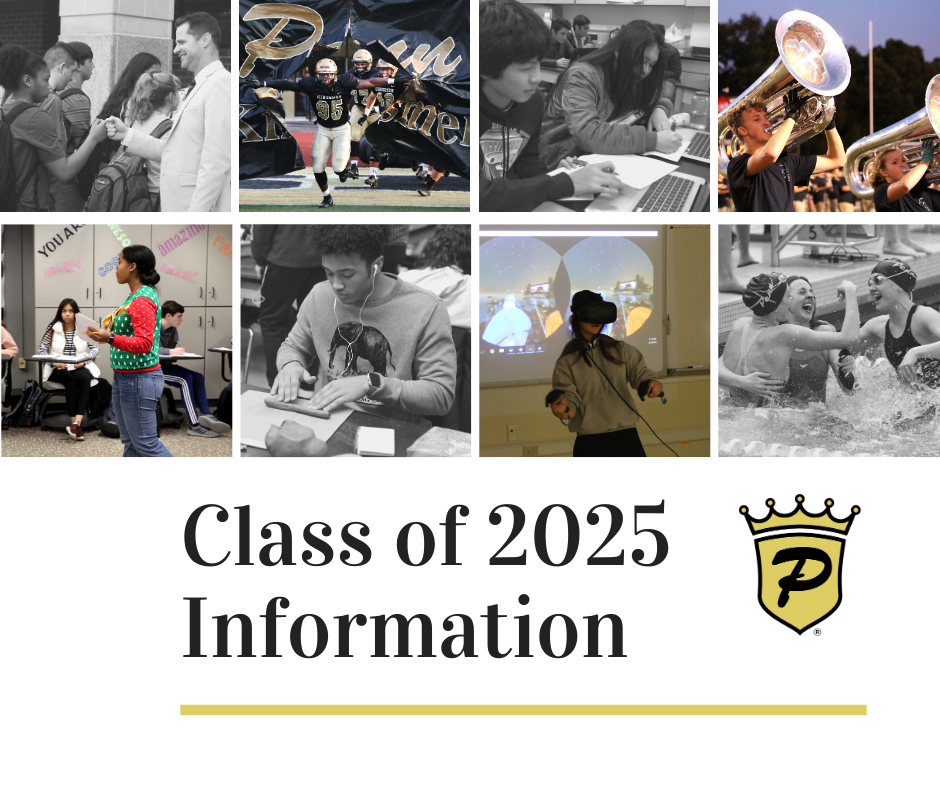 Welcome to Penn High School Class of 2025!
Penn's national reputation for excellence is based on its outstanding academic, athletic and fine arts programs. Penn has been featured on national TV network news for students' ingenuity and creativity! With a graduation rate of 97%, Penn is focused on graduating responsible, community minded, young adult citizens who are college and career ready.
Penn uses an Academy System to categorize our classes. Take a look below to see what we have to offer.
For course selection and scheduling information, as well as information on how to enroll, click here. We're looking forward to meeting you!
---
Freshman Academy
The Penn Freshman Academy aspires to join parents and our community in providing a world-class education that prepares each student to grow academically and socially in a safe environment, thus assisting each student in developing the independence and self-sufficiency necessary to succeed and contribute responsibly in a global community.
The video above walks incoming Freshman through the process of selecting courses that will set the stage for a successful career at Penn High School!
For a full description of the Freshman Academy, click here.
---
Early College Academy
Penn High School's Early College Academy started in the 2014-2015 school year and is designed to offer students a unique opportunity to begin working toward college requirements while simultaneously fulfilling courses for graduation at Penn High School. Penn High School is partnered with Ivy Tech Community College to offer a selection of courses, including dual credit courses, that can potentially earn a student college credits up to an Associate Degree by the time the student graduates. The yearly sequence of courses for the Early College Academy student is specific and required. Students may select elective courses when available.
For a full description of the Early College Academy, click here.
---
Fine Arts & Communications Electives
The Penn Fine Arts & Communications Academy offers a multitude of courses to engage students in creativity and self-expression. From Sculpture and Ceramics to Graphic Design; from Shakespeare plays to Broadway Musicals; from Beethoven Symphonies to the music of Duke Ellington; from our literary magazine and yearbook to our broadcast journalism courses and sports journalism opportunities, students at Penn High School have a wealth of resources and experiences available to them within the fine arts and communications curricula. Fine Arts & Communications offers more than 30 courses. A Fine Arts & Communications Pathway can lead to numerous career choices. Learning for students in the Fine Arts & Communications Academy is enhanced by numerous community partnerships.
For a full description of the Fine Arts & Communications Academy, click here.
---
Health & Human Services Electives
Health and Human Services Academy is committed to creating life-long learners through authentic problem solving, critical thinking, community involvement, and the exploration of the diverse opportunities within the areas of health and human service-related careers.
Joining the Health and Human Services Academy allows students to engage in a smaller, more personal learning community to improve academic achievement and to ready students for both college and careers by engaging in the world outside of school. Courses included in the Health & Human Services Academy Pathway are designed to prepare students for numerous career opportunities. The Health & Human Services Academy has built community partnerships to enhance student learning. There are numerous activities and opportunities available within the Health & Human Services Academy.
For a full description of the Health & Human Services Academy, click here.
---
Management & Business Electives
Students participating in the Management and Business Academy will develop a better understanding of the business world. Students have the opportunity to take classes for college credit or to work with a local company as a professional intern.
Every company regardless of industry needs business professionals to function, giving students with a business or business-related degree broad career options. Approximately 547,000 new businesses get started each month. In Indiana, 97 percent of all employers are small businesses and women and minority businesses have increased by over 50 percent.
For a full description of the Management & Business Academy, click here.
---
STEM Electives
If you enjoy figuring out how an object works, doing puzzles, understanding the human body, discovering the secrets of nature or creating new applications for existing technology, then consider selecting the STEM Academy. Choosing the STEM Academy will be the beginning of an exploration of fields such as structural design, computer science, nanotechnology, environmental science, assistive technologies, robotics, physics, chemistry and biology. Each of the fields that STEM explores features technology that plays a central role in our daily lives, including cell phones, computers, the Internet, cars, bridges, food and medicines. If these are topics that interest you, STEM is an appropriate choice.
For a full description of the STEM Academy, click here.
---
World Languages Electives
The World Languages Department believes that students living in a global society should learn a second language to develop a deeper understanding of our diverse world as well as an appreciation for other cultures.
For a full description of the World Languages Academy, click here.
---
Exceptional Education
Penn High School is committed to providing college and career readiness development in an inclusive learning environment for individual learners and individual learning styles. This includes support and individualized instruction across a spectrum of services, with a focus on the enrichment of skills and knowledge.
For a full description of the Exceptional Education, click here.
---
How to Schedule Your Classes
Now that you've explored Freshman and Early College Academies and all the elective options, it's time to schedule your classes!
---