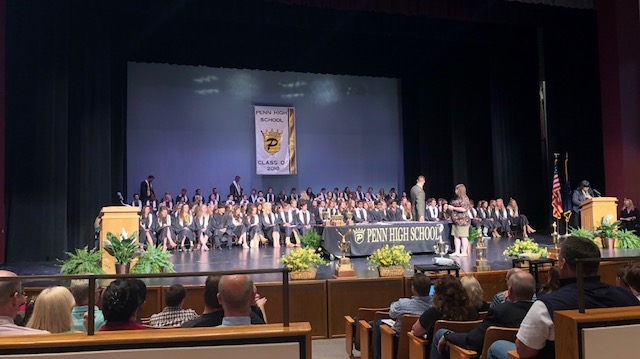 Class of 2018 students honored in Senior Recognition Night
Posted on May 16, 2018



Penn High School will graduate 869 students on Friday, May 25, at Purcell Pavilion on the University of Notre Dame campus.

At the Class of 2018 Senior Recognition Night ceremony on Tuesday, May 15, Principal Sean Galiher announced that just over $8 million in scholarships has been award to the Class of 2018!

"It has truly been an honor and privilege for me to get to know the 2018 graduating class of Penn High School," Penn Principal Sean Galiher said. "Their talents and skills are bountiful and I have had the privilege to witness their positive leadership and dedication to our school all year long. I wish this class the best with their futures and know each student will continue to represent their families and community with pride. Congratulations!"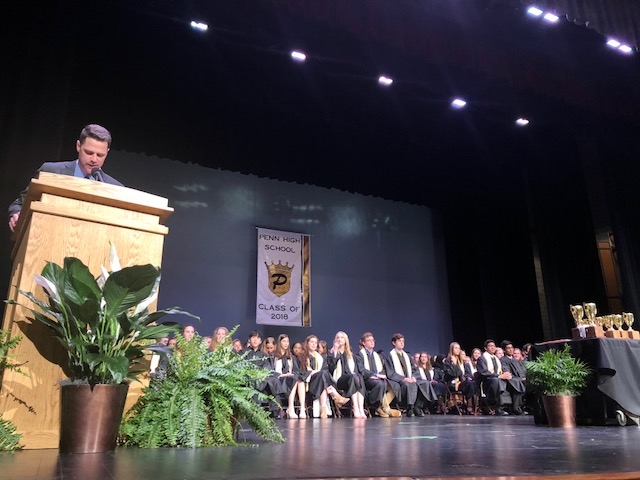 Penn's Class of 2018 features 17 Valedictorians: Nicholas Casetti, Madeline Cullison, Margaret Finnessy, Kendra Fuelling, Kristine Hocker, Morgan Jankowski, Fezaan Kazi, Veronica Kirgios, Sybil Kurian, Kendra Laidig, Erin Ludwig, Bryan Mai, Christopher Mazurek, Matthew Rach, Maheera Siddique, Mackenzie Wood and Renee Yaseen. Click to read more about these students and see what their future plans are. The Valedictorians have an average grade-point average of 4.4 on a scale of 4.0!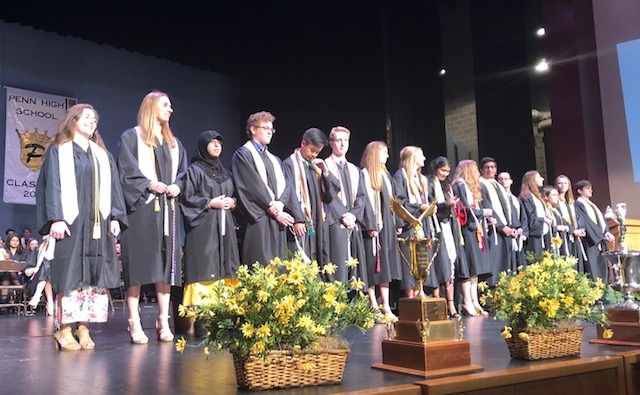 Lauren Frank and David Li earned Salutatorian status. The average GPA of the salutatorians is 4.3! Click to read more about this year's Salutatorians.
Big awards announced for the night were Kendra Laidig as the surprise winner of both the Kingsmen of the Year and the Schmucker Awards.
James Morris was named the recipient of the Donna and Dr. Jerry Thacker Scholarship, which is based on character, service to Penn, and involvement in extracurricular activities.
Matthew Forsey and Jane Musema earned the Principal's Leadership Award.
Nakala Bell, Jason Gaines, Hope Gilbride, Shane Hullinger, Evan Mercurio, and Charlotte White were named winners of the Principal's Academic Excellence Award.
Savannah Barrier, Daniel Dautel, Ekachi Emenim, Kelsey Madden, Dimitri Napoleon, Samuel Padrnos, Sara Rodriguez, and Brian Yu won the Principal's Citizenship and Service Awards.
This year's class has six National Merit Scholarship Finalists: Nicholas Casetti, Margaret Finnessy, Kristine Hocker, Shane Hullinger, Kendra Laidig, and Renee Yaseen.
Nicholas Casetti also earned Indiana Academic All-State Honors.
Click here to read the full list of the Senior Awards and Commencement Recognitions of the graduating Class of 2018.
This year Penn Administration worked with Exceptional Education Academy faculty and administration to create three awards that would also recognize the achievements of Penn's Exceptional Ed students. See the award winners listed below and then click here to read more.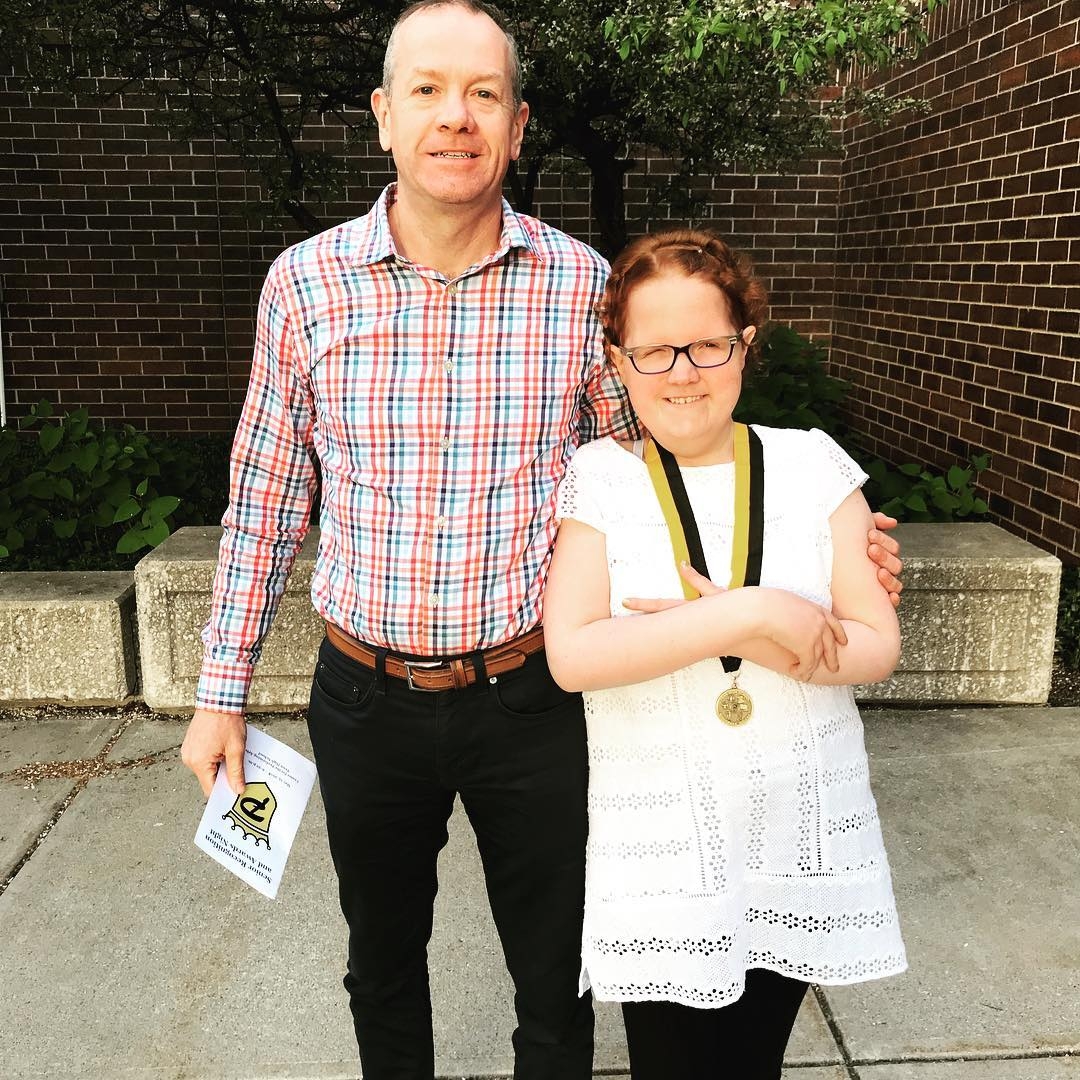 Other Award Winners:
Overall Achievement Award: Jason Gaines (Early College Academy)
Perseverance Award: Abigail Neal (Early College Academy)
Leadership Award: Charles Lane (Early College Academy)
Growth Award: Giselle Leon (Early College Academy)
Ambassador Award: Jacob Hazen (Exceptional Education Academy)
Career Excellence Award: Alicia Carr (Exceptional Education Academy)
Academic Advancement Award: Genevieve Nikolai (Exceptional Education Academy)
Peer Leader: Emma Bright (presented by Exceptional Education Academy)
Band: Kendra Fuelling (Fine Arts/Communications Academy)
Orchestra: David Richards (Fine Arts/Communications Academy)
Outstanding Artist of Ceramics: Clara Fitzhugh (Fine Arts/Communications Academy)
Outstanding Artist of Drawing: Ciera Chavez (Fine Arts/Communications Academy)
Outstanding Artist of Media Arts: Taylor Sharpe (Fine Arts/Communications Academy)
Outstanding Artist of Painting: Gabriella Manczunski (Fine Arts/Communications Academy)
Outstanding Artist of Sculpture: Mariah Anderson (Fine Arts/Communications Academy)
Thespian: Alex Buford (Fine Arts/Communications Academy)
Broadcast Journalism: Lindsey Zimmerman (Health & Human Services Academy)
Debate: Payton Holland (Health & Human Services Academy)
The Pennant: Mason Plummer (Health & Human Services Academy)
Social Sciences: Madeline Cullison (Health & Human Services Academy)
Spectrum: Lucie Horvath (Health & Human Services Academy)
Speech: Gabrielle Besse (Health & Human Services Academy)
Yearbook: Daniel Phend and Madeline Moore (Health & Human Services Academy)
Economics: Nick Casetti (Health & Human Services Academy)
English: Renee Yaseen and Kendra Laidig (Health & Human Services Academy)
Government: Matt Forsey (Health & Human Services Academy)
Health and Wellness Award: Chinonso Emenim and Olivia Sautter (Health & Human Services Academy)
Penn Strength – Male: Jame Morris (Health & Human Services Academy)
Penn Strength – Female: Naomi Willis (Health & Human Services Academy)
Accounting & Finance: Steven Krcelich (Management and Business Academy)
Computer Science: John Monnin (Management and Business Academy)
General Business: Connor Fisher, Quinn Murphy, Samuel Ghyselinck (Management and Business Academy)
Marketing: Samuel Padrnos (Management and Business Academy)
Cadet Teaching Award: Julia Beers (Management and Business Academy)
Professional Work-Based Award: Anthony Guennel (Management and Business Academy)
MBA Leadership Award: Adam Chalman (Management and Business Academy)
Engineering Award: Italia Fields (Science, Technology, Engineering & Math Academy)
Mathematics Award: Nick Casetti (Science, Technology, Engineering & Math Academy)
Science Award: Alyssa McNarney (Science, Technology, Engineering & Math Academy)
Technology Award: Gary Babcoke (Science, Technology, Engineering & Math Academy)
Agriculture Award: Elena Effertz (Science, Technology, Engineering & Math Academy)
American Sign Language: Mariah Anderson (World Languages)
Chinese: Nadya Al-Shawi (World Languages)
French: Kristine Hocker (World Languages)
German: Chris Mazurek (World Languages)
Japanese: Julia Yang (World Languages)
Spanish: Maddie Brown (World Languages)
Multilingual: Brandine Ishimwe (World Languages)
Last Modified January 12, 2022