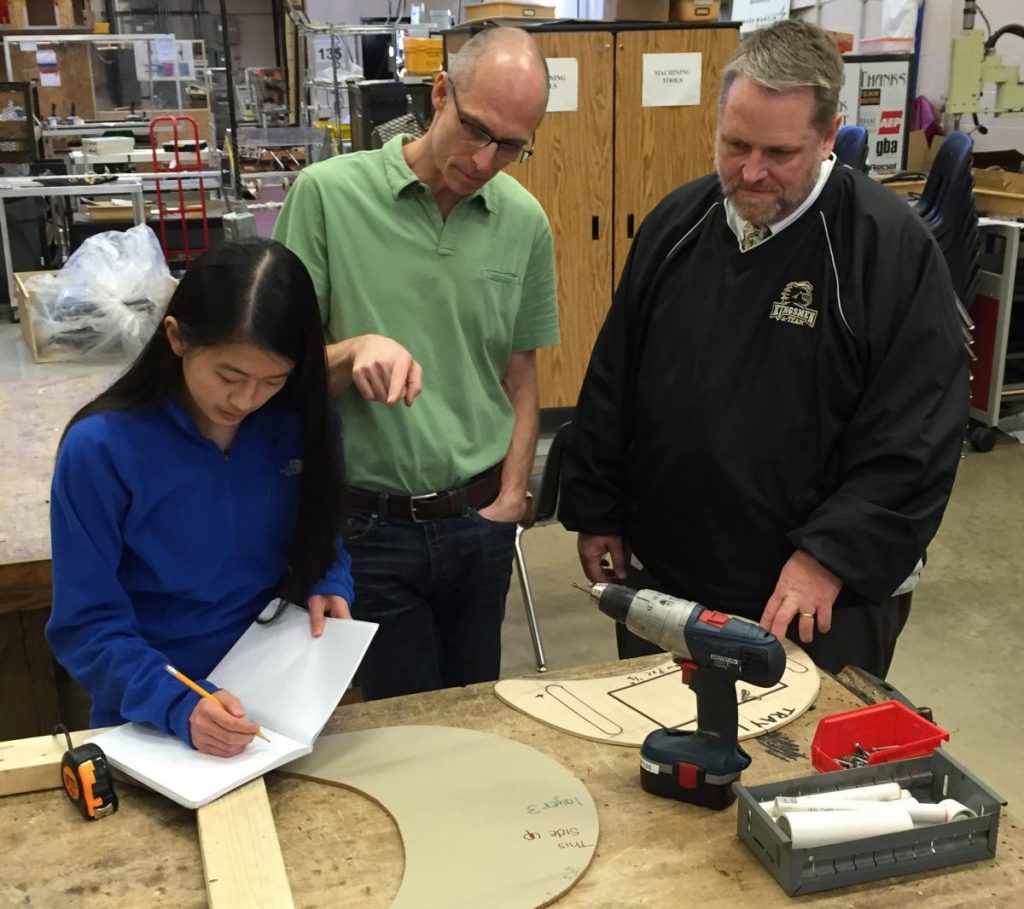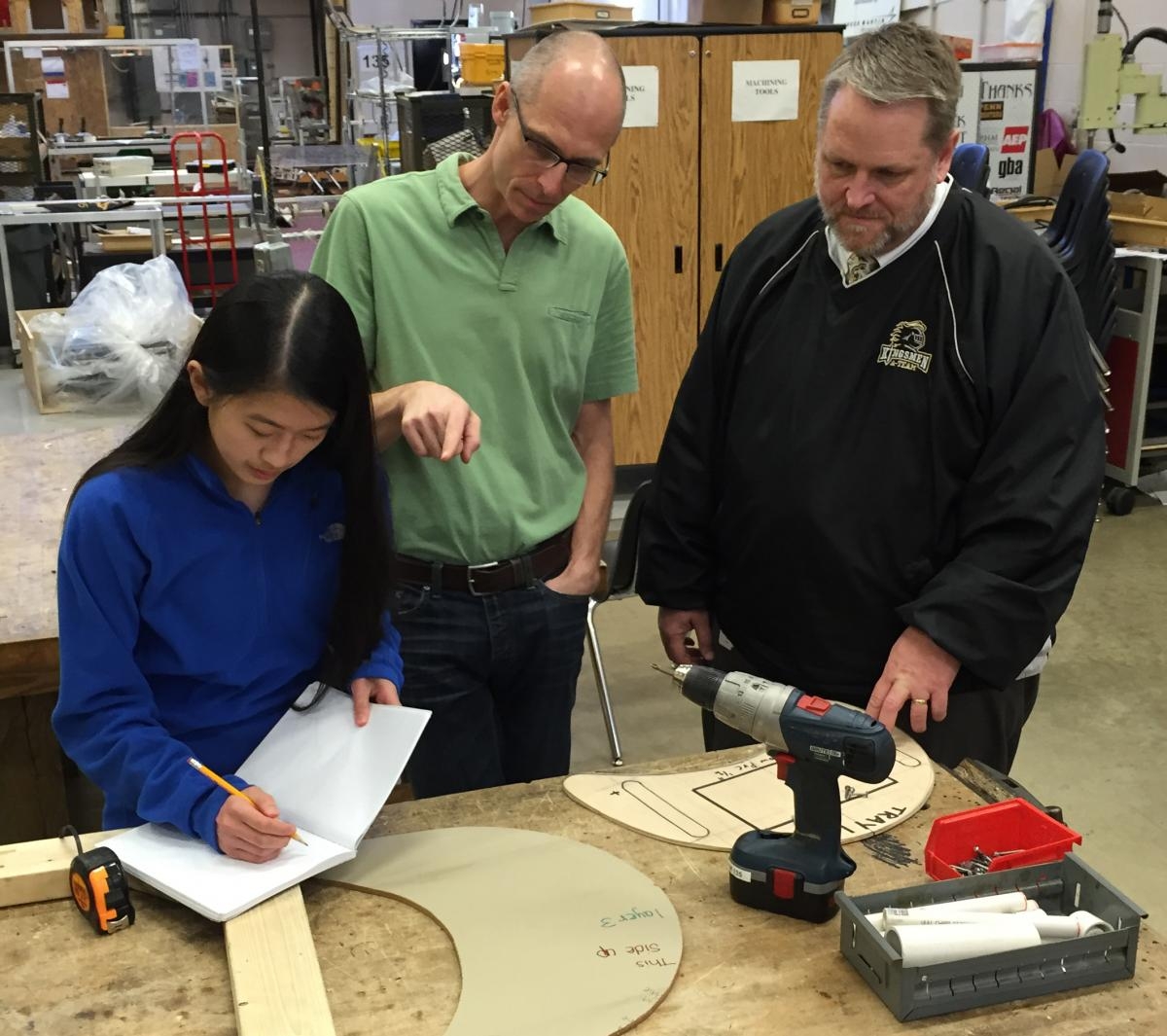 Penn's STEM Academy earns elite certification, hailed by Indiana Dept. of Education
Posted on June 8, 2016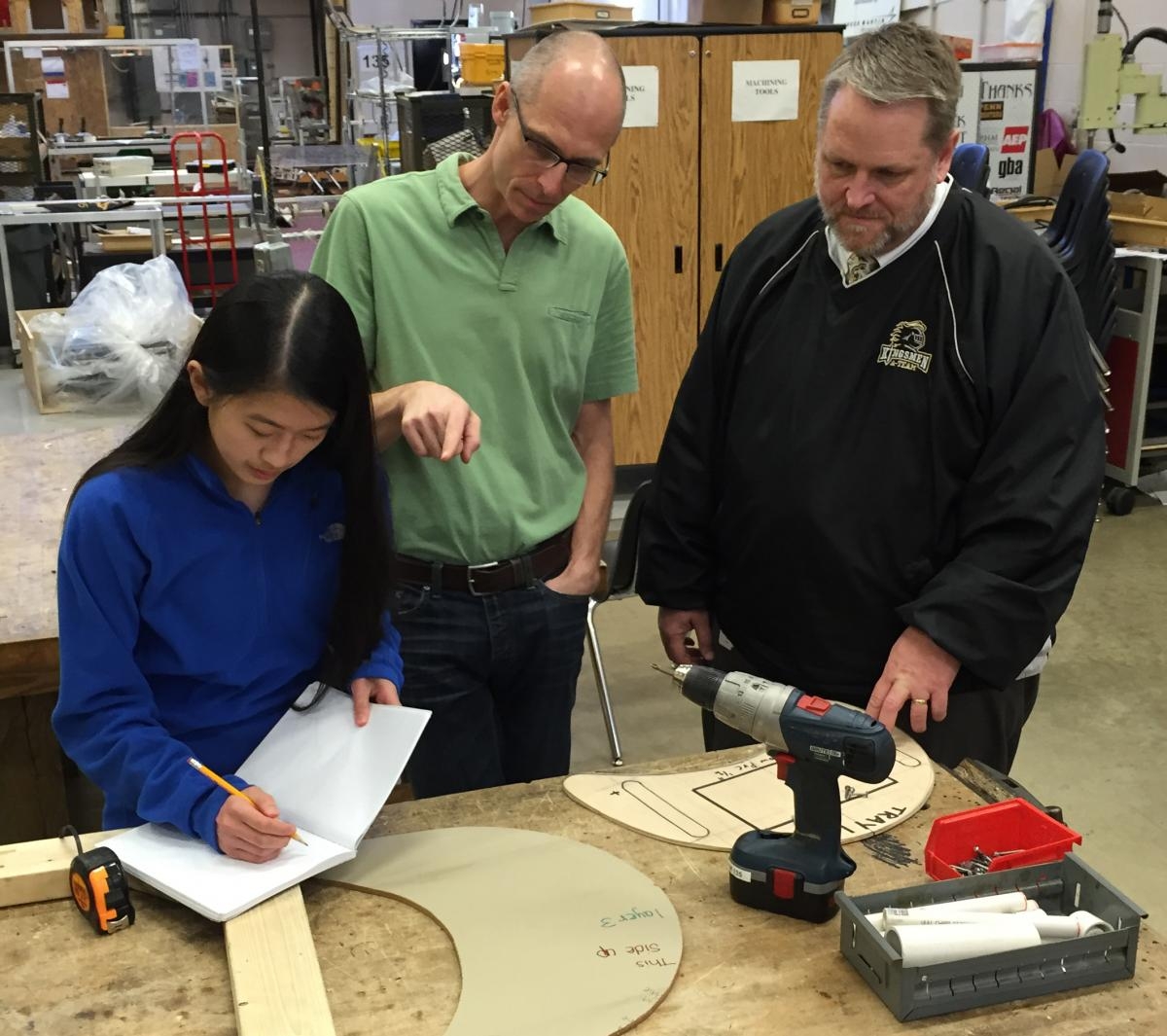 Penn High School principal Steve Hope, Penn STEM Academy Leader Rachel Fry, and the Indiana Department of Education have announced that Penn's Science, Technology, Engineering and Math Academy has been designated a full STEM-certified program, making it the first large, comprehensive public high school in Indiana to achieve the elite status!
The Indiana Department of Education singled out and congratulated Penn's STEM Academy as the only full STEM-certified program in the "School within a School" model.
According to the Indiana Department of Education, Full STEM Certification is awarded to schools or programs that demonstrate a commitment to providing high quality STEM programs in the areas of science, technology, engineering and math, while preparing students for success in the 21st century.
A total of 16 schools in the state applied for STEM certification this year; but Penn is unique among them in that it is not an entire STEM school, just the Academy. Only nine schools were STEM certified this year. Penn is now one of 19 STEM-certified programs or schools in Indiana.
Hope called the STEM certification a significant milestone.

"Penn High School's certification as an Indiana Department of Education Full STEM Program is a major accomplishment for our school and community," Hope said. "The rigorous accreditation process recognizes only the highest quality programs, with state-of-the-art facilities and instructional programs that incorporate best practices like problem-based learning.
"I applaud the efforts of the teachers in technology, math and science who have come together integrating coursework to make our STEM Academy successful. I also applaud the efforts of all teachers as we continue to implement relevant coursework and mastery of skills that support the success of every student. STEM Academy Leader Mrs. Rachel Fry did a great job of collaborating with students, teachers and administration to complete the certification process and arrange for the Indiana Department of Education site visit."
According to Hope, STEM certification will have a major impact.
"The STEM certification from the Indiana Department of Education is also a boon for this area," Hope said. "As we build and maintain quality programs that offer relevant learning experiences, we make the P-H-M schools a draw for businesses to locate in our community. The college and career pathways available to our students in not only the STEM Academy, but also in the Fine Arts and Communications Academy, the Health and Human Services Academy and the Management and Business Academy all help our students transition from high school to the myriad of post-secondary options. These efforts also help to keep our graduates in our state and our community."
Penn High School Science, Technology, Engineering and Math Academy teachers and students showcased innovative and relevant learning in the STEM Academy Expo on Thursday, April 21.
At the Expo, Penn High School student Chris Dell spoke to representatives of the Indiana Department of Education representatives about his involvement with the "Hand of Grace" project, in which Penn technology students constructed a prosthetic hand for a Madison Elementary school student.
John Gensic, a Penn High School biology teacher and P-H-M's 2016 Teacher of the Year, talked about working with scientists from the U.S. Environmental Protection Agency in a research project on Lake Michigan last summer.
"Although the certification process was lengthy, it was extremely exciting to document all of the wonderful things taking place in Penn High School's STEM Academy," Fry said. "The Penn High School Achievement Academies strive to connect students to community partners, specific to their area of interest, in order to provide them relevant learning experiences and opportunities. IDOE STEM certification is proof that we are doing just that."
Fry noted the efforts of students and teachers to generate learning through work on authentic projects, and searching for real solutions to real problems.
"The teachers work tirelessly to develop partnerships with community members, businesses, and organizations," Fry said.
Learning projects such as "Hand of Grace," the annual Innovation Challenge with Whirlpool, Women in Technology (WIT) Day, Research Club, Computer Science Internship (CSI), Medical Statistics, Amboseli Baboon Research, "A Voice for Braylen", and the STEM Expo were key components in Penn's STEM certification.
Other classes, innovations and projects that were showcased during the application process were the Aerospace Engineering class, Robotics I & II, student-made drones and the augmented reality sandbox with Earth & Space science students.
Indiana Supt. of Public Instruction Glenda Ritz said congratulated the STEM-certified schools in a press release.
"I am pleased to recognize Indiana's STEM Certified Schools today," Ritz said. "Programs like these provide students with the tools they need to be successful after high school, whether they go to college or enter the workforce. Moving forward, my Department is committed to working with all schools to ensure that every student has the opportunity to be exposed to high-quality STEM programs."
STEM Certified Schools must demonstrate a commitment to employing inquiry and project-based learning, community engagement, student-centered classrooms, and out-of-school STEM opportunities.
Last Modified January 12, 2022