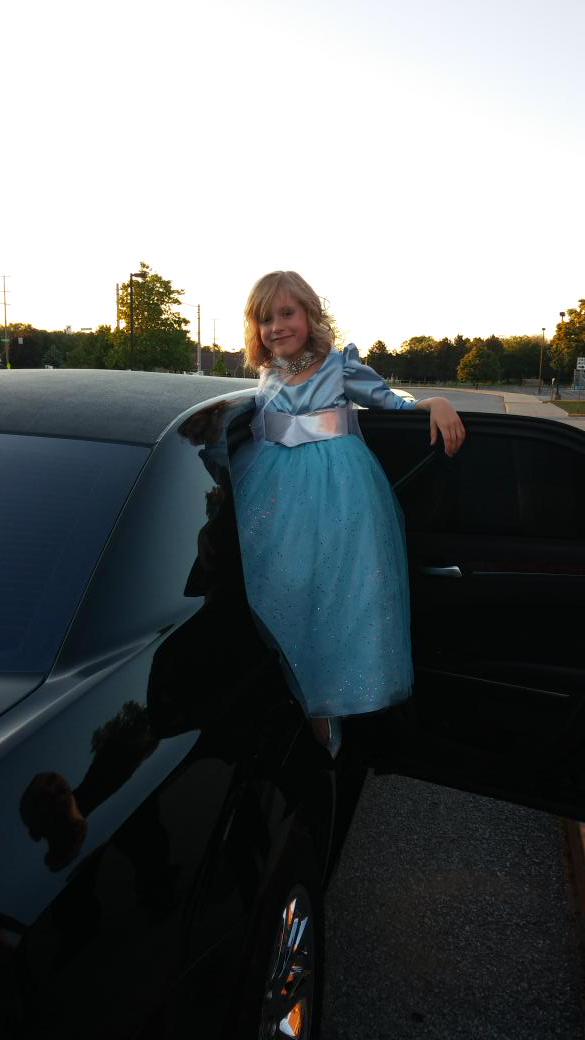 A crowd of 200 watched as the limo pulled up to Penn High School, then out stepped 9-year old Grace Hildreth amid applause and cheers, flashing cameras and raised cell phones. The event was "Hand of Grace," an evening of celebration for Grace, the recipient of a prosthetic arm built by engineering students at the high school.
In a coordinated effort, the Penn High School students and staff pictured below have worked since January to design and create the prosthetic arm for Grace. It was Aaron Leniski, principal of Madison Elementary School where Grace attends third grade, who contacted engineering teachers Josiah Parker and Jim Langfeldt and proposed the project. The high school students had some trepidation, but before long were committed to making it happen.
The design was based on plastic parts created on a 3-D printer, but much engineering and test fitting went into the final product. Students from the Penn News Network, led by teacher Kevin McNulty, got involved producing a brief but compelling documentary film titled "Hand of Grace."
The movie premiere was planned as the centerpiece of the evening, although the real highlight may have been the live interview as Grace and her parents, Jack and Olivia Hildreth, answered questions and shared their perspective with those in the audience.
Grace was also fitted with a beautiful blue ball gown, custom made for her by a group of Family and Consumer Science students, which added to the evening's "wish come true" theme. For those not able to attend, this video covers the evening's festivities, including footage of Grace using her new hand.
Her next wish: to shake hands with lots of people and to tickle her little sister!
The emotional story was featured on the front page of the May 28th "South Bend Tribune" and covered on the late news of all four local TV stations: WNDU, WSBT, FOX 28 and ABC 57. The story has been picked up by ABC National News and is to be featured in a future "World News Tonight" story by anchor David Muir. The date and time of that broadcast will be promoted as soon as it's known.
More information about the Penn High School prosthetic arm project is available at this website www.team135.org/handofgrace/