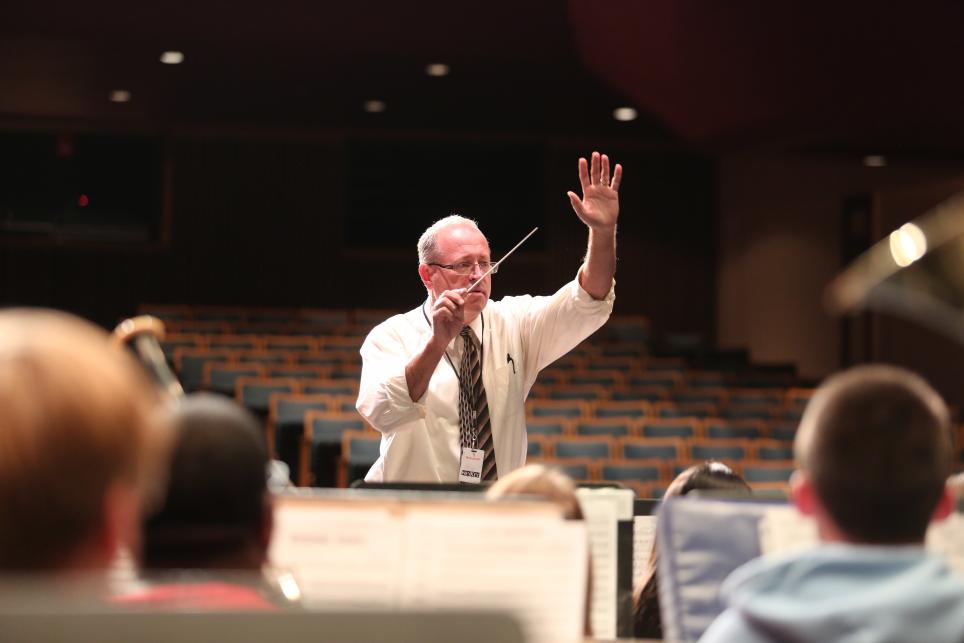 Glenn Northern, who has guided the Penn High School Marching Band to levels of statewide excellence, has been honored for his accomplishments by being named the 2018 Outstanding High School Music Educator of the Year by the Indiana Music Educator Association Board.
Northern, the Penn Fine Arts & Communications Academy Leader and Marching Kingsmen Band Director, is in his 29th year as an educator and his 17th year the in Penn-Harris-Madison School Corporation.
P-H-M Supt. Dr. Jerry Thacker congratulated Northern on the award and said that Northern has played a vital role in elevating Penn's Music Program to an elite status.
P-H-M has been recognized as one of the "Best Communities for Music Education" in the nation by the NAMM Foundation ... an honor that Glenn's hard work and leadership has greatly contributed to," Dr. Thacker stated.
Northern has been the Director of Bands and the Fine Arts & Communications Academy Leader since 2011. He served as Penn's assistant band director for 10 years, and also taught at Discovery Middle School.
In 2015, the Penn Symphonic Winds (Penn's advanced concert band) was named the Co-Champion of the ISSMA Concert Band Finals. This still stands as the only ISSMA Championship ever won by a Penn Band.
"I am very honored to be selected by the Indiana Music Educators Association for this award," Northern said. "However, like many awards of this type, it is the cumulative efforts of many people that make this type of recognition possible. This award also belongs to Murray Weaver, Jeff Carnall, Aaron Griesser, D.J. Landoll, Isaac Brinberg, Heather Baker, Dodi Carnall, Keith Rudolph and the thousands of students and parents who have been a part of the Penn Bands.
"It is the work of all of these people who have created the culture of excellence and the caring environment that have made the Penn Bands such a wonderful organization to be a part of, and to teach," Northern continued. "I am very honored to accept this award on behalf of everyone involved with the Penn Band."
Northern's is also a leader statewide in music education.
In 2015, Northern received the "Outstanding Bandmaster" from the Gamma Chapter of Phi Beta Mu, and in 2011, he received a "Michiana Outstanding Music Educator" ward from Quinlan & Fabish Music Co. Northern has served two terms as the President of ISSMA (Indiana State School Music Association), and is the Past President of the Indiana Bandmasters Association. He also currently serves on the Board of Directors for ISSMA and for the Indiana Music Educators Association.