Dear Parents or Guardians:
Congratulations on helping your senior graduate from Penn High School. We share your pride in your senior's achievement.
Penn High School's Class of 2023 Commencement Ceremony will be held at 7 p.m., June 5, 2023, at Purcell Pavilion at the Joyce Center on the campus of the University of Notre Dame. Doors open at 5:30 for attendees. Click here for details on student arrival time.
Click here for a map with parking/shuttle information for Notre Dame.
The purpose of this letter is two-fold: To provide you with information regarding the various senior activities, and to solicit your assistance in helping make the graduation activities reflect the dignity, solemnity, and importance of your senior's achievement.
Please remember that graduation participation is a privilege, not a required activity. Students will need to adhere to a dress code and behavior standards. Appropriate attire under the cap and gown will be a collared dress shirt, slacks, dark-colored socks, and dress shoes for young men. Dresses or dress pantsuits are necessary for young women. Dress shoes or dress sandals for young women will be expected. Young women should wear high heels at their own risk since they will navigate stairs and walk a distance. Sandals, tennis/basketball shoes, work boots, or similar footwear will not be allowed. We respectfully request your assistance in helping us adhere to these guidelines.


Caps and Gowns
Caps and gowns will be distributed to seniors on April 26 and 27 in the Auxiliary Gym during all blocks. If your senior does not pick up his/her cap and gown at that time, please contact Jostens at 260-758-9673 to make arrangements for pick up. Please have your student try on the cap and gown before graduation. If either does not fit, please contact Jostens. All graduation caps and gowns are black.
Elkhart Area Career Center
Seniors attending the Elkhart Area Career Center will continue to attend until their final day at the Career Center, May 25, unless they have other obligations to fulfill specific course requirements. Bus transportation will remain the same.
Senior Announcements
Announcements will be distributed to students on April 26 and 27 in the Auxiliary Gym, during all blocks. If your senior does not pick up his/her announcements at that time, please contact Jostens at 260-758-9673 to make arrangements for pick up promptly.
Commencement information
Seniors will be given commencement information and directions in meetings on April 26 and 27. The meetings will be held at the beginning of every period in the Penn High School Auxiliary Gym. If your student does not have a study hall or dismissal period, they must make arrangements with a teacher to attend one of the meetings. Please make every effort to have your senior here for this important information. Full-time Night School and Pennway seniors should plan to attend a meeting at Penn on the previously mentioned dates.
Senior Recognition Program
The Senior Recognition Program will be held on Tuesday, May 9, 2023, at 6:30 p.m. in the Penn High School Center for Performing Arts (CPA) by invitation only. Seniors who will be receiving awards will be notified by mail that they will be recognized and should report to the Studio Theatre by 5:45 p.m. on May 9 (through Door B) for seating and final instructions. Seniors are to wear their gowns (no caps), any hoods, cords, or medals received by the Main Office, and appropriate attire to the Recognition Program. Appropriate attire under the gown will be a dress shirt, slacks, dark-colored socks, and dress shoes for young men. Dresses or dress pants are appropriate for young women. Dress shoes or dress sandals for young women will be expected. Casual sandals, tennis/basketball shoes, work boots, or similar footwear will not be allowed.
Senior Final Exams


The schedule for senior final exams will be as follows:
Wednesday, May 24: Blocks 2 & 4 Gold
Thursday, May 25: Blocks 2 & 4 Black
Friday, May 26: Blocks 1 & 3 Gold
Tuesday, May 30: Blocks 1 & 3 Black
Seniors in Danger of Failing
Seniors who fail a required course for graduation will be notified by the Counseling Center and be enrolled in classes for summer night school.
Graduation Rehearsal
Commencement-related information will be given to seniors when they meet with administrators on April 26, and April 27, 2023. The arrangement of facilities at the University of Notre Dame will allow us the opportunity to practice and go over last-minute details on the day of commencement just before the formal activities on June 5, 2023.
On the day of commencement, Monday, June 5, the doors for students to enter Purcell Pavilion at the Joyce Center will be open at 4:30 p.m. Seniors are to enter at Gate 10 and report to the field house at the Purcell Pavilion at the Joyce Center by 4:45 p.m. Seniors arriving after 5 p.m. will not be in alphabetical order and may be required to be seated at the end of the line or may even be excluded from commencement. Seniors are required to wear their caps and gowns and to have appropriate attire under their caps and gowns. Those who do not comply with the standard of dress that is outlined earlier in this letter will not be allowed to participate. Also, no decorations on the caps and gowns will be allowed.
Seniors are asked to refrain from bringing valuables to commencement. Please bring only those necessary items that you will need at graduation. Sunglasses, cell phones, gifts, hangers, food, or drinks will not be allowed. Girls may bring a small handbag/purse. Penn High School and/or Notre Dame are not responsible for lost or stolen items.
Parents and guests are to enter through the south main entrance of the Purcell Pavilion between Gates 8 and 10. Doors open at 5:30 p.m. Handicapped facilities are available throughout the Joyce Center.


Diplomas
Students will be able to pick up their diplomas beginning Monday, June 19, from 9 a.m.–3 p.m.
Pick up will be at the Main Office inside Door A.
2023 Commencement Ceremony


Commencement, the most solemn of all graduation activities, will be held on June 5, 2023, at 7 p.m. at Purcell Pavilion at the Joyce Center on the campus of the University of Notre Dame. Tickets are not required for the commencement. A map of the Notre Dame campus is available on the Penn High School website and by using the following link: https://map.nd.edu. Seniors, parents, guardians, friends, and relatives are asked to refrain from activities that would detract from the dignity of this most important occasion. Disruptive noises, noise-makers, and/or activities for, or from, your senior or their guests will not only cause undue embarrassment for him/her but also interfere with the other seniors and guests who desire a dignified ceremony. Seniors who behave in a disruptive or inappropriate manner will be removed from participation. Individuals who disrupt the ceremony will be escorted from the Purcell Pavilion.
Parents should make prior arrangements as to where to meet their seniors after the graduation ceremonies have ended. Please do not interrupt the procession as the graduates exit the Joyce Center. The graduates will be released to meet with family and friends after re-entering the field house.
Notre Dame requires all purses/bags to be searched before entering the arena. Backpacks, totes, and duffel bags are not allowed. A list of prohibited items includes Alcohol, Animals (Service Dogs are permitted), Artificial noisemakers (including whistles), Cameras with lenses longer than six (6) inches, Cans or glass bottles (including aerosols), Drones or Unmanned Aerial Systems (UAS), Fireworks or explosives, Food or beverage (except unopened plastic water bottles), GoPro or selfie sticks, Laser or pen pointers, Signs, banners, and balloons, Stadium chairs or seat backs (unless medical reason with documentation), Strollers, Water vessels of any kind, Use of tobacco products and e-cigarettes, Use or possession of marijuana, and other illegal drugs, Weapons/Firearms, Any other items deemed dangerous or inappropriate. WEAPONS OF ANY KIND ARE PROHIBITED ON CAMPUS. Food is allowed as a medical necessity with proof.
Parking adjustments will need to be made as there is construction going on in front of the pavilion. We will update you as more information becomes available.


Photos

Inter-State Photography will be positioned to take individual pictures of seniors with their diplomas. Every student will be photographed and all photographs will be available for purchase on a protected website. The website is https://cpinterstatestudio.shootproof.com/gallery/21112185. Password: PHS2023514. NO ONE EXCEPT SCHOOL PERSONNEL WILL BE ALLOWED ON THE ARENA FLOOR TO TAKE PICTURES.
LiveStream
We will be live-streaming the ceremony and it will be accessible at this link: https://penn.phmschools.org/2023PennGraduation.
Yard Signs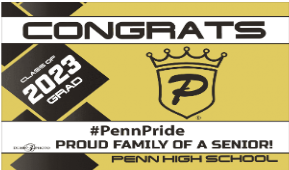 If you would like to purchase a yard sign for your graduate, please click here for the link from Derby Photography to place your order. All orders must be placed by Friday, April 28. Pick up for the signs will be at Penn High School in the Main Office starting the second week of May. The cost is $20 per sign.
Senior Parade and Breakfast
On May 31 and June 1, seniors will be visiting their former elementary schools and inspiring our elementary students to celebrate graduation and thank their teachers who have helped them achieve this goal. A light breakfast will be served beginning at 8:15 a.m. in the hallway at the north end of the cafeteria before the parades start. More information will be shared at the Senior Meeting on April 26th & 27.


Participation in Activities


You and your senior should know that participation in any or all of the activities described in this letter are VOLUNTARY. You have the right NOT to participate.
It is our strong desire this year's commencement activities will reflect the way in which we would like the Class of 2023 to be remembered. Students who choose to violate school rules not only jeopardize their academic success but also risk disciplinary action. If such disciplinary action is taken, students will not receive their diplomas until the consequences for school violations have been served. We invite your support in encouraging your senior to be responsible academically and behaviorally through commencement and for the rest of the school year.
Your assistance and cooperation in conforming to the instructions outlined in this letter are needed and appreciated. If you have any questions about the activities outlined above, please do not hesitate to call.
Again, congratulations to you and your senior! We wish the newest members of the Penn High School Alumni the very best! They have, indeed, been very special!
Sincerely,
Dr. Sean Galiher
Principal