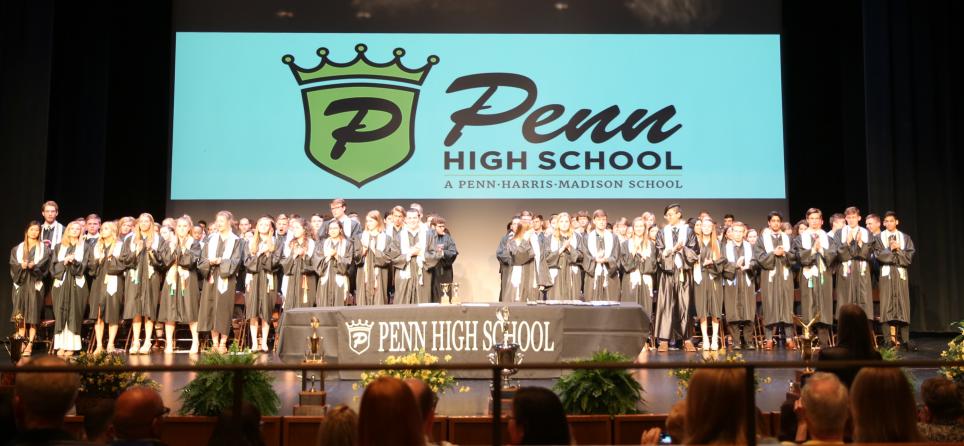 Penn High School will graduate 868 students on Friday, June 7, at Purcell Pavilion on the University of Notre Dame campus.
The Class of 2019 Senior Recognition Night ceremony was held last night (Tuesday, May 14) in the CPA. It's a time to recognize the academic success that members of the Senior Class has achieved recognizing them for awards and honors that they've earned for graduation.
This year's graduating class seniors have earned just over $11 million in scholarships!
Awards conferred at last night's Senior Recognition included academic excellence, leadership, service to school and community, citizenship, attendance, athletic accomplishments and a whole host of other accomplishments. Click here to see the full listing of Senior Awards and Commencement Recognitions of the graduating Class of 2019.
"The honors being bestowed upon our students this evening are all certainly well-deserved and each represents a tremendous amount of hard work and commitment on the part of our students, and also the Penn faculty," said Penn Principal Sean Galiher. "Our success is only measured by our student's success."
The Penn High School Principal's Academic Excellence Award was presented to eight seniors based upon academic excellence and overall achievement: Katherine Adams, Brittney Day, Chloe Dobay, Kathryn Iapalucci, Kayla Neal, Justin Schneider, Zachary Simon, and Erik Wilcox.
The Principal's Leadership Award is presented annually to students who contribute their talent, time, energy, and motivation to the leadership of Penn's student body. Siddharth Das and Jenna Marshall were honored for helping to make a difference in the culture of Penn on behalf of their classmates. Principal Galiher noted that the work and dedication of Siddharth and Jenna went above and beyond that of any normal Penn student leader.
The Principal's Citizenship and Service Award was presented to eight Penn High School students who have selflessly donated many hours to make sure that Penn High School is well represented in whatever service project they're involved in. Principal Galiher said of these students, "Simply put, they make good things happen at Penn!" The winners of the 2019 Principal's Citizenship and Service Award were: Madison Bansback, Olivia Coughlin, Sophia Davidson, Mia Farias, Caden Paquette, Matthew Pruitt, Brittany Stahl, and Tessa Ziwawo.
The Class of 2019 boasts 18 valedictorians and three salutatorians. This year's valedictorians have an average GPA of 4.38 on a scale of 4.0!
The valedictorians and salutatorians will also be honored at Commencement on June 7. The Class of 2019's 18 valedictorians include: Ammaar Basher, Amy Bernard, Ella Boardley, Charlotte Chang, Xi (Chelsea) Chen, Siddharth Das, Lucas Jerzak, Aidan Kaczanowski, Hasaan Kazi, Shurun Kim, Sabrina Kurian, Tingyi Lu, Abigail Meckstroth, Zainab Nasser, Sophia Patel, Justin Ralston, Alvin Wang, and Corey Wang. Click to read the bios of this year's valedictorians.
The salutatorians are McKenna Hillsdon-Smith, Christian Marshall, and Zachary Simon. Their average GPA is 4.29 on a scale of 4.0!
This year eight Penn High School students designated as National Merit Semi-Finalists based upon their high PSAT scores have been named National Merit Finalists. These students advanced to Finalist standing in the Merit Scholarship competition of 2019 by demonstrating, through distinguished performance, high potential for future academic accomplishment. They are now eligible for one of the 8,000 scholarships to be awarded this spring. Penn's 2019 National Merit Finalists are: Amy Bernard, Xi (Chelsea) Chen, Aidan Kaczanowski, Brandon King, Tingyi Lu, Corey Wang, Eric Wood, and Tinale Zhang.
The following National Merit Finalists also received a scholarship from the National Merit Scholarship Corporation: Aidan Kaczanowski, Brandon King, Corey Wang, Eric Wood, and Tinale Zhang.
Ten students received recognition from the College Board and were awarded National Merit Commended Scholar status: Ammaar Basher, Ella Boardley, Michael Cha, Micah Focht, Noah Reynolds, Ioannis Samoilis, Carly Scopel, Jacqueline Sekan, Zachary Simon, and Alvin Wang.
Penn also has one student who was named a 2019 U.S. Presidential Scholars Competition Valedictorian Tingyi Lu was chosen from a pool of the nation's nearly 3.6 million graduating high school seniors.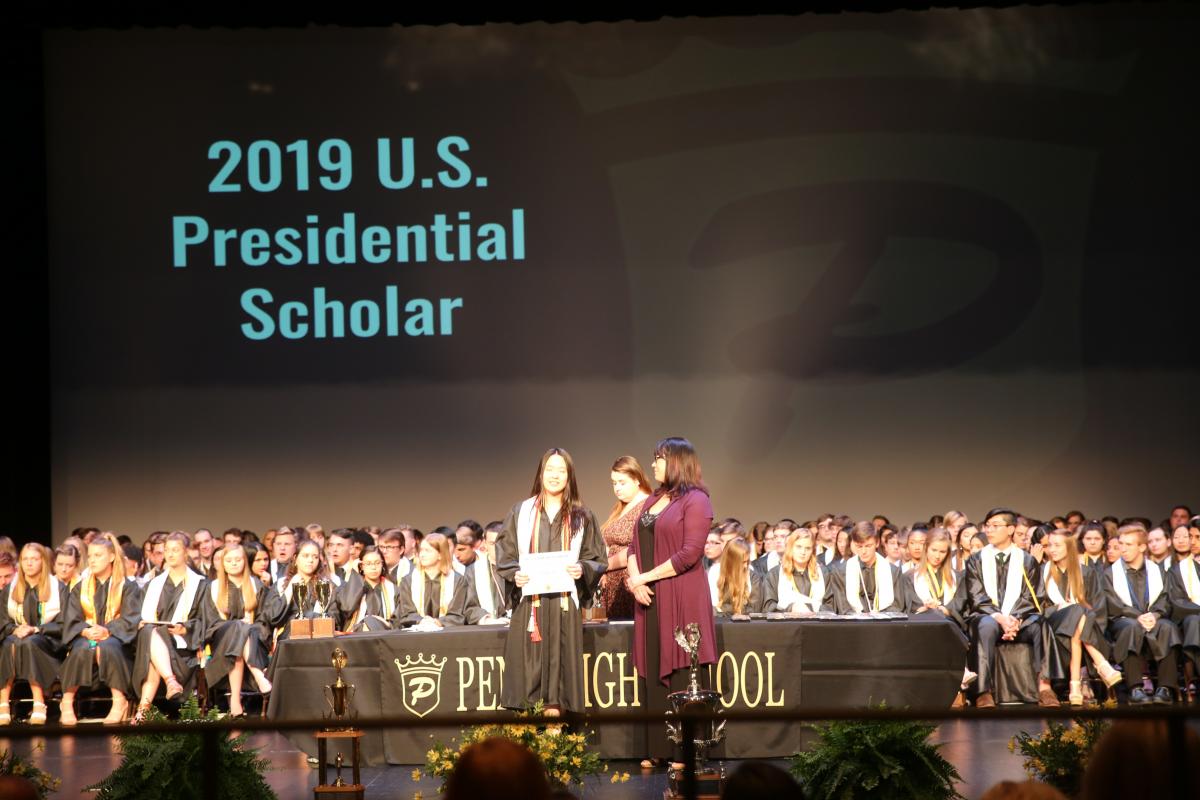 Another valedictorian Corey Wang was also selected as a 2019 Indiana Academic All-Star. Each Indiana high school can nominate one senior for this prestigious award. Of the 90 regional winners chosen by a selection committee, 40 of these students, including Corey, have been selected and honored as an Indiana Academic All-Star. Awards were presented to the students and an influential educator of their choice at a luncheon ceremony held in April in Indianapolis. Corey chose his Calculus Math teacher Mrs. Valerie Ong to be recognized with him.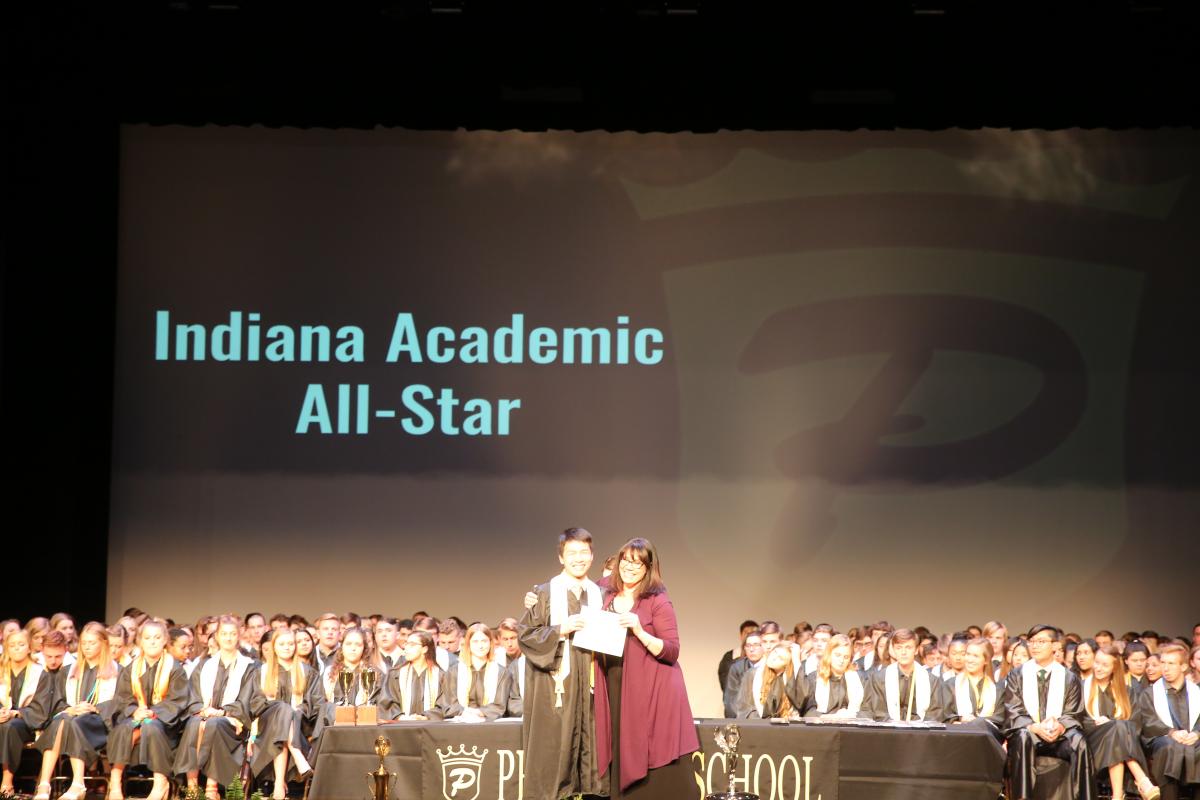 Abigail Meckstroth and Emily Morales Liddiard are being awarded the Community Foundation of Saint Joseph County Eli Lilly Endowment Scholarship based on their high academic merits and test scores. The Lilly Endowment Community Scholarship provides full tuition, required fees, required books, and equipment for four years of undergraduate study leading to a baccalaureate degree at any accredited Indiana public or private college or university. Abigail plans to attend The University of Notre Dame in the fall and Emily plans to attend Purdue University.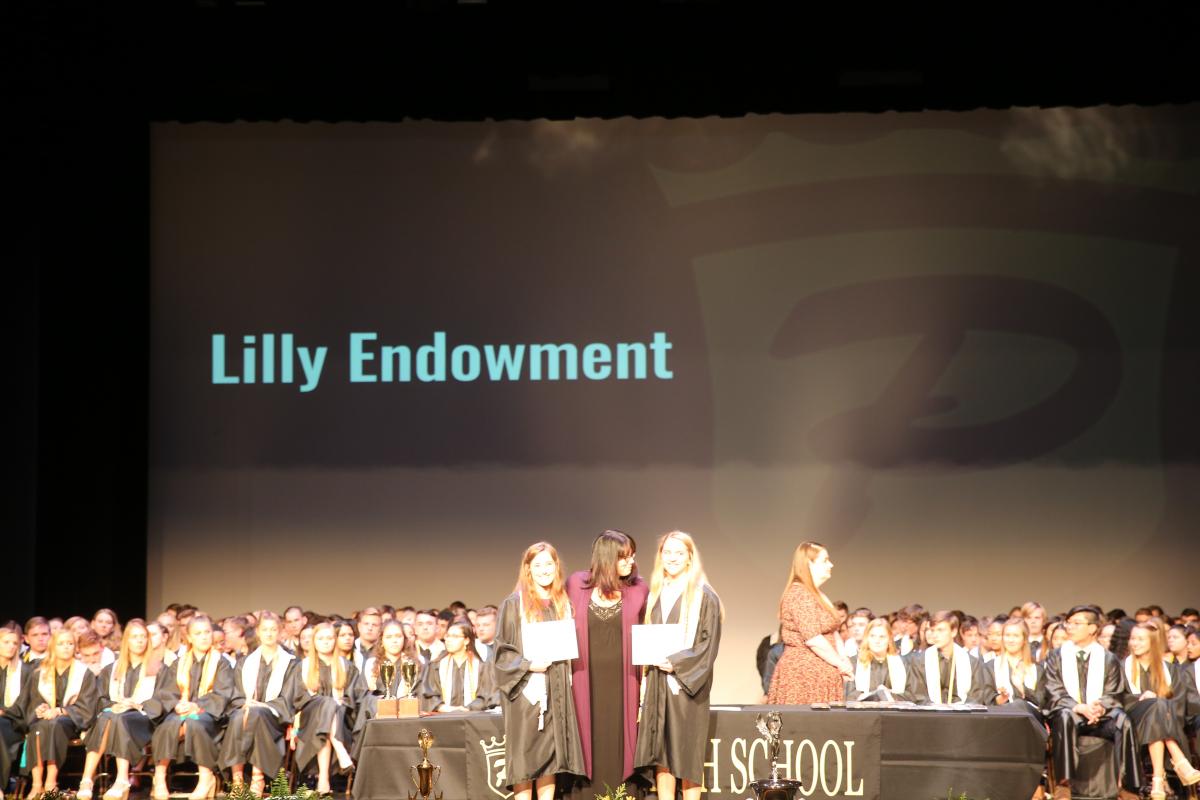 Every year scholarships are also awarded for the Dr. and Mrs. Jerry Thacker Scholarship and the Larry Beehler Scholarship. Dr. Jerry Thacker is Superintendent of Penn-Harris-Madison School Corporation and Mr. Larry Beehler is a longtime member of P-H-M's Board of School Trustees. It was announced last night that Olivia Coughlin was the recipient of the Dr. & Mrs. Jerry Thacker Scholarship and Zachary Parcell was the recipient of the Larry Beehler Scholarship.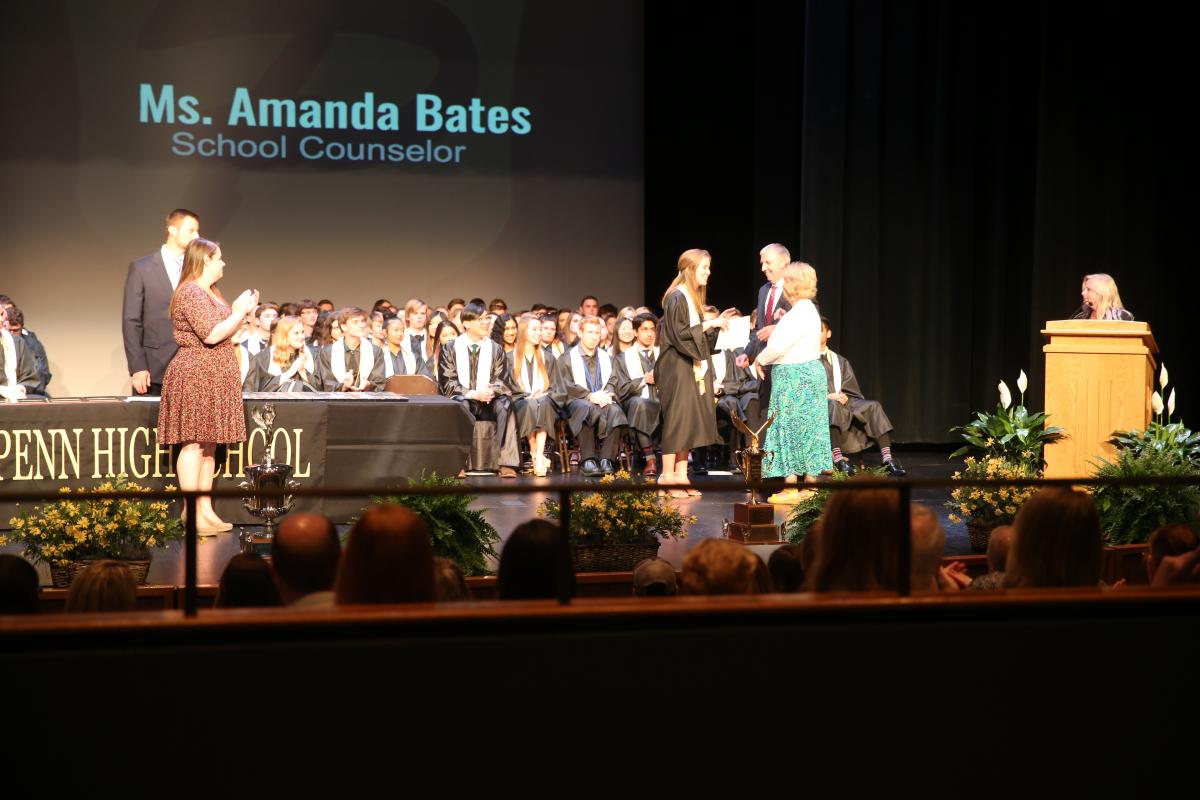 Every year since 1967, Penn's faculty vote to recognize an outstanding member of the graduating class based on service, character and leadership; the student must also, at the end of seventh semester, be in the top 10% of their graduating class. The senior selected is awarded the Paul H. Schmucker Award in memory of the distinguished member of Penn High School faculty from 1960-1967. This year's recipient is Caden Paquette.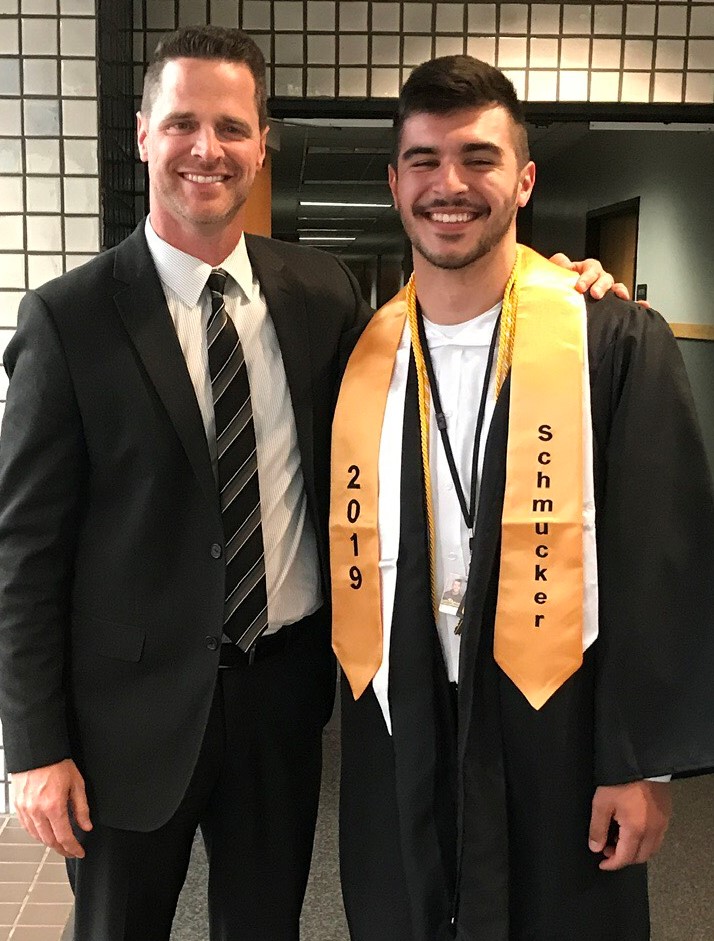 Each year, the graduating class also nominates a classmate who best exemplifies the qualities of service to his/her school community, school spirit, respect for classmates and Penn High School for the Kingsman of the Year Award. A tradition since 1970, the recipient is recognized for his/her leadership and willingness to accept challenge and is a great honor and show of respect from the recipients fellow classmates. The Class of 2019 Kingsman of the Year Award winner is Corey Wang.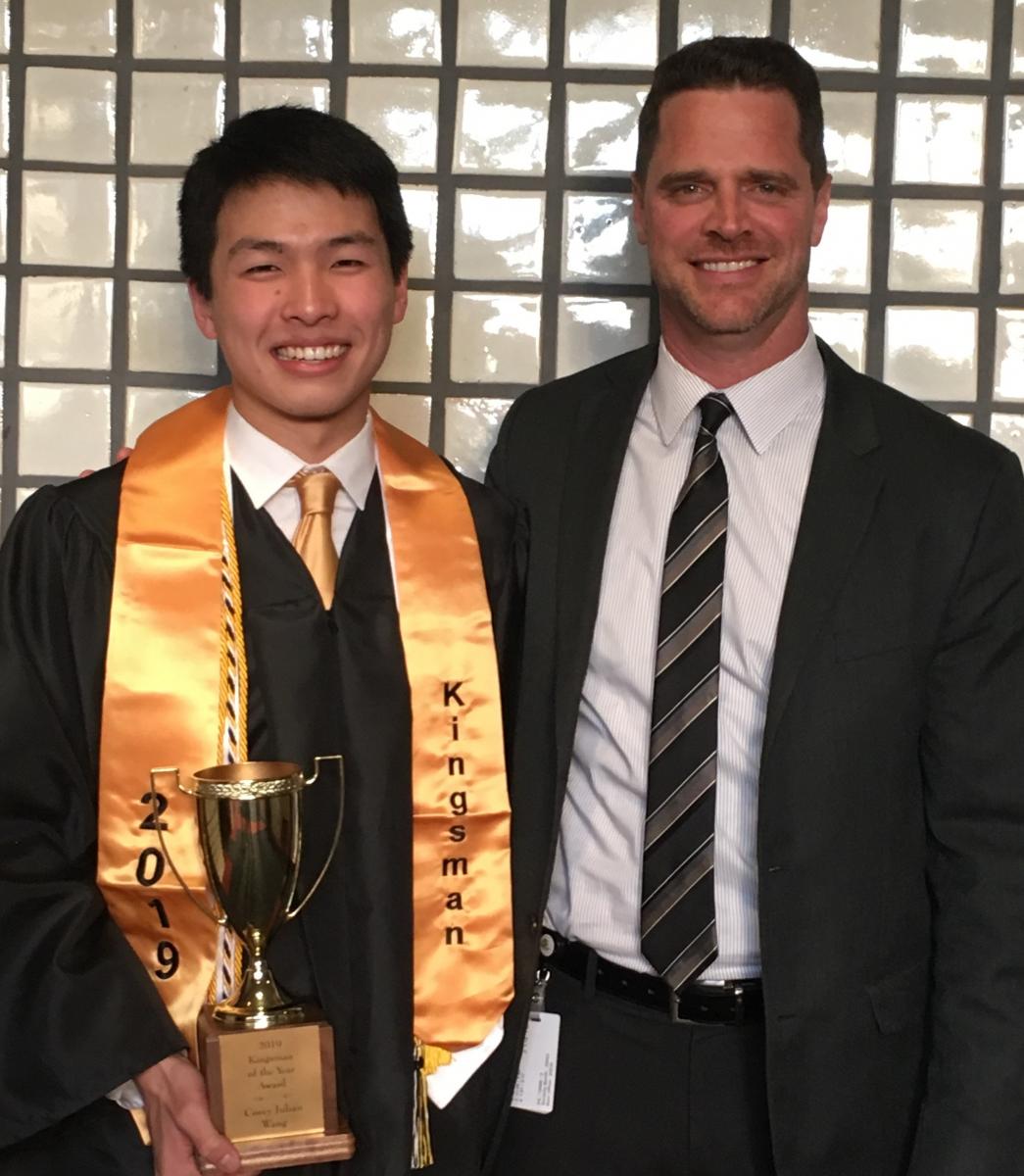 Other Award Winners from the evening included: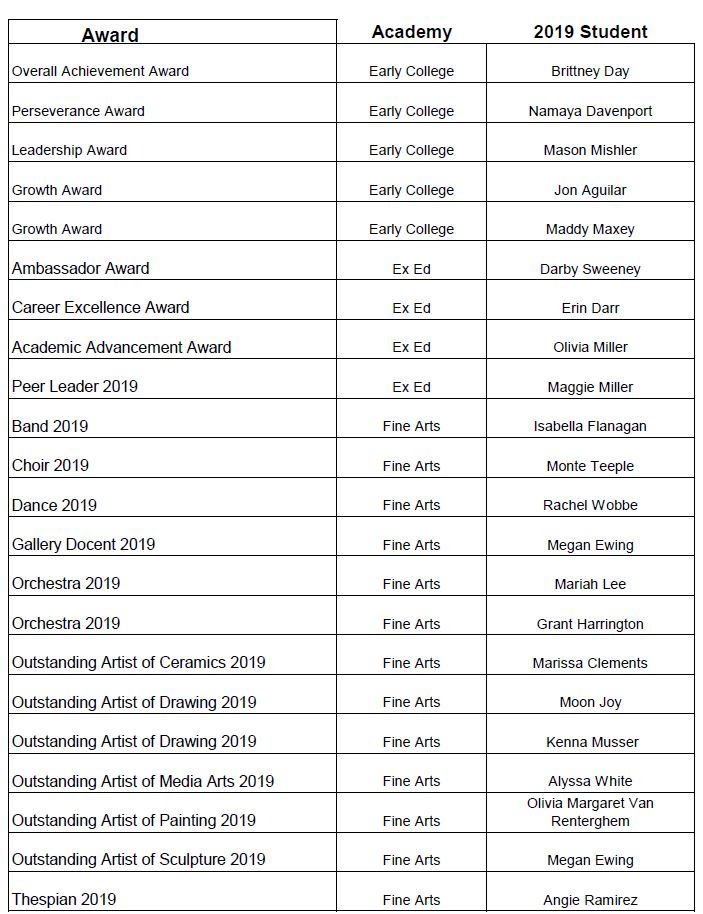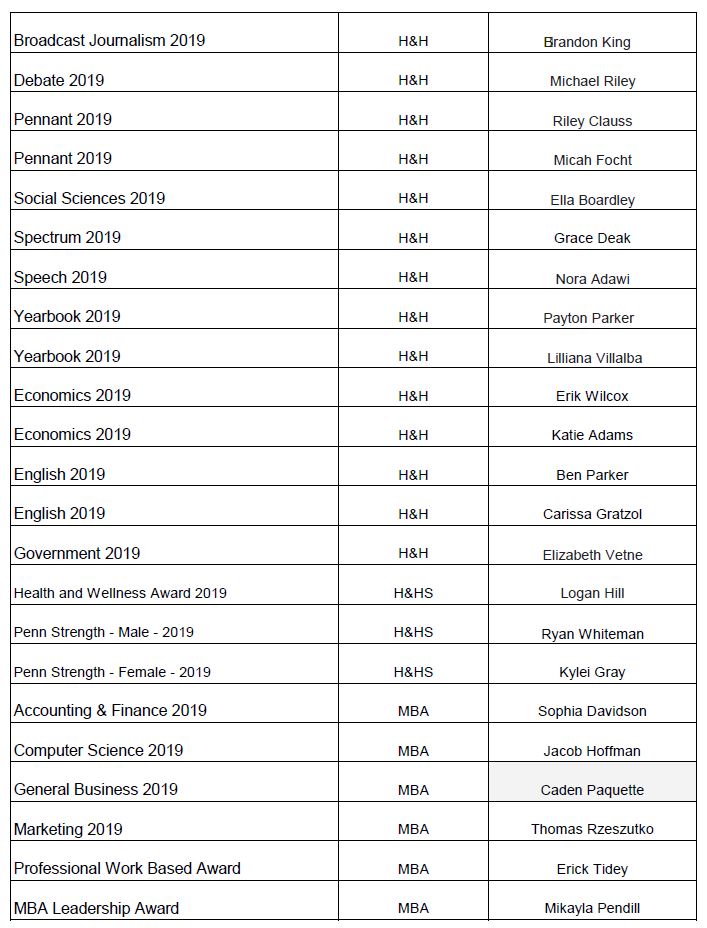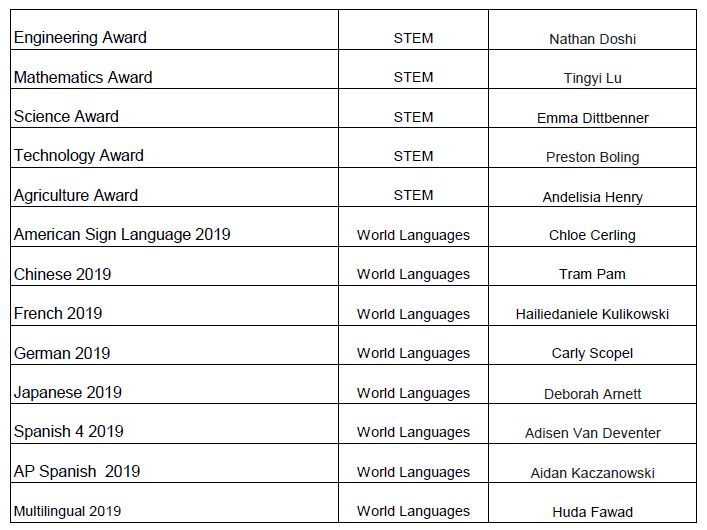 Click here to download and print the full list of the Senior Awards and Commencement Recognitions of the graduating Class of 2019.