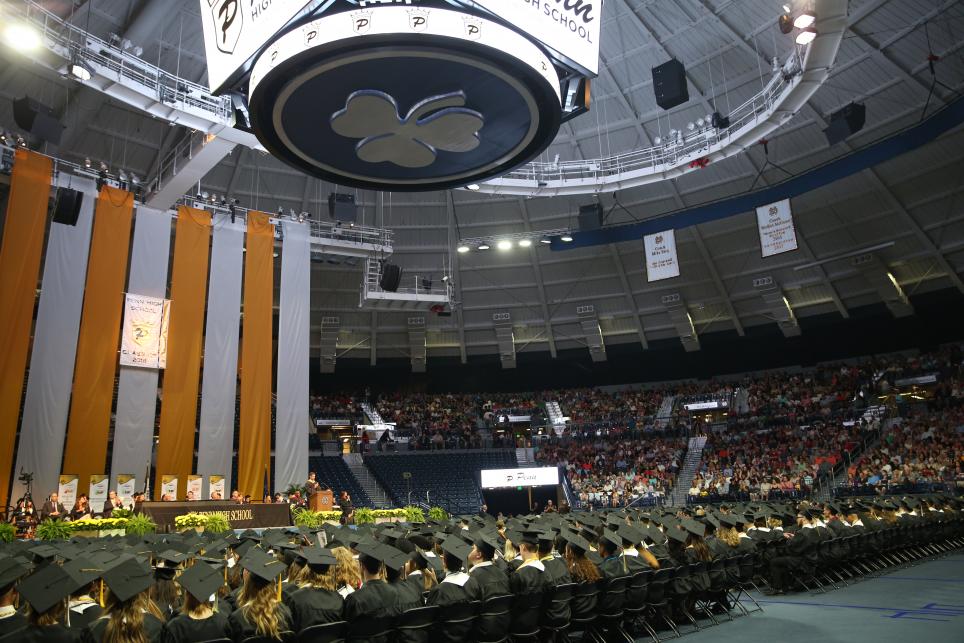 Penn High School will hold its 2019 Commencement ceremonies on Friday, June 7, at Purcell Pavilion at the Joyce Center on the campus of the University of Notre Dame.
Parents and guests are to enter through the south main entrance of the Purcell Pavilion between Gates 8 and 10. Doors open at 5:30 p.m. Handicapped facilities are available throughout the Joyce Center.
Tickets are not required.
GRADUATES: Report to Gate 10 of the Field House at the Purcell Pavilion at the Joyce Center (click here to view the ND campus map) no later than 4:45 p.m.! Doors for students to enter Purcell Pavilion at the Joyce Center will be open at 4:30 p.m. Seniors arriving after 5 p.m. will not be in alphabetical order and may be required to be seated at the end of the line or may even be excluded from Commencement.
Seniors are required to wear their caps and gowns and to have appropriate attire under their caps and gowns. Those who do not comply with the standard of dress that is outlined earlier in this letter will not be allowed to participate. Also, no decorations on the caps and gowns will be allowed.
Click here for more graduate information in the Class of 2019 Senior Letter.
Students will be able to pick up their diplomas beginning Wednesday, June 19, from 9:00 a.m. – 3:00 p.m. Pick-up will be outside the Main Office inside Door A.
HR Imaging Partners will be positioned to take individual pictures of seniors with their diplomas. Every student will be photographed and all photographs will be available for purchase on a protected website. The website is http://shop.hrimaging.com; select the orange tab, which is 'order prints from special events'.
NO ONE EXCEPT SCHOOL & P-H-M PERSONNEL WILL BE ALLOWED ON THE ARENA FLOOR TO TAKE PICTURES!
Senior Recognition Program will be at 6:30 p.m. on Tuesday, May 14, in the Penn High School Center for the Performing Arts by invitation only.