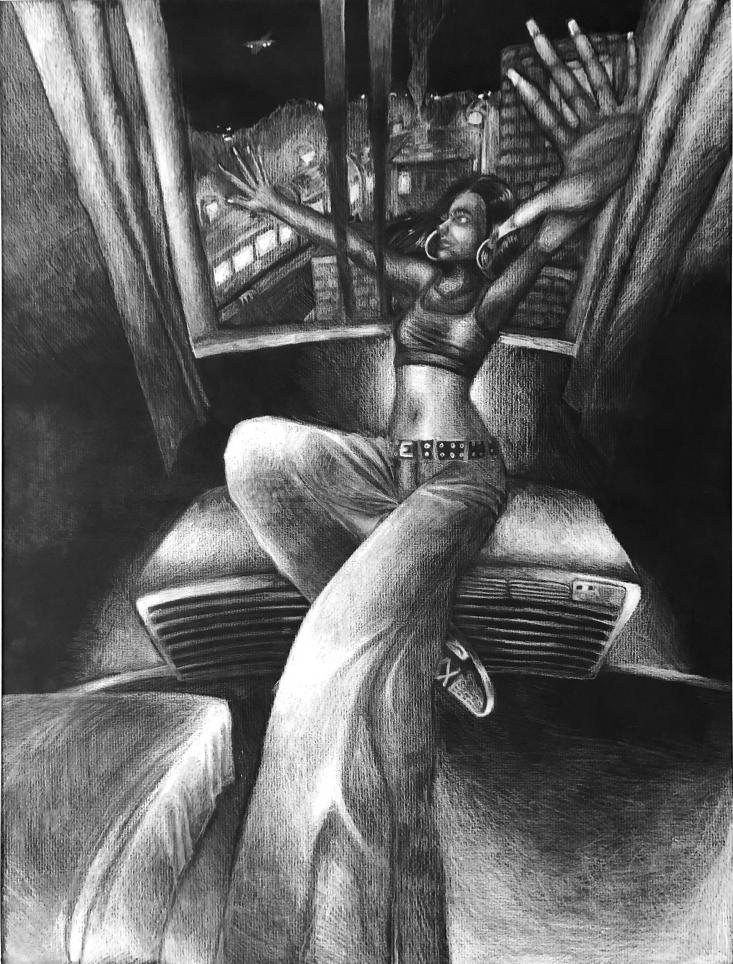 Penn's talented student artists are once again being recognized for their amazing talents.
This year Penn has a total of 100 Scholastic Art Award winners overall (click to see the full list of winners below):

12 Gold Key winners
38 Silver Key winners
50 Honorable Mention
Pictured below, right to left are, some of the Gold Key Winners:
Brody Campbell, "Grasping for Life," Gold Key Winner
Etta Forry, "Peacock Eyes," Gold Key Winner
Greta Lannon, "Texture Augmented," Gold Key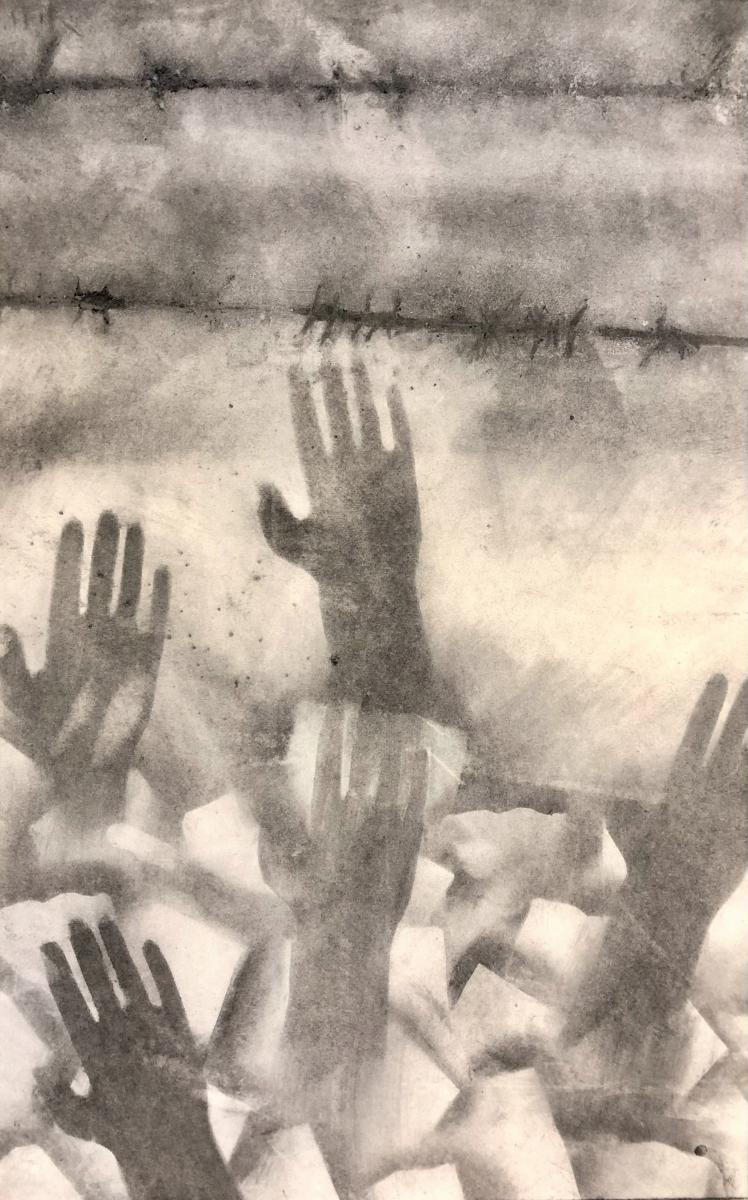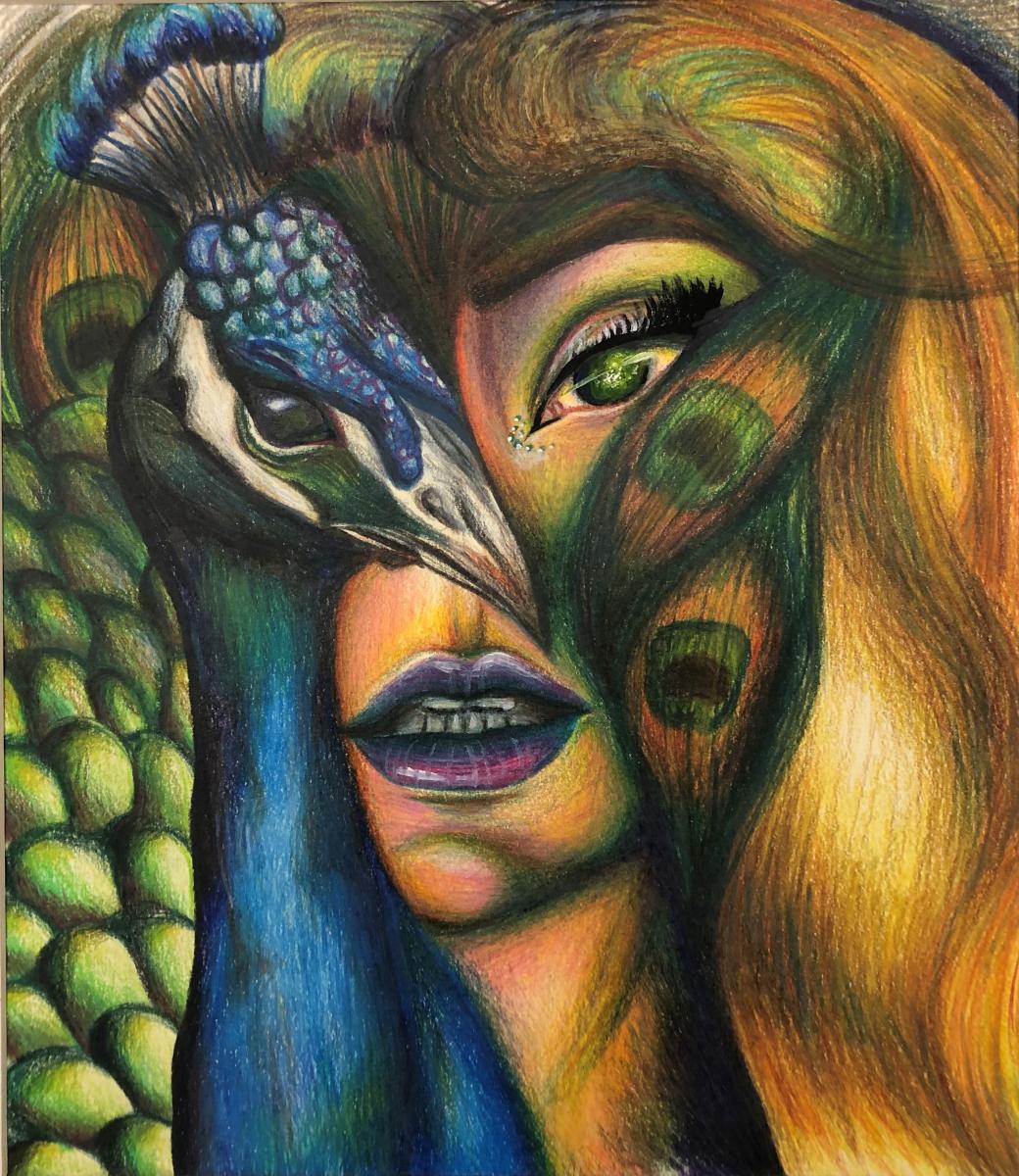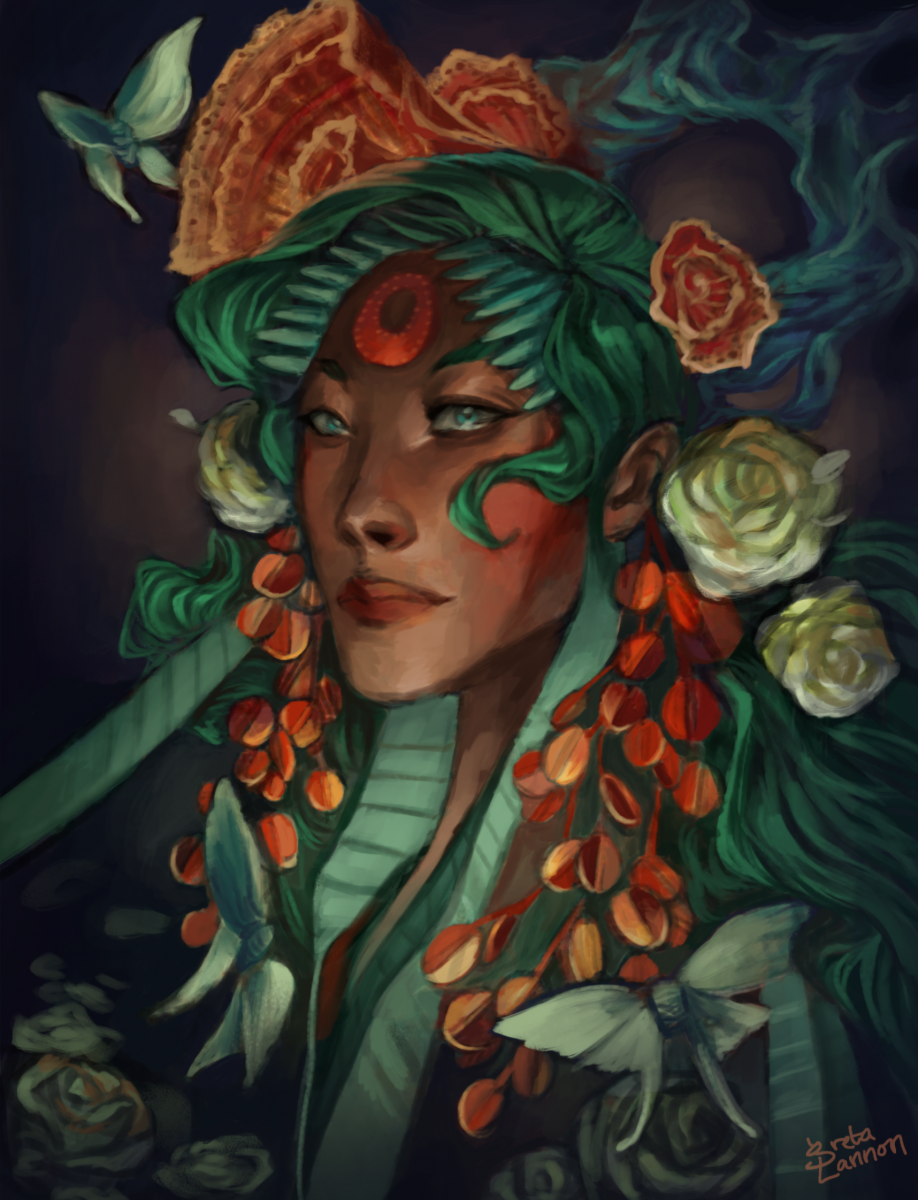 Scholastic Art Awards are the largest and longest running competition for junior and high school students nationwide; and the program is celebrating their 100th anniversary this year. There are three levels of awards: Gold Key, Silver Key, and Honorable Mention (see the full list of winners below). The Gold Key winners go on to compete at the national level in New York City; along with the tremendous honor, this level usually brings many opportunities for scholarships.
In the Michiana area, Gold and Silver Key winners will be included in an impressive public exhibition at the Warner Gallery at the South Bend Museum of Art located in the Century Center. Honorable Mention Award winners will be displayed digitally throughout the museum. This year's exhibit runs from Saturday, February 4 – Saturday, April 29, kicking off with an Open House reception for artists, families, and teachers on February 4, from 11:00 a.m. – 5:00 p.m. Entry is free and open to the public.
| | | | | |
| --- | --- | --- | --- | --- |
| Student | Title | Award | Category | Penn Teacher |
| Tatiana Alvarado | Living Tree | Honorable Mention | Drawing | A. Napoli |
| Rylie Basil | Blow Fish | Honorable Mention | Ceramics | B. Brown |
| Maggie Bell | 2 Sides of the Same… | Honorable Mention | Printmaking | B. Miller |
| Lizzy Bosker | Divine Perseverance | Silver Key | Ceramics | B. Brown |
| Charlotte Burbedge | The Kid & The Fish | Silver Key | Printmaking | B. Miller |
| Caroline Brummett | Flower Vessel | Honorable Mention | Ceramics | B. Brown |
| Brody Campbell | Grasping for Life | Gold Key | Printmaking | B. Miller |
| Laighton Chambers | Riches | Gold Key | Photography | B. Dunham |
| Laighton Chambers | Silver… | Honorable Mention | Photography | B. Dunham |
| Rayah Coomes | Leaning Back | Gold Key | Drawing | B. Miller |
| Rayah Coomes | Ruby's Walk | Silver Key | Drawing | B. Miller |
| Rayah Coomes | The Last Breath… | Silver Key | Drawing | B. Miller |
| Rayah Coomes | Walk Through the.. | Honorable Mention | Printmaking | B. Miller |
| Kaitlyn Caldwell | A Light in the Dark | Honorable Mention | Drawing | B. Miller |
| Kaitlyn Caldwell | Fashion Treats | Honorable Mention | Printmaking | B. Miller |
| Juliette Carroll | Froggy Love | Honorable Mention | Printmaking | B. Miller |
| Ryleigh Castaneda | Deer Bells | Honorable Mention | Drawing | B. Miller |
| Nohathela Chalulu | Static | Honorable Mention | Drawing | B. Miller |
| Abigail Crowfield | A Tug at Reality | Silver Key | Painting | B. Hope |
| Abigail Crowfield | Singing in the… | Silver Key | Painting | B. Hope |
| Carson DiPaola | Hear, See, Speak N.. | Silver Key | Painting | B. Hope |
| Abby Edwards | Greek Study 2 | Silver Key | Painting | B. Brown |
| Abby Edwards | Greek Study 1 | Honorable Mention | Painting | B. Brown |
| Kelsey Forbes | Throughout The G… | Gold Key | Photography | B. Dunham |
| Kelsey Forbes | The Silent Screams | Silver Key | Photography | B. Dunham |
| Kelsey Forbes | Fools Gold | Silver Key | Photography | B. Dunham |
| Kelsey Forbes | In the Months to C… | Silver Key | Photography | B. Dunham |
| Etta Forry | Peacock Eyes | Gold Key | Drawing | B. Miller |
| Etta Forry | Felicia | Silver Key | Drawing | B. Miller |
| Etta Forry | The Lure of Light | Silver Key | Drawing | B. Miller |
| Skyler Foulks | Wise | Silver Key | Printmaking | B. Miller |
| Rylie Frenlen | 5:53 | Silver Key | Photography | B. Dunham |
| Milly Galloup | Equinox | Honorable Mention | Sculpture | K. Bretz |
| Milly Galloup | Azog | Honorable Mention | Sculpture | K. Bretz |
| Dana George | Coil Meadow | Honorable Mention | Ceramics | B. Brown |
| Rachael Gindling | Gaze Into Him | Silver Key | Photography | B. Dunham |
| Rachael Gindling | Hollow Wood | Honorable Mention | Photography | B. Dunham |
| Ian Hahn | All Sports Lake | Honorable Mention | Mixed Media | B. Miller |
| Miranda Hanchar | Not Just Trash to… | Silver Key | Printmaking | B. Miller |
| Olivia "Ashton" Hanover | Candy Sculptures | Honorable Mention | Drawing | B. Miller |
| Norah Harvey | Little Ghosts | Silver Key | Photography | B. Dunham |
| Norah Harvey | Cosmetics | Silver Key | Painting | B. Hope |
| Norah Harvey | The Price of Beauty | Silver Key | Painting | B. Hope |
| Norah Harvey | Equality of Pink | Honorable Mention | Painting | B. Hope |
| Norah Harvey | In His Hands | Honorable Mention | Painting | B. Hope |
| Maggie Holder | A Stroll Through a … | Honorable Mention | Printmaking | B. Miller |
| Maggie Holder | The Beauty of Ima… | Honorable Mention | Drawing | B. Miller |
| Mallory Jones | Sun & Moon | Honorable Mention | Sculpture | K. Bretz |
| Thomas Kaboski | Johnny | Gold Key | Printmaking | B. Miller |
| Kenna Kelsey | Honey Pot | Gold Key | Ceramics | K. Bretz |
| Kayla Kimes | Pondering Time | Gold Key | Photography | B. Dunham |
| Devyn Keller | Fish out Of Water | Silver Key | Printmaking | B. Miller |
| Cole Klinedinst | Sipping Gourd | Silver Key | Ceramics | B. Brown |
| Greta Lannon | Texture Augmented | Gold Key | Digital Art | A. Dunfee |
| Gabi LaPara | My Body My Choice | Silver Key | Ceramics | B. Brown |
| Andrew Lynn | With the Windmills | Honorable Mention | Printmaking | B. Miller |
| Katelyn Miller | Sound of Growth | Gold Key | Photography | B. Dunham |
| Abbey McGirr | I Love Ewe, Two | Honorable Mention | Printmaking | B. Miller |
| Noralee Moock | Mesh Pile | Honorable Mention | Printmaking | B. Miller |
| Noralee Moock | Chipmunk Harmony | Honorable Mention | Drawing | B. Miller |
| Biddyclair Moore | Plight of Mother N.. | Silver Key | Drawing | B. Miller |
| Isabella Peterson | Time after Time | Silver Key | Photography | B. Dunham |
| Isabella Peterson | Beyond the Horizon | Honorable Mention | Photography | B. Dunham |
| Isabella Peterson | Go All Out | Honorable Mention | Photography | B. Dunham |
| Jacob Pippin | Cherry Red | Silver Key | Photography | B. Dunham |
| Jacob Pippin | Rollout | Honorable Mention | Photography | B. Dunham |
| Jacob Pippin | Summer Harvest | Honorable Mention | Photography | B. Dunham |
| Jacob Pippin | Early Autumn | Honorable Mention | Photography | B. Dunham |
| Jacob Pippin | Peaches and Leisure | Honorable Mention | Photography | B. Dunham |
| Sophia Pischalko | Art Nouveau Pitcher | Silver Key | Ceramics | B. Brown |
| Sophia Pischalko | Giraffe Scales | Honorable Mention | Ceramics | B. Brown |
| Karsten Pittman | A Room Full of Ideas | Honorable Mention | Printmaking | B. Miller |
| Nina Pulja | Red Venom | Gold Key | Photography | B. Dunham |
| Nina Pulja | Nemesis | Silver Key | Photography | B. Dunham |
| Nina Pulja | Choices | Silver Key | Photography | B. Dunham |
| Alexa Resko | Blue in Bloom | Honorable Mention | Painting | B. Hope |
| Ash Roush | Fishbowl | Silver Key | Digital Art | B. Hope |
| Ash Roush | Vitality | Honorable Mention | Mixed Media | B. Hope |
| Ash Roush | Contemplation | Honorable Mention | Mixed Media | B. Hope |
| Ash Roush | Seventeen | Honorable Mention | Painting | B. Hope |
| Charlie Sailor | Reaching In | Silver Key | Mixed Media | B. Miller |
| Charlie Sailor | In the Hands of the… | Silver Key | Editorial Cartoon | B. Miller |
| Charlie Sailor | My Flower | Honorable Mention | Printmaking | B. Miller |
| Kendall Sheets | Nature Talks | Honorable Mention | Ceramics | B. Brown |
| Victoria Sanchez | The Shades of Touch | Honorable Mention | Drawing | B. Miller |
| Syed Khizar Shah | Neighborhood Watch | Silver Key | Mixed Media | B. Miller |
| Jagmit Singh | The Obstacle of Fear | Silver Key | Drawing | B. Miller |
| Chris Standlee | Somebody | Gold Key | Sculpture | A. Napoli |
| Myah Schindler-DeLeu | Head in the Clouds | Silver Key | Printmaking | B. Miller |
| Zachary Stevens | Forest of Spies | Honorable Mention | Mixed Media | B. Miller |
| Gracen Stewart | Entrenched | Silver Key | Ceramics | B. Brown |
| Gracen Stewart | Her | Honorable Mention | Ceramics | B. Brown |
| Claire Suranyi | Serendipity | Honorable Mention | Drawing | B. Miller |
| Samantha Tipton | Composition | Honorable Mention | Photography | B. Dunham |
| Victoria Tom | Coil Heart Tree | Honorable Mention | Ceramics | B. Brown |
| Brienna Wiggins | Disconnected From… | Gold Key | Photography | B. Dunham |
| Brienna Wiggins | I only Exist to Fall | Silver Key | Photography | B. Dunham |
| Brienna Wiggins | The Chicago Cat | Silver Key | Drawing | B. Miller |
| Brienna Wiggins | The Weight of the… | Honorable Mention | Printmaking | B. Miller |
| Samantha Yang | Great View | Honorable Mention | Mixed Media | B. Miller |