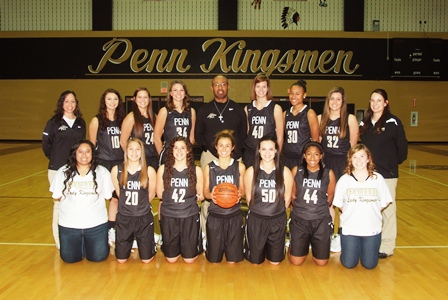 Penn Girls Basketball (27-2 record) has advanced to the 4A State Championship game! They will take on Columbus North (27-1) at 8:15 p.m. this Saturday, February 27, at Bankers Life Fieldhouse in Indianapolis.
Penn is seeking its first ever Girls Basketball State Championship, and we are counting on many of our local boosters to join us for this exciting event! Come on down and support Coach Kristi Kaniewski Ulrich and her squad of exceptional student-athletes as they reach for the prize.
ADVANCE TICKET SALES
$15.00 per person, reserved seating. Children 2 years and up are required to have a ticket.

Tickets are being sold at the Penn Athletic office Tuesday Feb. 23 until 3:30 p.m. and Wednesday Feb. 24, from 8:00 a.m to 3:00 p.m.

Tickets will also be sold at the Tuesday Feb. 23 Boys Basketball home game. (Penn vs. Jimtown; 7:30 p.m. start time.)

Tickets are good for Session II which includes both the 3A & 4A State Championship games. Doors open at 5:00 p.m. 3A match starts at 6:00 p.m.

$1.00 from every ticket sold at Penn is returned to the school.

Tickets will NOT be available for sale at the district's Educational Services Center.
Of course you can also buy tickets at Bankers Life Fieldhouse on Saturday, or online Friday and Saturday via the Bankers Life Fieldhouse website.
FAN BUS
First come - First serve!

$35.00 total, includes a ticket to the game

Signup and pay in the Penn Athletic Office no later than Thursday, 3:00 p.m.

Questions, please call Penn Athletic Office at (574) 258-9537
STATE GEAR
Due to popular demand the State Spirit Shirt is available to everyone! It is on the Paige's website http://www.paigeslettering.com/#!pgbb/c3vj You can order and pay online. Click on the PGBB tab.

Please include your name followed by "-Penn". Ex. Jane Doe - Penn

This opportunity to purchase will be available online until NOON ON WEDNESDAY.

Pick up shirts at Penn, inside of Door D, from 5:30-6:30 p.m. on Friday. Only pre-order shirts will be available.
ATTENDING THE GAME? HERE'S NEED TO KNOW:
>No publications, brochures, fliers, etc. of any kind, whether for sale or free-of-charge, are to be distributed at IHSAA tournament events without prior approval from the IHSAA.
>Balloons, banners and/or posters, etc. are not permitted.
>Cowbells and other such noise devices, banners, shakers on sticks, signs, posters, etc., are not permitted.
>No live animal mascots are permitted.
>Line-up lanes of fans shall not be permitted on the playing floor at any time.
>Audio/video devices are not permitted on the playing floor.
>The throwing of articles, including toilet tissue, is not allowed.
CAN'T ATTEND? FOLLOW ANYWAY!
Television: All four state championship games will air live on Fox Sports Indiana.

Web stream: For viewers outside of the Fox Sports Indiana coverage area, a live stream will be available at IHSAAtv.org. For those within the FSI coverage area, the stream will be available only on delayed basis following the conclusion of the telecast.

Radio: Each game will be broadcast on affiliates of the IHSAA Champions Network.

Follow Penn Athletics on Twitter: @The_Pennant
GO PENN! WIN STATE!