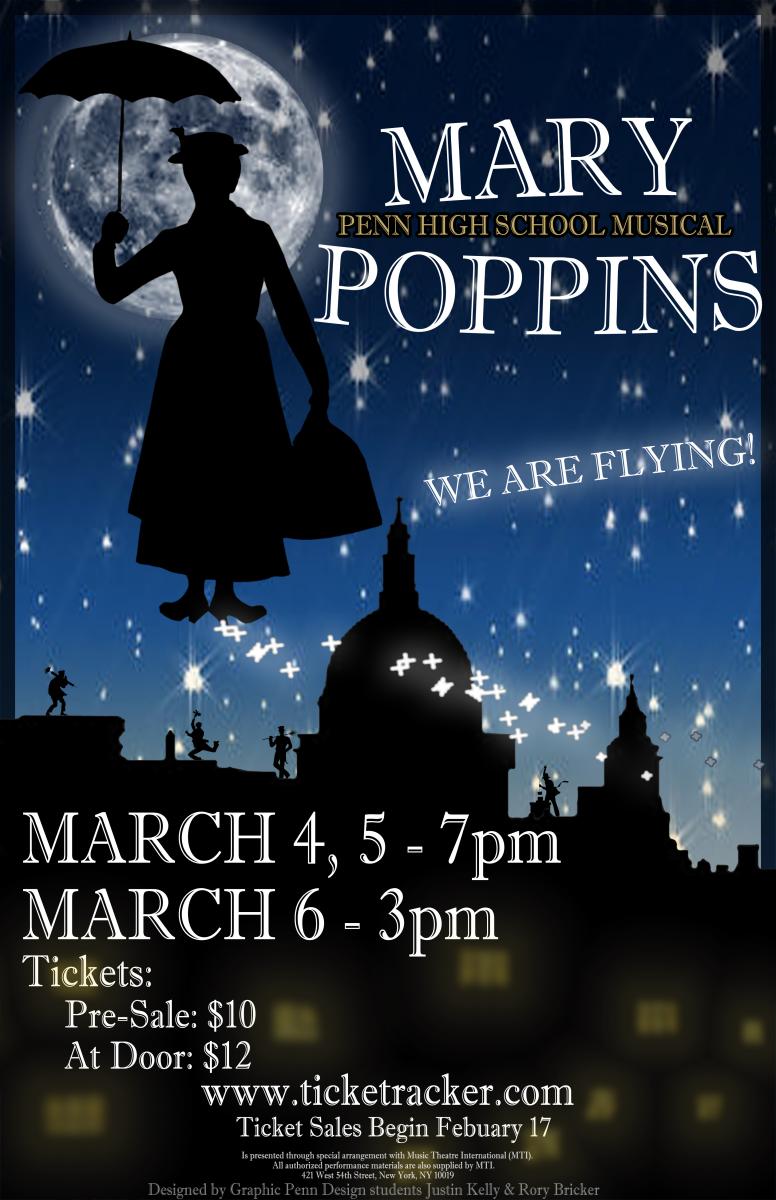 Penn High School student Kennedy Parker offers an insider's look at the spring musical, "Mary Poppins."
Penn's spring musical this year is "Mary Poppins"! The performances are Friday and Saturday, March 4 and 5, at 7 p.m. and Sunday, March 6, at 3 p.m., all in the Penn Center for the Performing Arts. Tickets are $10 if purchased in advance or $12 at the door. Pre-sale tickets are available Tuesday-Friday March 1-4 during all lunches. Tickets may be purchased online at www.ticketracker.com (search for Penn High School).
Students and directors are hard at work preparing for the performances. Over the weeks leading up to the show, I will be writing about different aspects of the show to give you a sneak-preview.
Enjoy, spotlight on "Mary Poppins"!
Poppins dance: Poetry in Motion
Mrs. Wolfe is the director of dance for Mary Poppins! She is the the teacher of several dance classes at Penn, including Dance Choreography I/II, Dance Choreography III/IV, Advanced Dance I/II, as well as being the choreographer for Chamber Choir. Outside of Penn, she teaches dance at a local studio and she is the in-house choreographer for Patchwork Dance Company. She began dancing when she was just three years old, and dance has been part of her life ever since. "My true passion is in the art of choreography," she shared. "I enjoy creating new pieces and seeing them come to life."
The choreography is different in Mary Poppins in that each large ensemble number, the chorus members are taking on a different role, their character is constantly changing.
"Step in Time is tap. Supercalifragilistic is quirky … Anything Can Happen takes on a more lyrical feeling. Playing the Game asks the cast to step into the role of toys and Precision and Order is very precise and robotic," Wolfe said.
Such a large variety of music and dance keeps the show engaging and is sure to have something to please any taste. " She is most excited for Supercalifragilisticexpialidocious "...because of the speed and accuracy that is required," as well as Step In Time, a tap number, and one that has always been one of Wolfe's personal favorites.
Lauren Funk, a Penn High School junior is playing Neleus, a dancing statue, in "Mary Poppins!" Like Mrs. Wolfe, Funk has also been dancing since she was age three. She takes classes at both Debbie Werbrouck's School of Dance and Penn. She also performs with Patchwork Dance Company and Penn Theatre. Last year's musical, "42nd Street", was her first theatre production. This year she's been in "The Great Gatsby", and now, "Mary Poppins!"
"Neleus is a joyful and energetic statue who is overjoyed to be brought to life by "Mary Poppins"," Funk said. "Neleus' positive energy is evident through his movement. A large portion of the choreography is leaping, which, while tiring, is a lot of fun and very representative of Neleus as a character." Funk's personal favorite dance style is tap, so she's excited to play a chimney sweep as well as Neleus!
With so much variety, this show is sure to entertain! Tickets can be purchased here or at the door.