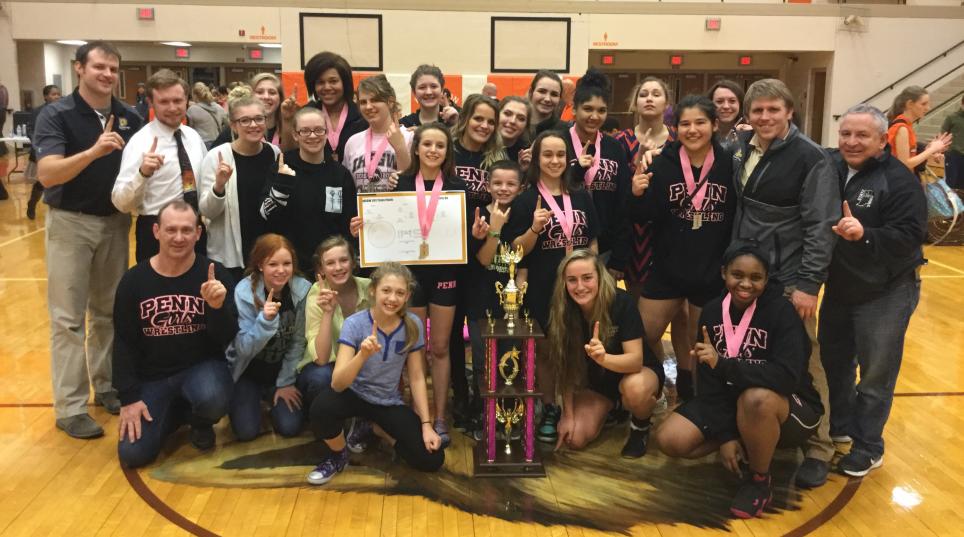 Penn High School's Girls Wrestling program served immediate notice that the Kingsmen will be a force, storming to the first Indiana High School Girls Wrestling State Championship.
Penn High School won the event with 67 points, well outpacing the rest of the schools in the 44-team event on Jan. 20 at Hamilton Heights High School. Hamilton Heights was second with 27 points.
Jaden Johnson led Penn with state championship in the 88-pound weight class.
"What a outstanding opportunity for our high school girls," Penn coach Brad Harper said. "Having an all-Girls Wrestling Team has been a goal for our program to develop ever since (Olympic hopeful) Sarah Hildbrandt left our program.
"Now that they offer an all-Girls Wrestling State Finals, we have develop amazing girls wrestling team," Harper said. "I'm proud that we made history who has made history by winning the very first all-Girls Wrestling State Finals.
Harper said that if any girl would like to join Penn's all-Girls Wrestling Team, no experience is required, just a willingness to learn and to be the best."
Penn results:
88 – Jaden Johnson placed 1st, winning by falls in rounds two & three to win the tournament.
98 – Eryn Benak placed 3rd
138 – Alexis Garwood placed 5th.
152 – Madison Burke placed 5th.
160 – Morgan Caldwell placed 2nd.
170 – Karissa Bennett placed 4th.
170 – Fernanda Arjona placed 2nd.
182 – Kaylee Meyers placed 5th.
195 – Aisha Helepa placed 2nd.
220 – Andelisia Henry placed 2nd.
285 – Mikayla Ringer placed 3rd.