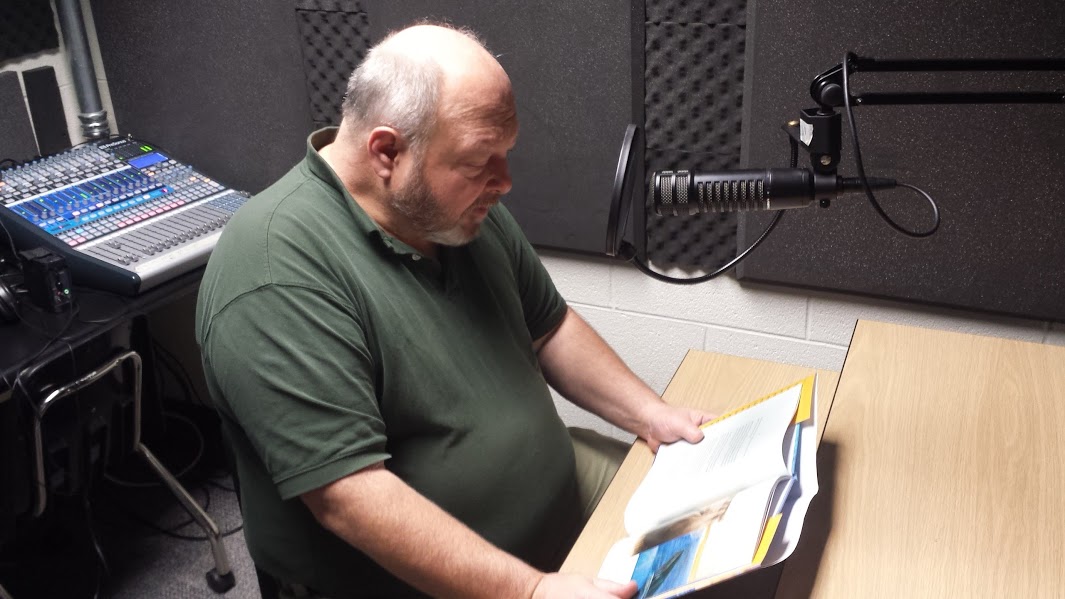 ---
When Penn High School English 11 teacher Jeff Reed guides his students through the fictional writing process, he tells them that they have to virtually become the thing they are writing about.
For Reed, that meant hours and hours of watching films and videos of whales for the book that he authored, Sea of Echoes, which was recently published.
Reed is the author of Sea of Echoes, the story of Finn, a whale calf that must survive alone after its mother is killed by whalers. Reed and the book's illustrator, Ruthie Briggs Greenberg, created a piece of literature that makes readers aware that whales are sentient beings that, despite living within the beauty and the majesty of the sea, still must undergo a constant struggle for survival.
On Sunday, Dec. 6, Reed and Briggs Greenberg will be at Barnes and Noble from 1 to 3 p.m. for a book signing at Barnes & Noble at the University Park Mall. Reed will be available to chat and sign copies of the book Sea of Echoes. Ten percent of the proceeds from the book signing will be donated to Penn High School.
Reed immersed himself in research of whales in order to write the book, which is designed to appeal to a wide range of elementary school readers. Pre-schoolers will be engaged by the artwork of Briggs Greenberg. Reed has crafted rhyming couplets for each illustration, so parents can read the short version to younger children, while older children can read the 3,000 words of the entire book.
"It's kind of a hybrid that we hope will grow with the child," Reed said.
Penn High School principal Steve Hope said that Reed's writing experience will benefit his students.
"I feel incredibly lucky to be working with Jeff Reed," Hope said. "Few teachers have the wealth of knowledge about literature and the connections between literature and life that Jeff possesses. Jeff has such a kind and gentle personality and he has done a great job with all of our students. He has that unique ability to be able to challenge our very best students while supporting our more challenging students.
"The process of authoring a book is difficult, as it takes many years and a collaborative relationship with an editor," Hope said. "Jeff now has a level of expertise and first-hand knowledge that will help many of our budding authors."
Reed published Sea of Echoes under the name J. Mac Reed.
Reed said that the idea for the book was generated by Briggs Greenberg, who has also written and illustrated "Felicity the Dragon" which just came out in September. It is also published by Taylor Trade.
"It was really great to work with someone like Ruthie who is so involved in children's literature," Reed said. "I'm used to working with high school students, so her expertise in writing and illustrating for elementary readers was invaluable."
Reed developed a complete English/Language Arts Common Core Curriculum that includes questions and activities matched to individual standards for kindergarten through fifth grade.
Teachers can access the curriculum for free by going to the Rowman and Littlefield Publishers website and entering Sea of Echoes in the search bar. Click on "Features" on the Sea of Echoes webpage and the curriculum.
Even though Indiana no longer has the Common Core, teachers can easily adapt the curriculum to Indiana standards.
According to Reed, Sea of Echoes celebrates the beauty and the wonder of the oceans.
"We also want readers to understand that whales are sentient beings with emotional intelligence and abstract reasoning that are as close to that of humans as any other creatures on earth," Reed said. "That is not anthropomorphism. That is a known scientific fact."
Reed said that he loved the writing process, especially when he got into the state where it felt like someone or something else was writing the book.
"A lot of writers have that," Reed said. "It's called "automatic writing". It's like you're the vessel and something else takes over. I would sit at my keyboard at the beginning of the evening and just wonder where the story of "Sea of Echoes" would take itself. I was just along for the ride."
Reed worked on the book for three years, and there was never a guarantee of the work being published.
"When the publisher tells you they are going to publish your book, it's so far into the future that it doesn't seem real," Reed said. "Also, they can halt the project at any time, so even then it's not definite.
"When I did get excited was when I finally saw the galley proofs," Reed said. "Ruthie's paintings for the book are so beautiful and it was amazing to see my words paired with her great works of art. Taylor Trade (our publisher) did a fantastic job on the layout. Ruthie and I always wanted our book to be a physical work of art, like the classic picture books from Victorian times, and Taylor Trade really made that dream come true for us.
"The best part of the entire three-year creation process was when I got home last Monday, October 26, and there were three boxes of Sea of Echoes books sitting on my front porch. It's not quite as good as seeing your children born, but it's right up there!"
Next up for Reed is a historical-based novel.