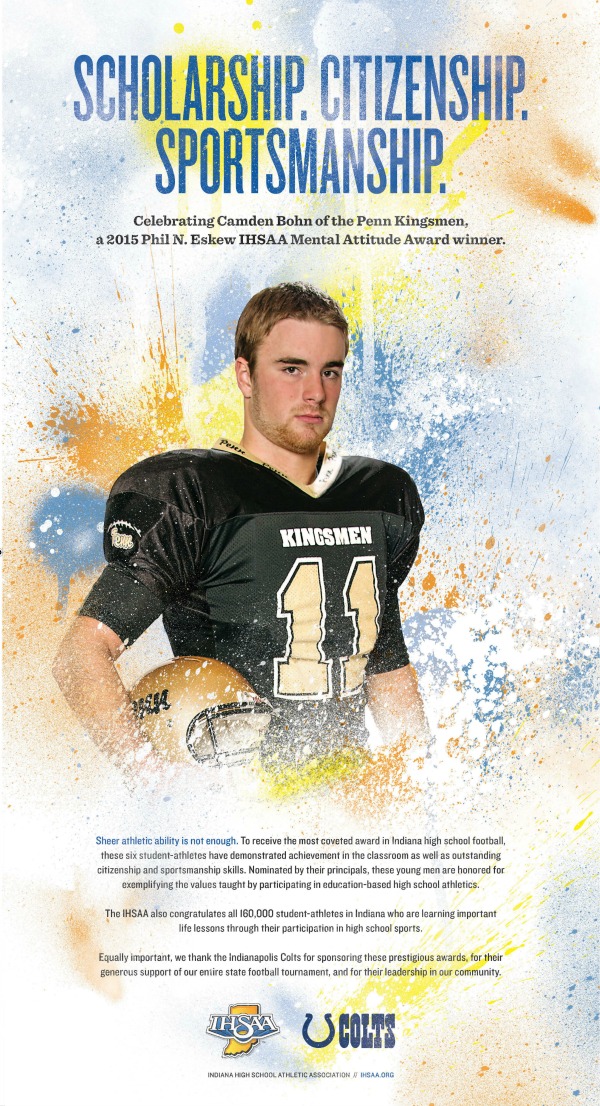 Camden Bohn stood in the end zone at Lucas Oil Stadium after leading Penn High School's effort in the Class 6-A state championship football game on Saturday, sweat dripping off of his red face, passing off the credit for a proud moment in Penn's storied football history.
Bohn, a 6-foot-5, 225-pound senior who will continue his academic and athletic careers at Harvard University, was named the Indiana High School Athletic Association mental attitude award winner. The Indianapolis Colts will present a scholarship of $1,000 to Penn High School in Bohn's name.
"The mental attitude is a great honor," Bohn said. "It goes to Penn High School, and the opportunities it has offered me. This award goes to the entire Penn community. It's a great honor to receive it. Penn High School has a great atmosphere. The administration, the teachers, the students, the community has made it a great place. It's really prepared me for this experience and the future."
Penn-Harris-Madison Supt. Dr. Jerry Thacker said that he was proud of Penn's effort in the championship game, and of Bohn for being named the mental attitude award winner. Bohn is the 22nd student-athlete in Penn history to earn the coveted IHSAA award.
"Tonight was a special moment," Dr. Thacker said. "Our Penn football team was showcased in this state championship event. We came up a little bit short, but I couldn't be prouder of them. And then to realize that we have the mental attitude award winner in Camden Bohn … what a marvelous scholar-athlete he is.
"When I think of the preparation that he's had at Penn High School, with all of the opportunities that he's had through the academies, the rigor, relevance, relationships … he's a great role model," Dr. Thacker continued. "We have that triangle of success in place, definitely, when you think of our student-athletes, when you think of Camden Bohn, with the parents being actively involved, great teachers and a highly motivated student."
Penn High School principal Steve Hope lauded Bohn's selection as the IHSAA mental attitude award winner.
"Camden Bohn is about the best example of a student-athlete you could ask for," Hope said. "He is an amazing quarterback with great athleticism, passing and running for over 1,000 yards this year. Like all athletes at Penn, Camden concentrates on his studies first, exemplifying what it means to be a student-athlete. He is one of the best students in his class and has committed to Harvard, one of the finest learning institutions in the world."
Penn athletic director Aaron Leniski said that Bohn has been an outstanding representative of Penn High School.
"Penn High School is very proud of Camden Bohn," Leniski said. "As a senior leader for the Kingsmen, he exemplifies what it means to be a student-athlete. Camden has achieved excellence in the classroom as well as on the athletic field and this recognition is very well deserved for his efforts."
Cory Yeoman, the head football coach at Penn, said that Bohn has been an inspiring representative of Penn football.
"What a great role model, what a great leader," Yeoman said of Bohn. "To do everything he does in the classroom and the community, and have the success he's had and still be so humble and be a good person … he's a special individual. He's got it figured out."
The Harvard-bound Bohn is on track to be a valedictorian at Penn. The son of Kevin and Sharon Bohn of Granger, Bohn is also a member of the National Honor Society and won the President's Academic Award and AP Award. He plans to become an orthopedic surgeon.
Penn's IHSAA mental-attitude award winners
1983‐84, Football (4-A), Mark Plencner
1989‐90, Football (5-A), Eric Kline
1992‐93, Girls Cross Country, Jill Nace
1995‐96, Football (5-A), Matt Geesman
1996‐97, Football (5-A), Scott Becker
1997‐98, Baseball (4-A), Blake Gaugler
1997‐98, Football (5-A), Brad Monhaut
1999‐00, Boys Soccer, Matthew Abbott
2000‐01, Football (5-A), Justin Smith
2002‐03, Girls Tennis, Lauren Woodward
2003‐04, Girls Golf, Casey North
2003‐04, Football (5-A), Wade Iams
2004‐05 Girls Cross Country, Laura Carr
2005‐06, Boys Tennis, Chris Jordan
2010‐11, Girls Basketball (4-A), Ashley Lutz
2011‐12, Girls Golf, Deanna Song
2011‐12, Volleyball (4-A), Kaitlyn Hickey
2011‐12, Football (5-A), Patrick Adkins
2014‐15, Wrestling, Chase Osborn
2014‐15, Baseball (4-A), Tim Lira
2015-16, Girls Soccer (2-A), Kamra Solomon
2015-16, Football (6-A), Camden Bohn