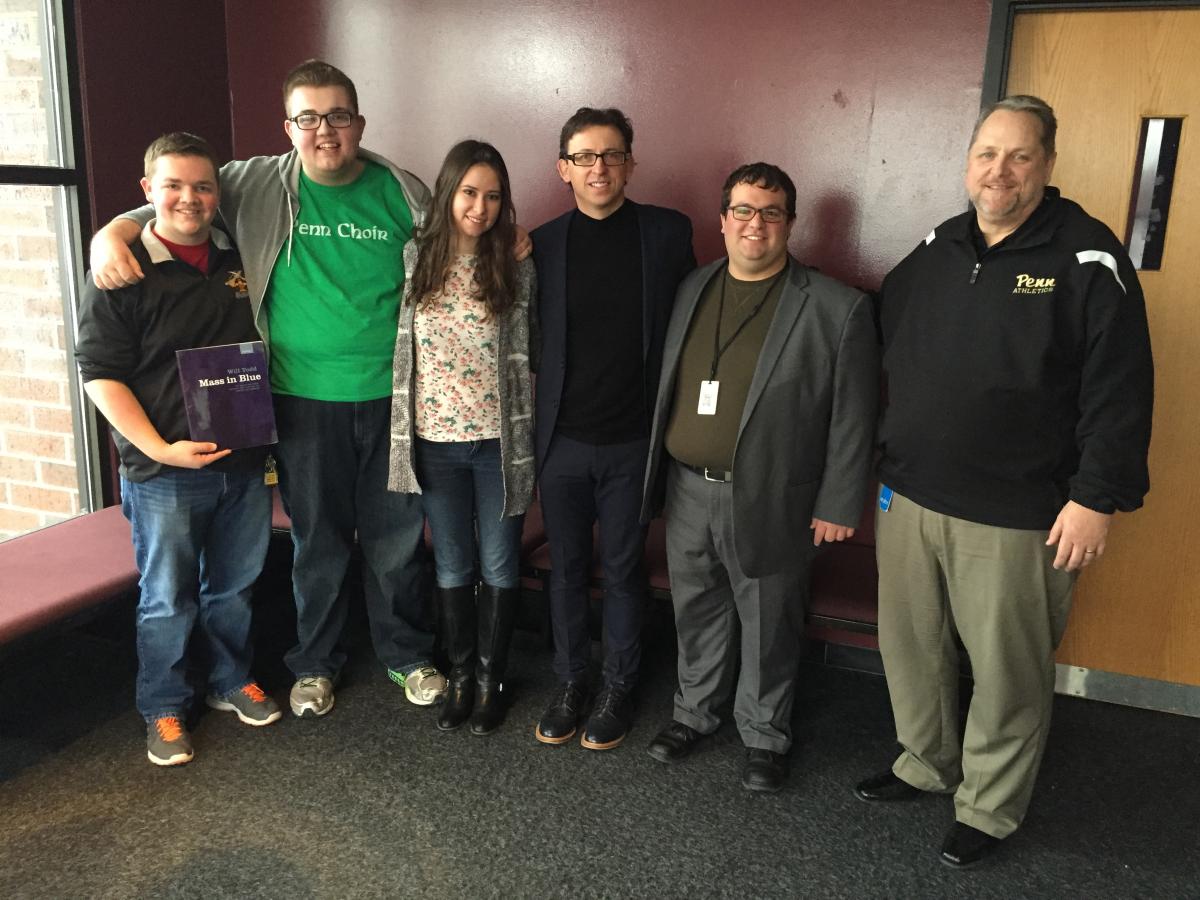 ---
By ARIELLE KIRSCH
Penn High School Student reporter
On Tuesday, Mar. 22 at 7:30 p.m., avid listeners will settle down in Penn High School's Center for the Performing Arts for an engaging jazz performance of English composer Will Todd's Mass in Blue. Performing this wondrous musical creation will be Penn High School's advanced choir Viva Voce and advanced Jazz I ensemble.
Tickets can be purchased online for $6 beginning March 8 at www.ticketracker.com.
Tickets can be purchased for $6 at lunch on March 17, 18, 21, and 22.
Tickets can be purchased for $8 at the door.
Todd was born in England in 1970, and his earliest memory of music is climbing up onto his sister's piano stool and teaching himself how to play piano at the ripe young age of three years. Todd, a world-renowned musician and composer, premiered Mass in Blue in 2003, and the 40-minute piece has been performed more than one hundred times worldwide since then.
On Feb. 9, Todd traveled to the United States and came to Penn High School to join Viva Voce and the advanced jazz band for a day of reading, singing, playing, and learning about Mass in Blue and other music. Seniors Rachel Peters and Rachel Page (President and Vice President, respectively) of Viva Voce were awed by the experience of rehearsing with such a talented and inspirational musician, and understanding firsthand the perspective of the piece, and the composer's intentions.
Viva Voce students said that the session with Todd was a once-in-a-lifetime opportunity, and they will treasure the experience Penn offered them to work with a composer of Todd's stature.
Choir director Andrew Nemeth and band director Bill Leather were beyond thrilled at the prospect of working with Todd on Mass in Blue.
"(Todd) is able to shape (the music) ... having the composer here is a truly unique experience," Nemeth gushed.
Leather followed up by saying, "To work with Will Todd was insightful and inspiring. To have the composer's intentions for the piece explained and taught by the man himself was an invaluable experience."
According to Leather, both Viva Voce and the Jazz I ensemble have gained not only musical skills, but also important leadership and cooperation skills from the experience of rehearsing with Todd, as well as working on Mass in Blue itself.
"Collaborating with Viva Voce is very exciting for the jazz program, as it brings new energy, music and influence to the students."
Nemeth concluded his thoughts about the Penn students working with Todd enthusiastically.
"They were engaged the entire time...you can't compare (the experience)."