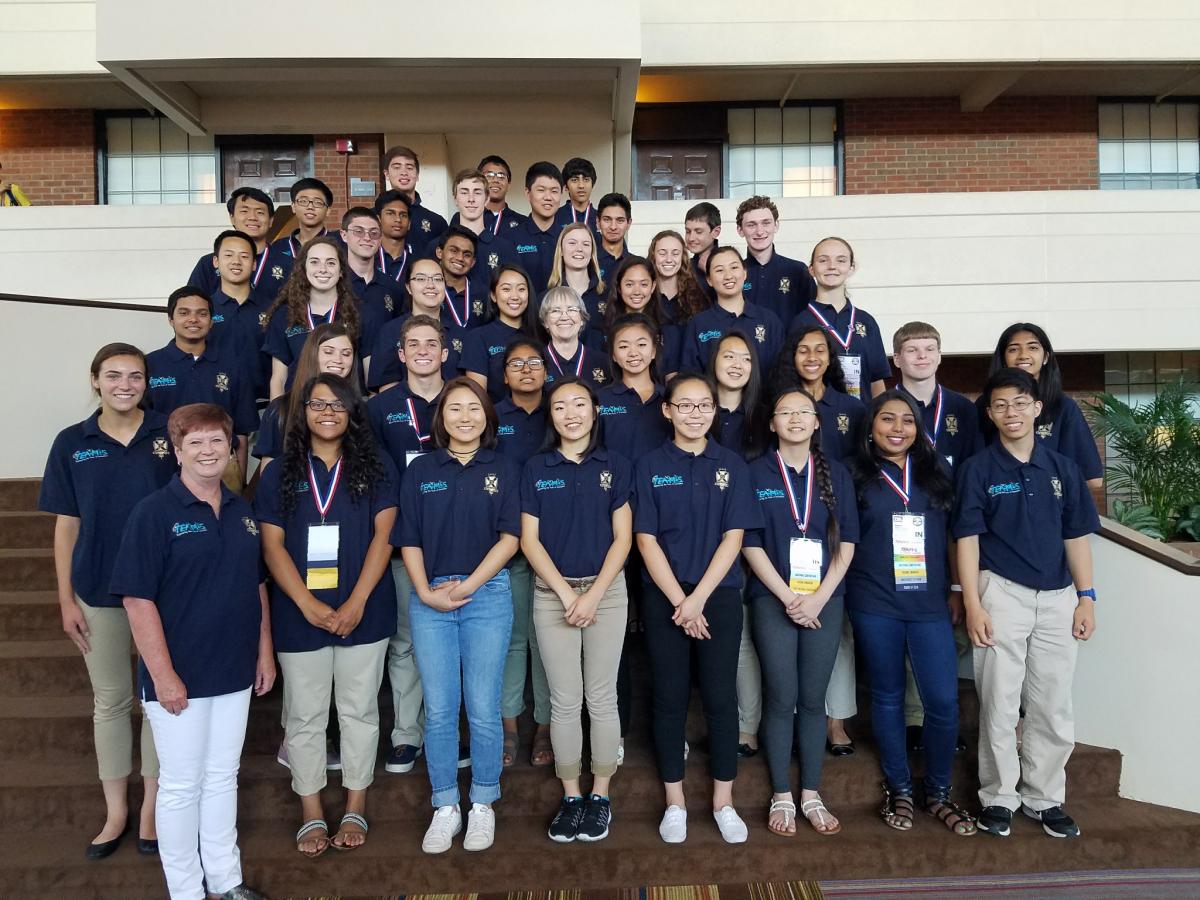 Penn High School students heard the sounds of exceptional success in the Music City for the TEAMS National Finals in Nashville, Tenn., on June 28-July 2.
TEAMS – Tests of Engineering Aptitude, Mathematics and Science – started out as a competition for more than 10,000 high school students at 125 locations nationwide. The event, according to the sponsoring Technology Student Association, challenges students to work collaboratively and apply their math and science knowledge in practical, creative ways to solve real, everyday engineering challenges
Penn students qualified for the TEAMS National Finals in Nashville, and scored Top 10 places in four events.
Megha Devaraj's team – Megha Devaraj, Kanika Arora, Olivia Mercurio, Jessica Lee, Edward Atkinson, Jack Bao, David Kim and Matt Shan – placed third in the nation in Problem Solving, eighth in the nation in written paper, and sixth overall in Best in the Nation.
Presto George's team – Presto George, Hannah McGinness, Michelle Tapp, Nick Thurin, Morgan Ludwig, Courtney Seigel, Nina Bakshi and Neal Patel – placed seventh in the nation in Problem Solving.
Kanika Arora also helped coach the Schmucker Middle School TEAMS competitors, who placed second in the nation overall. Click here for the story on Schmucker's TEAMS success.
TEAMS is a program of the Technology Student Association, which offers STEM (Science, Technology, Engineering, Math) competitions for middle and high school students across the nation, reaching more than 225,000 students and 2,000 schools in 48 states.
Penn TEAMS coach Becky Tagliaferri expressed pride in the Top 10 showings nationally.
"We went up against some of the finest math, science, and engineering high schools in the country and showed them that Penn High School is among the best," Tagliaferri said. "After placing consistently for four years now, Penn High School is a player on the national stage of TEAMS engineering competition."
Penn High School assistant principal and STEM Academy Leader Rachel Fry commended Tagliaferri and the Penn STEM Academy students for their showing on a national stage.
"After the latest accomplishments, I would like to add that the success of TEAMS is evidence that our students are not only learning rigorous STEM standards; but are able to apply this knowledge in collaborative problem-solving, and then strengthen presentation and communication skills through the culminating presentation," Fry said. "Becky Tagliaferri has done a wonderful job working with these students and motivating 6-12 grade interest in TEAMS."
Competitors in the TEAMS National Finals wrote a paper about optogenetics. Penn English teacher Jim Sauer assisted the effort by proofreading the paper that the Penn students submitted. Competitors also had to give a presentation on tools to make humans a multi-planetary species.
In the problem-solving section, students were only told to research the Hubble Telescope failure of 1990 beforehand. At the National Finals competition, students were then given math application problems to do, and they had to build a reflector that concentrated light onto a light meter and fit into a specified one-foot by three-inch diameter tube.