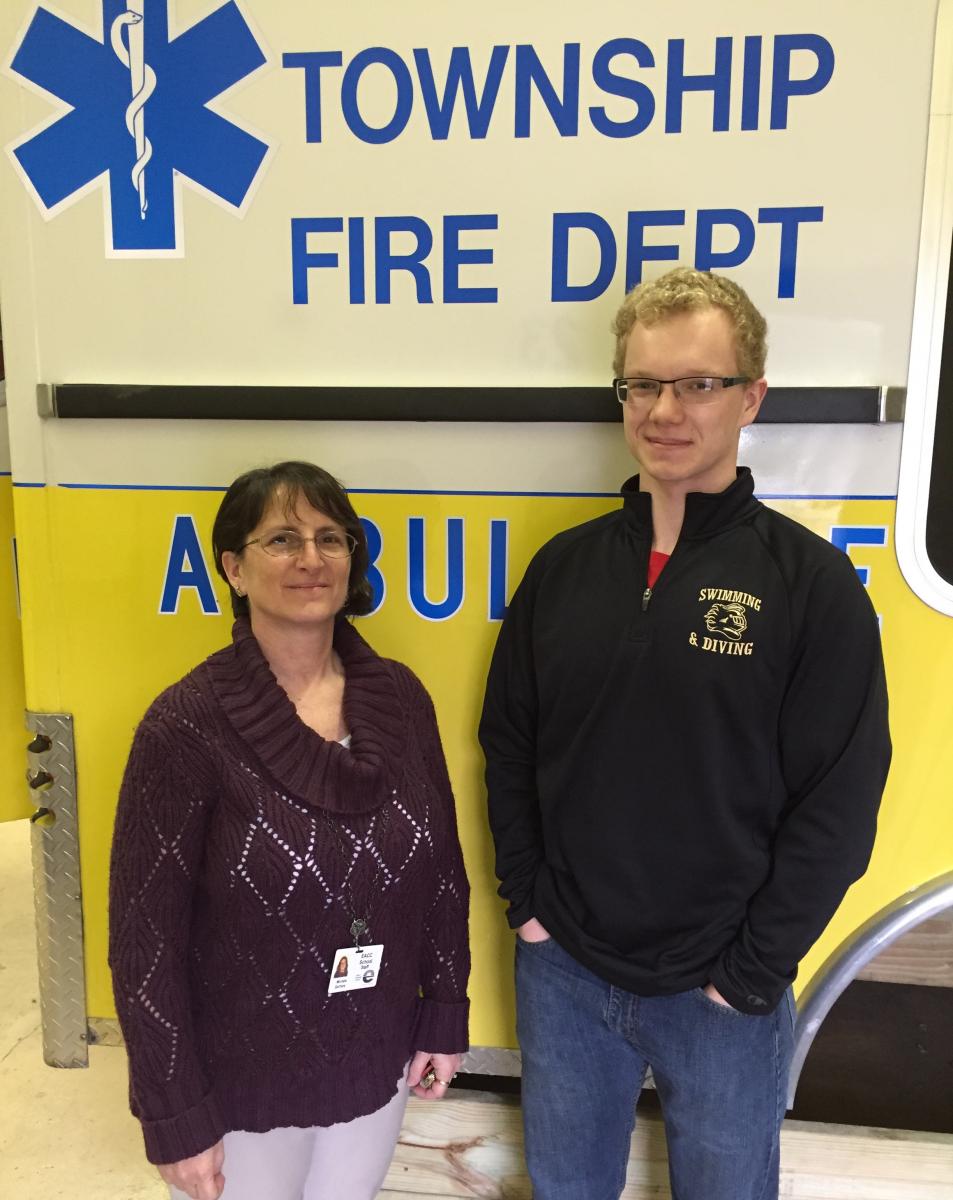 James Kempa, a Penn High School senior and member of the Health & Human Services Academy, is one of only 14 high school students statewide to be recognized with the Indiana Career and Technical Education Award for Excellence.
This award is presented in recognition of outstanding achievement in scholarship, citizenship, leadership, employability, and technical skill proficiency.
James was nominated by Michelle Zachary, Emergency Medical Technician program instructor at the Elkhart Area Career Center. He was evaluated on a portfolio of academic, service and leadership activities, along with letters of recommendation.
James accepted his award at a ceremony in Indianapolis on February 23, 2016. Glenda Ritz, Indiana's Superintendent of Public Instruction, addressed the award winners at the event, congratulating them on their achievement.
"James is a very dedicated learner, and he is a born leader," Zachary said of Kempa. "He helps the other students for the success of the whole group."
Kempa said that he is grateful that Penn offers him an early start on his career path. Kempa plans to be an emergency-room doctor. He will study medicine at Calvin College.
"Actually getting to start the process in high school of learning emergency-room medicine, which is my ultimate goal, is great," Kempa said. "The most important thing we've learned is medical assessment, asking the questions and assessing the vital signs, so you get an idea of what's going on with your patient. We've had some lecture, and some of the class is skills practice. We do a lot of scenario work, and we've done clinicals on the ambulances and in emergency rooms in the area.
"This is great that Penn offers its students a resource like the Elkhart Area Career Center," Kempa said. "It's an awesome opportunity, and I'm thankful for it."
Among James' other achievements:
Earning EMT certification through the EACC program
Attaining American Heart Association, American Red Cross, and FEMA certifications
Earning 13.5 dual college credits through Ivy Tech Community College
Qualifying for both Academic and Technical Honors diplomas
Member of the National Honor Society
Member of the National Technical Honor Society
Achieved rank of Eagle Scout, BSA
Lettering all 4 years in a sanctioned sport
Served as 2015-16 captain of the Penn Boys' Swim Team
Participating in the German American Partnership Program (GAPP)
James attended Horizon Elementary and Discovery Middle Schools before attending Penn. Following graduation, he plans to attend Calvin College (Grand Rapids, MI) where he will pursue pre-med studies and continue to swim. His goal is to become an emergency medicine physician.
"Own Your Future" is a credo that motivates many Penn students to do their best while in high school—even as they lay plans for future success. James is a great example of this!