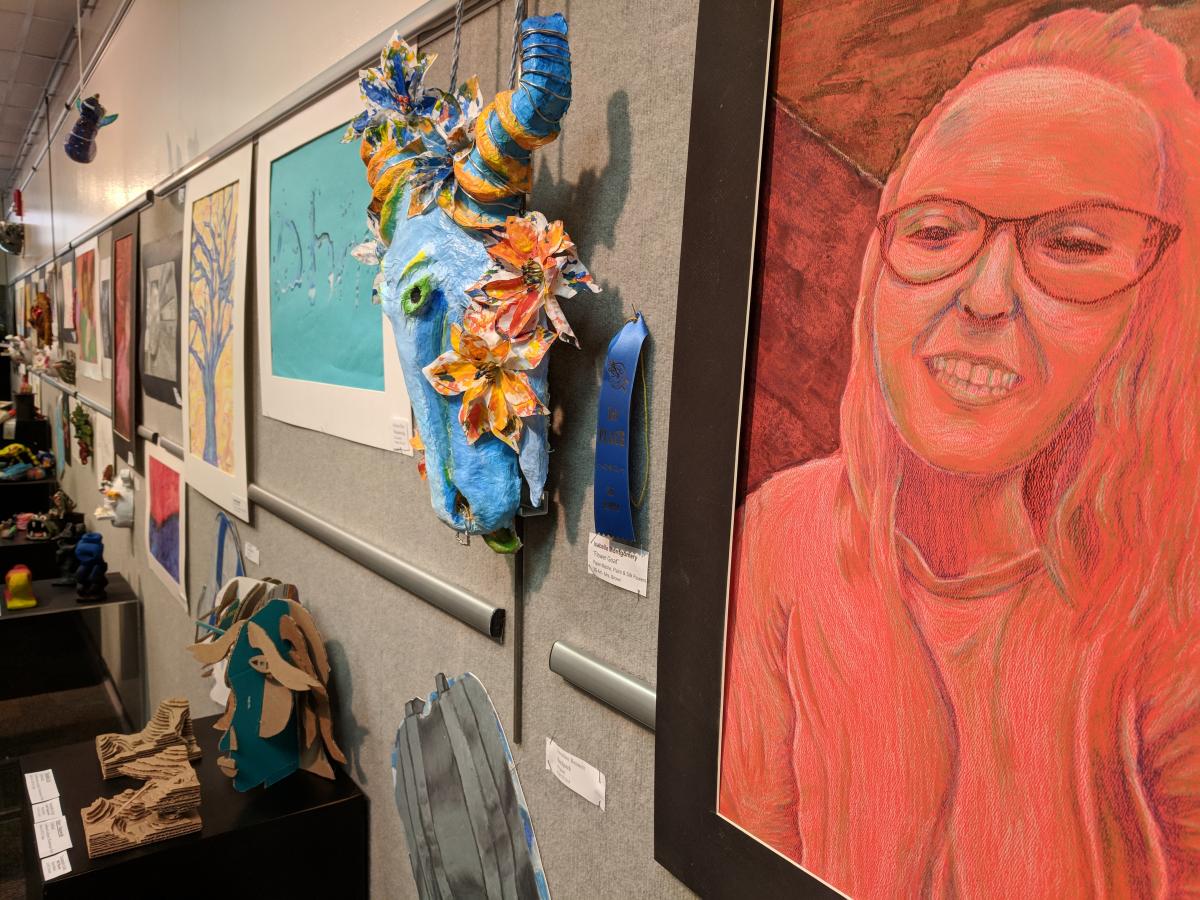 The Penn Kingsmen Art Gallery showcases work by Penn High School students, as well as art by members of the community.
The current Fall 2019 Art Exhibit features our Gallery's first professional show, "Living Waters" works by the Indiana Women's Caucus for Art. This traveling exhibition is centered around current threats to the Great Lakes water system, the largest fresh water supply found on earth. These artworks were made in response to many concerns, including pollution, invasive species, water quality, and long-range public policy to protect this vulnerable natural resource. The Indiana Women's Caucus for the Art (IWCA) is a local chapter of the WCA, founded in South Bend in 1978 with the mission of creating and expanding opportunities and recognition for women in art. Our Penn Kingsmen Art Gallery is fortunate to be the third stopping place for this traveling art show. It has previously been on display at the Crossroads Gallery in the Notre Dame Center for the Arts and Culture and at the Grunwald Gallery of Art at Indiana University in Bloomington.
Current Gallery Hours for Sept. 18 – Oct. 30:
During School: Monday - Friday, 8:30 a.m. – 3:10 p.m.
After school Hours: Tuesdays, Wednesdays & Thursdays, 3:30 – 4:30 p.m.
Wed., Oct. 30: Closing Reception for "Living Waters" exhibit, 4:30-5:30
Indiana Women's Caucus for the Arts Meeting to follow from 5:30 – 6:30 p.m., Room 154
Gallery Guidelines:
Ten students are allowed in at a time without a teacher, but must have a pass during class times.
Seniors may enter through the courtyard door during lunch hours.
Guests are asked to please sign in and leave a comment in the comment box.
Volunteers Needed:
We are currently seeking more student docent volunteers to help keep the gallery open after school 3:30-4:30 p.m. Please see Miss Miller in Room 154 or email bmiller@phm.k12.in.us if interested.