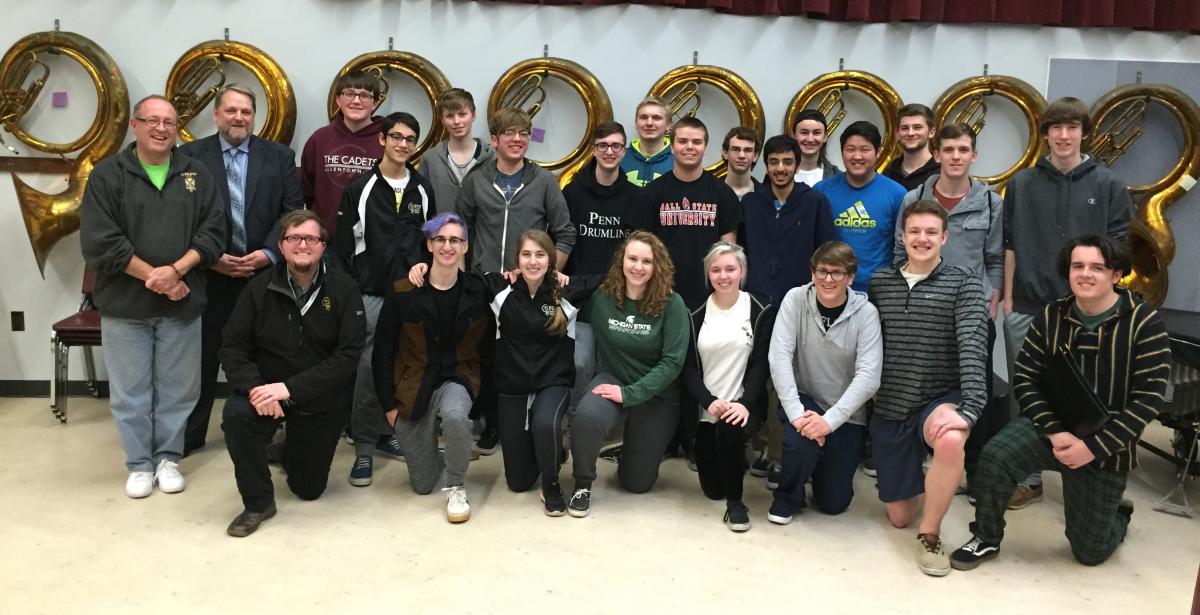 Penn High School Principal Steve Hope and Fine Arts Academy leader Glenn Northern were on hand Monday night as the Penn Advanced Jazz Ensemble departed for Savannah, Ga., and the Swing Central Jazz Festival. The Kingsmen Jazz ensemble left at 11 p.m. on Monday, March 28, and is expected to arrive in Savannah at 4 p.m. on Tuesday, March 29.
Penn's Jazz ensemble, under the direction of Bill Leather, is one of just 12 high schools across the nation to qualify for the prestigious Jazz competition.
Members of the Penn Advanced Jazz Ensemble include:
Mahmoud Al-Fadhl, Daniel Andrews, Gannon Bennett, Grant Brenner, Giselle Goad, Colin Grant, Melanie Isenbarger, Morgan Kochanowski, Bayley Lackie, Peter Lehmann, David Martinus, Chase Murray, Jacob Powell, David Richards, Robert Sanders, Colin Thomas, David Wakim, Eric Wistreich, Sam Wistreich, Hunter Wolfram and Cristian Ziege.
Student blogging of the trip will be available by following @PennPride365 or @KingsmenJazz on Twitter, of the Penn High School Facebook page, or Penn Network News at
http://pnn.phmschools.org/
.