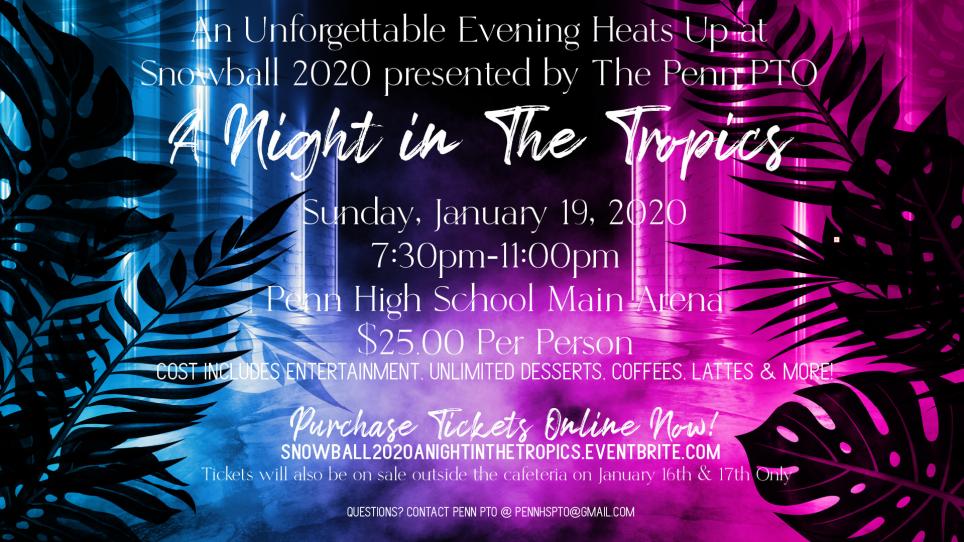 This year's annual Winter Dance will be held on Sunday, Jan. 19. This Year's theme is "A Night in the Tropics."
Tickets are $25 per person and will include admission, dancing, unlimited desserts and snacks, unlimited drinks (water, lattes, Frappuccino's, Italian sodas, etc.). Special prize items will also be raffled off.
Click here for more details and to purchase tickets online.
Tickets will also be sold at Penn outside the Cafeteria during all lunches on Thursday, Jan. 16, and Friday, Jan. 17. Confirmations will be sent to students via email after the ticket purchase and included in that email will be a link for students to make music requests.
Shoes are allowed!!!
Penn students MUST their tickets and school ID to enter.
Please note students from other high schools are welcome, but MUST be accompanied as a date of a current Penn High School student. Guests MUST also be 20 years old or younger, but middle school students are NOT allowed. All guests must have their school ID or state issued license to enter.
Parent volunteers are needed. Interested parents can click here to volunteer.
Be sure check #KingsmenNation in the coming weeks for more details!