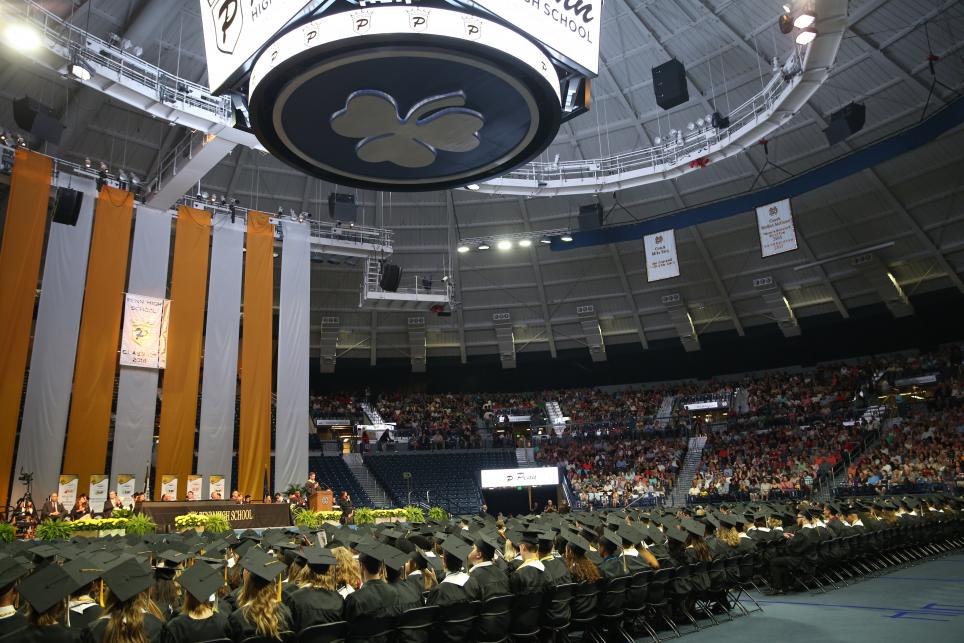 At the beginning of the 2017-2018 school year, student members of Kingsmen Court, the student leadership of Penn High School, approached Penn's Administration with concerns about the current academic ranking system and how students are recognized at commencement. Student representatives expressed concerns about the social and emotional wellness of our students who are impacted by the pressure of the current ranking system. Principal Sean Galiher felt it was important to investigate these student concerns more throughout the year, especially since the social and emotional wellness of our students is a top Penn initiative. This collaborative conversation started a journey of inquiry into what other schools are doing across the state, including research on the opinions of several state and national universities and how they view student achievement and recognition.
In recent years, Penn High School has found that more high schools throughout the state of Indiana and across the country have revised how students are recognized for their academic achievements. Penn's Administration discovered the recurring theme of many large high schools throughout the state moving away from the use of the Valedictorian and Salutatorian distinction. The National Association of Secondary School Principals recently reported that about half of schools no longer report class rank.
Upon further investigation, Penn Administrators also found that the majority of colleges do not use class rank as a determining factor for admittance and many colleges and universities agreed that the Valedictorian and Salutatorian distinction does not significantly separate candidates from one another during the admission process. During these discussions, college admission advisers also told Penn that they look at the system that the high school uses to evaluate and recognize its graduates.
Penn High School currently recognizes Valedictorians and Salutatorians on a yearly basis representing approximately the top 2% of the senior class. Penn High School also includes the class rank of each individual student on report cards and student transcripts.
At the November 26 Penn-Harris-Madison Board of School Trustees Meeting, Principal Sean Galiher, along with several Kingsmen Court student representatives, presented a proposal to remove the Valedictorian and Salutatorian distinction and instead incorporate a Latin designation of Summa Cum Laude, Magna Cum Laude, and Cum Laude for recognizing students at commencement beginning with the Class of 2023. Penn High School Administration believes that these changes will support the social and emotional well-being of all of our students.
The proposal also includes incorporating a new system for determining commencement speakers beginning with the Class of 2023 that would include an application and selection process. A student's class rank would also be removed from official school documents beginning with the Class of 2022 and replace it with a student's decile. A student's ranking would be provided to any college or university that requires or requests it.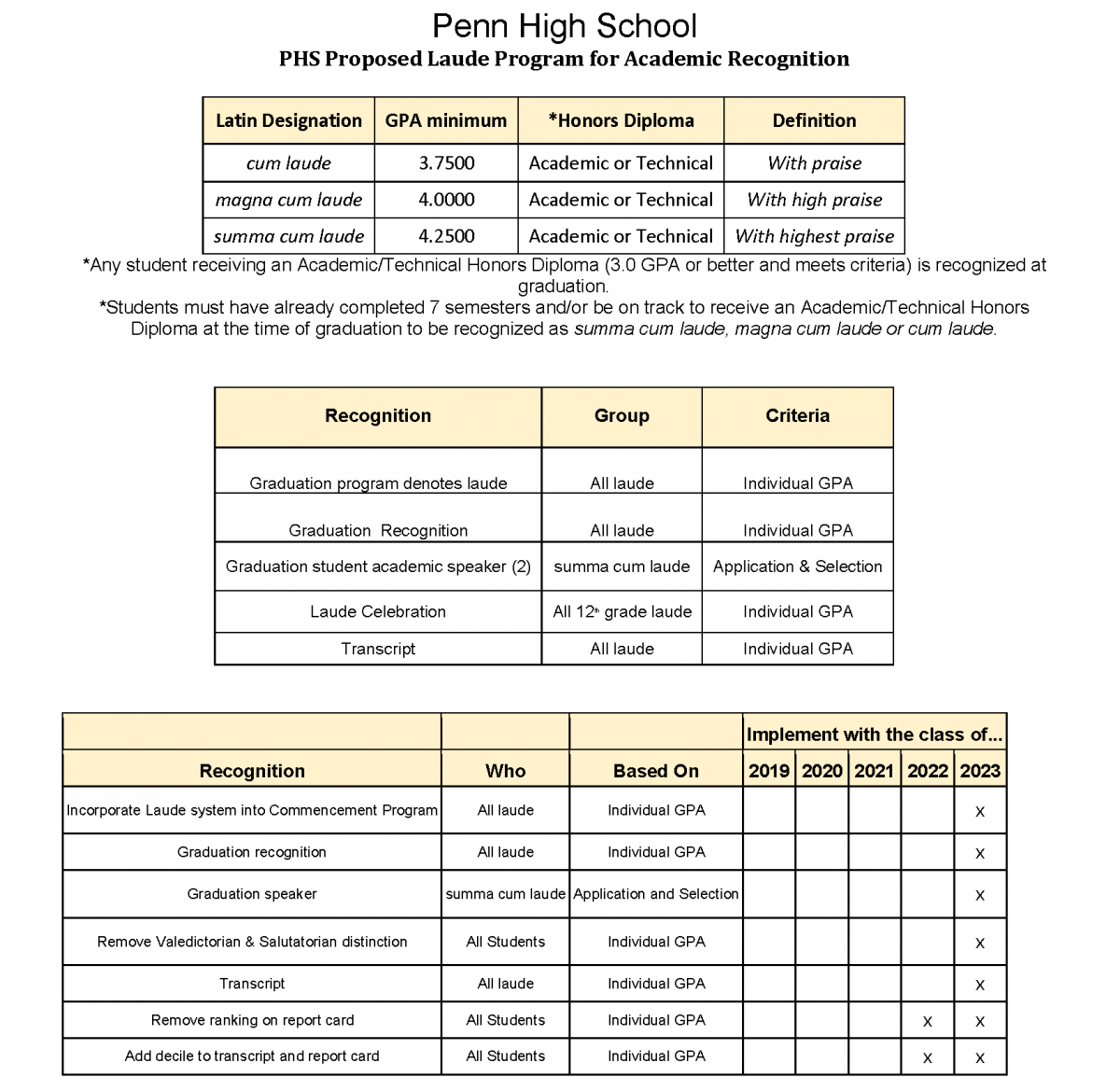 In doing research on the proposed changes, Penn High School sent surveys to students, parents and teachers asking for feedback. Click here to review the parent letter Principal Galiher sent to parents on November 13.
Penn High School strives to establish a culture where students can focus on their academic goals without competing against their peers. We want to foster an environment that allows students to pursue their true intellectual interests and avoid unhealthy competition among classmates or letting worries about rank drive their course selections.
Data from students and our school counselors tells us that students are making scheduling decisions based on where they rank in the class. Over the years, this ranking system has created a sense of unhealthy competition that has impacted relationships and the social and emotional well-being of our students.
Penn High School administration believes the new proposed system will still recognize high academic achievement but incorporate a more fair, balanced, and objective approach to identifying students. In addition, the changes being recommended will not impact college admittance or reflect a decrease in academic rigor at Penn High School. The tradition of excellence at Penn High School will continue.
The proposal will be discussed again at the upcoming P-H-M Board of School Trustees Meeting on Monday, December 17 to be held at 7:00 p.m. at the Education Services Center (55900 Bittersweet Rt., Mishawaka).
In the meantime Principal Sean Galiher is happy to answer student, parent or staff questions. Please contact him at srgaliher@phm.k12.in.us.