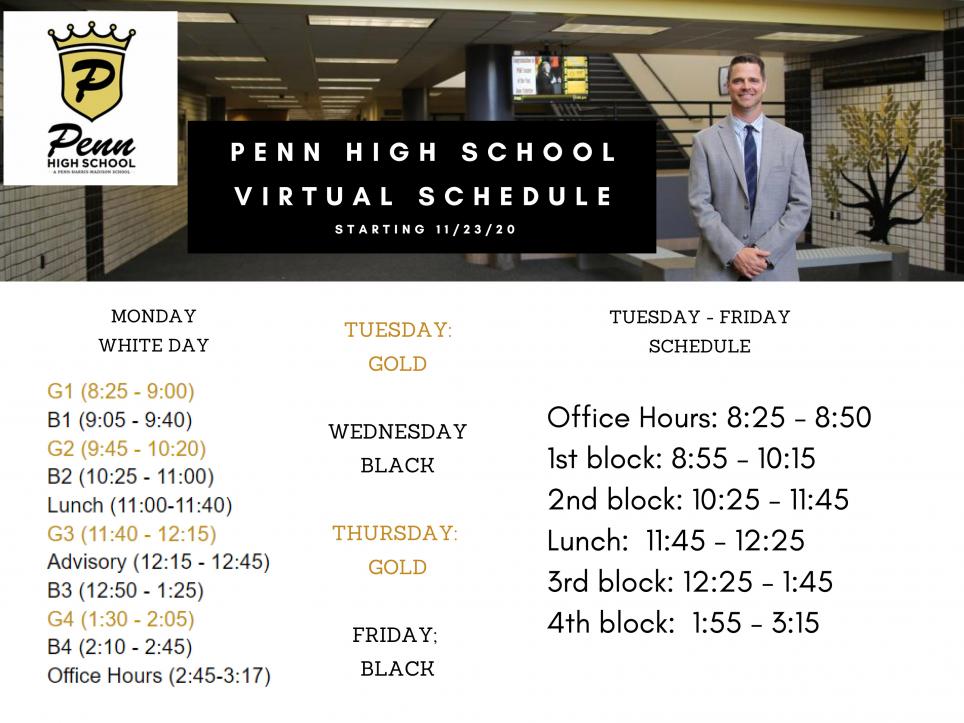 Penn High School will begin Virtual Learning for all students starting on Monday, Nov. 23, 2020, through Friday, Jan. 15, 2021. The decision to move to Virtual Learning is based on a recommendation by the St. Joseph County Health Dept.
The first day back to Hybrid Learning (In-Person and Virtual Learning) is Tuesday, Jan. 19.
The First Semester will end on Friday, Jan. 15. Click here for the First Semester Exam Schedule. The Second Semester will begin on Tuesday, Jan. 19.
Penn High School Virtual Learning Schedule Nov. 23-Jan. 15
Monday (White Day)
G1: 8:25-9:00
B1: 9:05-9:4)
G2: 9:45-10:20
B2: 10:25-11:00
Lunch: 11:00-11:40
G3: 11:40-12:15
Advisory: 12:15-12:45
B3: 12:50-1:25
G4: 1:30-2:05
B4: 2:10-2:45
Office Hours: 2:45-3:17
Tuesday - Friday (Tuesday-Thursday Gold Days/Wednesday-Friday Black Days)
Office Hours: 8:25-8:50
1st Block: 8:55-10:15 (80 minutes)
2nd Block: 10:25-11:45 (80 minutes)
Lunch: 11:45-12:25 (Lunch)
3rd Block: 12:25-1:45 (80 minutes)
4th Block: 1:55-3:15 (80 minutes)