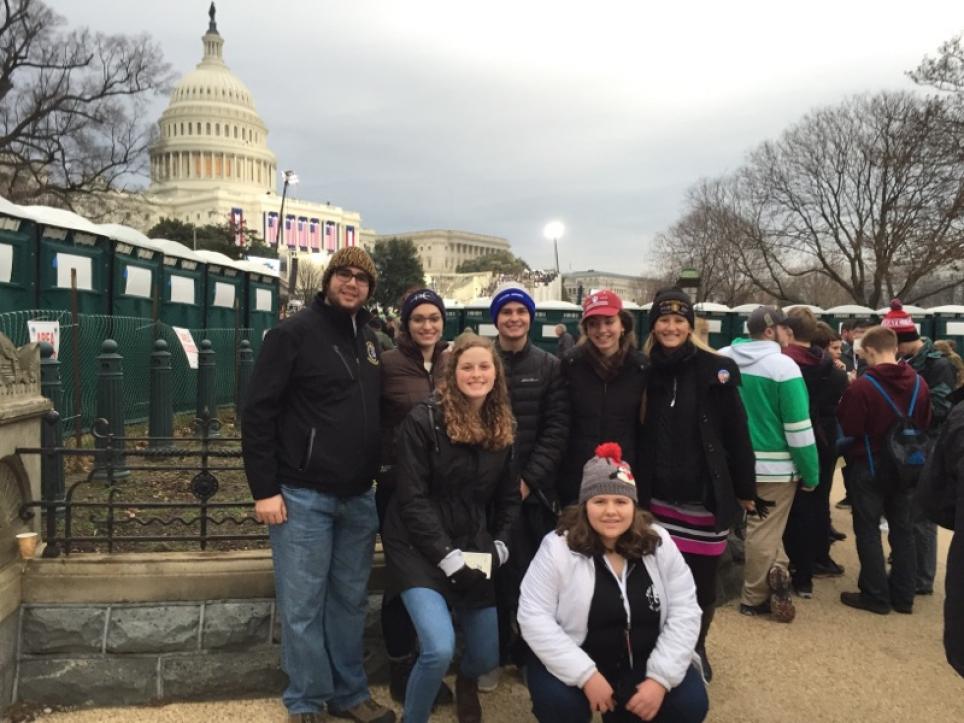 As President Trump was sworn into office on January 20, seven Penn students were in D.C. to witness the history being made for the year 2017 at the 45th Presidential Inauguration in front of the Nation's Capitol Building.
The students who went on the trip not only went to the inauguration, but toured a handful of museums and memorials such as The Holocaust Museum, The Air and Space Museum in the Smithsonian, the Arlington Cemetery; where they had the chance to see John F. Kennedy's final resting place as well as seeing the Changing of the Guard Ceremony at the Tomb of the unknown soldier.
The group also visited the Lincoln Memorial, the Vietnam Memorial, the World War II Memorial, the Pentagon Memorial, and The U.S. Marine Corps War Memorial. The group also toured Ford's Theatre, where President Lincoln was assassinated, and was enlightened by the National Archives.
America is full with different people with different beliefs and religions, so it's understandable that there would be a considerable amount of protests in the streets of Washington D.C.
"There was a women's protest, which was really crowded," said Kennedy Smith. "It was really cool though seeing democracy and the First Amendment in action, but because the crowd was so gigantic, it made me feel uneasy at times."
Sydney Seigel appreciated the opportunity to be part of the event.
"This inauguration is definitely going to go down in history, and so the fact that I got to be a part of that, as well as part of the Woman's March the next day, is astounding," Seigel said. "Experiencing the climate of both Inauguration day and the Protest the next day was definitely eye-opening.
"While the living history part was incredible; one of the best parts of the trip was meeting students from other schools and getting to know the small group that I went with."
When the students headed back to Indiana, Mrs. Pettine, the main supervisor of the trip, said that her goal is for Penn students to have an outstanding experience.
"I hope they just enjoyed themselves and being in the space and place of our nation's governance."