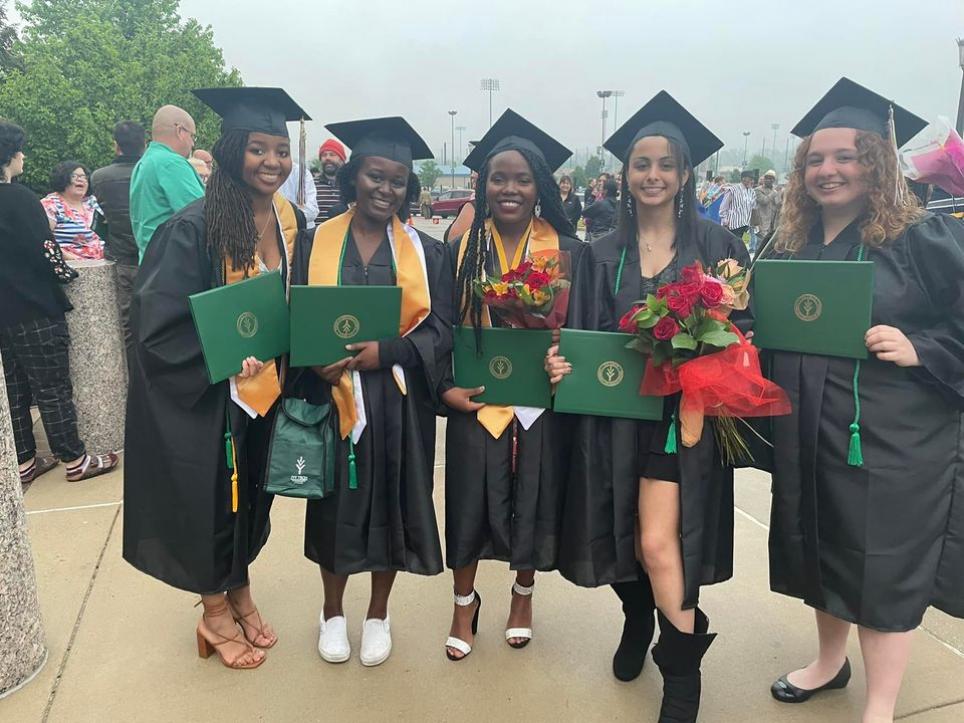 The Indiana Department of Education (IDOE) today announced the launch of the state's Urban College Acceleration Network (UCAN), a new partnership between urban Indiana schools with the mission of increasing students' access to postsecondary courses through the Early College High School Program.
UCAN connects established Early College High Schools and urban schools that are seeking to become Early College High Schools. The model establishes the Early College High Schools as mentors for their Partner Schools, providing the Partner Schools with guidance and support as they work to accelerate their path toward becoming an Early College High School. Through UCAN, Partner Schools will have access to coaching and support for Early College coursework, along with educator professional development at no cost.
Penn High School's Early College Academy was chosen, along with 3 other schools in Indiana, to help the Partner Schools build a model that empowers students to earn postsecondary credits alongside their high school diploma through dual credit opportunities. The Early College High School program, led by the University of Indianapolis' Center of Excellence in Leadership and Learning (CELL) is providing professional development and operational support to UCAN schools.
UCAN Mentor Schools:
Penn High School, St. Joseph County

Ben Davis University High School, Marion County

Hobart High School, Lake County

Muncie Central High School, Delaware County


UCAN Partner Schools:
Anderson High School, Madison County
Arsenal Tech High School, Marion County
Concord High School, Elkhart County
Crispus Attucks High School, Marion County
Goshen High School, Elkhart County
Hammond Central High School, Lake County
Herron High School and Riverside High School, Marion County
Irvington Preparatory Academy, Marion County
Morton High School, Lake County
Terre Haute North Vigo High School, Vigo County
Terre Haute South Vigo High School, Vigo County
West Side Leadership Academy, Lake County
"As we look forward to welcoming our tenth cohort of EC students in the Fall," said Associate Principal Rachel Fry. "We also pause to celebrate over $10M dollars in college tuition saved by EC families to date! While this is an incredible benefit to families, students also thrive due to the Smaller Learning Community environment, teachers that loop with students, field trip experiences to college campuses and more, and leadership opportunities in our school and community."
UCAN follows and expands on the model of the similar successful rural school initiative, the Rural Early College Network (RECN), which is now in its third year of operation. Following this model, four geographically diverse urban Early College High Schools were selected to serve as UCAN Mentor Schools, and additional urban schools from across the state were given the opportunity to apply to serve as Partner Schools.
This program will be supported with $4.1 million in funding through the third round of the Elementary and Secondary School Emergency Relief (ESSER) Fund.
In 2022, Penn's Early College Academy was re-endorsed as an "Early College High School" by (CELL) at the University of Indianapolis. The Academy was first endorsed in 2019; it is regarded as an exemplar for other high schools across Indiana implementing an Early College program. The 8 EC Core Principles (as outlined by CELL) are:
Targeted Student Population
Curriculum & Plan of Study
College-Going Culture
Rigorous Instruction
Supports for Student Success
Collaboration & Partnerships
Leadership & Staffing
Data Collection, Analysis, and Use
"We know that achievement gaps persist in reading, math, and educational attainment among Indiana's racially and ethnically diverse, low-income, special education and English language learner students – gaps that were exacerbated by the pandemic," said Dr. Katie Jenner, Indiana Secretary of Education. "I'm thrilled that through the UCAN partnership, many of our urban schools will come together to leverage their collective knowledge and experience to help close these gaps and expand pathway opportunities for every student to succeed."