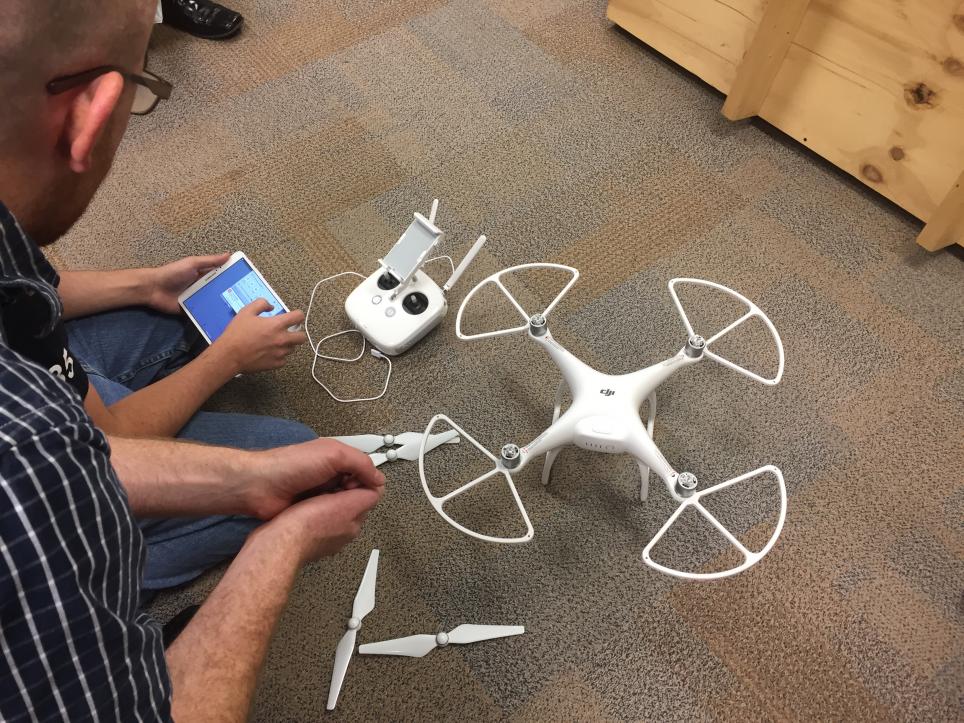 By COLE POLLYEA
Student Reporter
Despite popular perceptions, not all drones are used to carry out acts of violence. Some are used by major companies to deliver goods, some are heavily employed to make farming more efficient, some are used to build walls and thus increase employee safety.
In the case of Penn High School, a drone is currently in the stages of production and will be used to increase surveillance and monitor activity on school grounds.
This is the latest project from Penn's esteemed technology department and is headed by engineering teacher Evan White and his innovative class in Engineering Design and Development.
It is undisputed that the building of a drone would be of tremendous merit to the high school's program because, as Mr. White explained, "It's really neat for the kids to be on the cutting edge of the technology that is going to just keep growing and growing. .… They're doing things that the industry isn't even doing yet."
Excitement about this unprecedented project isn't expressed solely by the instructor. Will Gruber, one of the leading students behind the drone, also shares zeal about the building of a surveillance drone―and so apparently do his classmates. "It's a very tight-knit group. .... We're pretty quiet and focused on what we need to get done."
Gruber also went on to admit that, despite having a class size of only five, each student is a senior and has gone through the engineering program at Penn, meaning that they have taken many of the complex classes. In other words, our drone is in good hands.
Mr. White also has an optimistic view of the small class size of only five. "I love it because it's so personable and realistic as far as communication between the kids goes .… Everyone's kind of on the same page. They have more ownership of the project since it's a smaller group of people. I think that really helps with this."
However exciting this project is for the engineering student body, it is equally so for Penn's security department, where the idea for this project originated. Along with a partnership with Honeywell, a corporate manufacturer of technologies, this project is bound to extend the security measures for Penn, as its applications are many.
Mike Seger, Penn-Harris-Madison Director of Safety and Student Services, indicated that while the exact plans for the drone are dependant upon its functional capabilities, "The application for this type of security surveillance video can have a far reaching impact in the security industry."
Of course, a project wouldn't be revolutionary or impressive if it didn't face limitations. And that is certainly one of the things that makes Penn's drone project so tremendous. For those who aren't familiar with the standards of drones, most have a battery life of about 20 minutes and a charging time of about 90 minutes. Clearly, this presents a discrepancy. Mr. White's solution to this problem may lie in multiple batteries or, even, multiple drones.
"The technology is not where it needs to be to do something like this," said Mr. White. "Batteries for drones only last for about 20 minutes …. And you could probably get by with a two-hour charge time. That was part of the job for us, to increase the time [in the air] by getting a couple different drones or batteries to be switched out. .… The more amount of time the drone is operating in the air, the better."
So while the daily (or weekly) schedule for drone use is undecided, it will certainly be confined to the national laws which govern it. And beyond the obvious rules like one cannot fly it at a certain height and interfere with air traffic, there are other extensive rules concerning drone use that Penn will have to pay special attention to. Mr. White stated that "Currently, you can't fly at nighttime. There are always rules. You can't fly directly over a building …. Currently, you have to be in line of sight with the drone. When it's flying around, someone literally has to be watching it at all times."
Mr. White's EDD class hopes to be done with this project in March. And based on how rapidly some of these rules have been released, it's likely that, according to White, Penn's plans for usage of the drone will change by then. "But literally, the law is [constantly] changing. New laws came out a month ago."
Mr. Seger adds that "Penn High School can be the first to stream video using a Drone into a Honeywell Digital Video Management system on a K-12 campus."