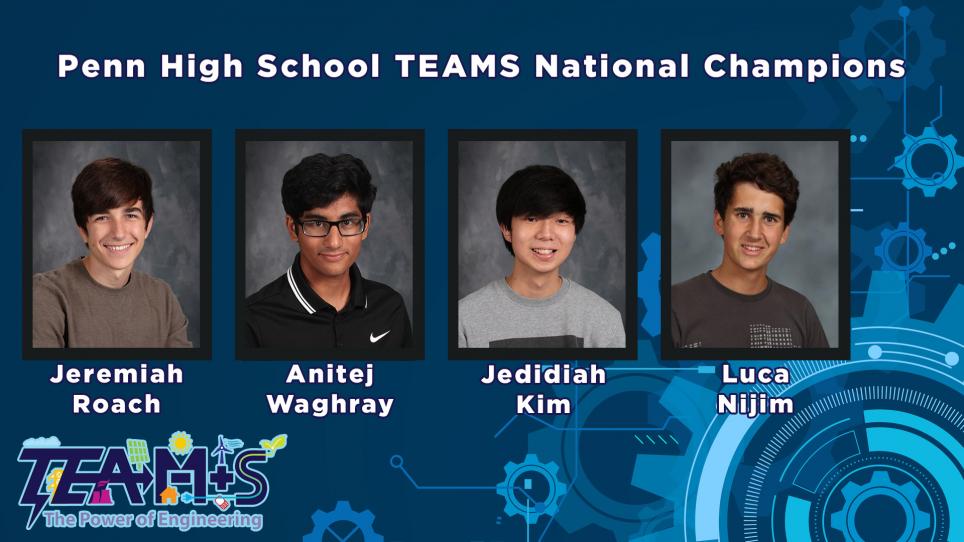 Penn High School's Team C in the TEAMS (Tests of Engineering Aptitude, Mathematics and Science) national competition earned the National Championship.
The National Team was Team C consisted of Captain Jeremiah Roach, Anitej Waghray Luca Nijim, and Jedidiah Kim. More than 350 teams across the nation competed in the event, which was Virtual this year.
The three categories were to build a device that helped move items from one location to another within the materials given, write a paper, and take a math test.
"Facing a pandemic as an engineer is hard, facing it as a student engineer is even harder," Penn TEAMS Sponsor Krystina Hullinger said. "The students this year in TEAMS successfully collaborated in making a build while obeying social-distance protocols. The amount of hard work, perseverance and willingness to meet any challenge head on will carry not only these national champions and students across the country far into the future. The world looks bright with these engineers."
Top 10 Team rankings: 1. Penn, 2. Iowa City West (Iowa), 3. The Harker School (Calif.), 4. New Canaan (Conn.), 5. Montgomery (N.J.), 6. Palos Verdes Peninsula (Calif.), 7. Hoover (Ala.), 8. Hoover (Ohio), 9. Channing Academy (Calif.), 10. Montgomery (N.J.).
Indiana Rankings for Penn Teams: 1. Penn C, 4. Penn A, 9. Penn D, 11. Penn E, 12. Penn B.