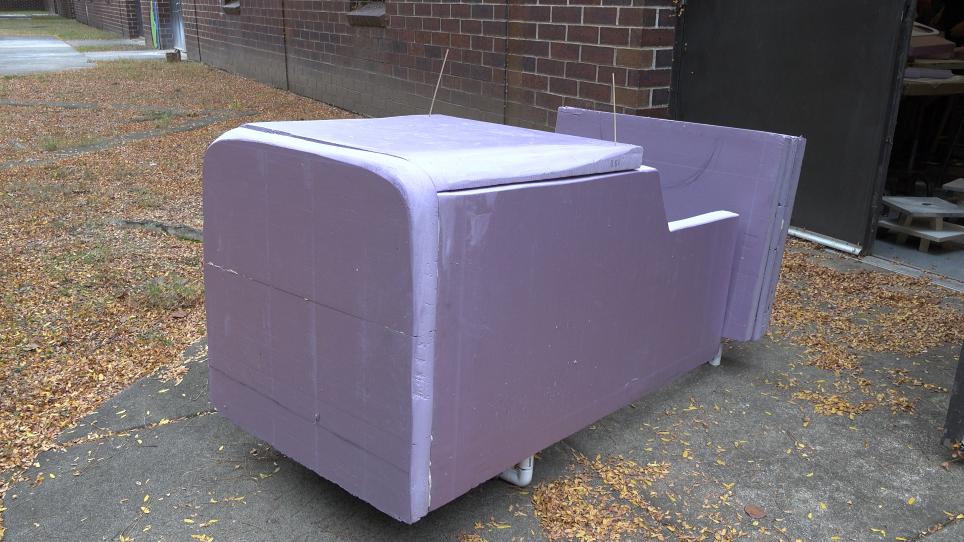 Students from four different Penn classes are participating in a unique, cross discipline, experiential, and service learning opportunity. Sculpture, Robotics, Marketing, and Penn News Network students are joining forces to help make one child's Halloween Trick-or-Treating an experience to remember!
We're documenting the students' progress in this cross-discipline project based learning project, take a look:
Here's the back story and how the project got started … In 2015, Joe O'Reilly, a parent volunteer with an engineering background turned the wheel chair for his medically fragile daughter into a Batmobile. After seeing the joy that the costume gave his daughter, Joe became an official ambassador with Magic Wheelchair, a nonprofit organization that builds epic costumes for kiddos in wheelchairs — at no cost to families!
Joe brought the idea of building a magic wheelchair to Penn High School Assistant Principal Josiah Parker who saw it as a perfect "Rigor, Relevance and Relationships" project based learning opportunity that Penn tries to provide to students.
Everybody agreed that this would be a terrific opportunity for collaborative learning between classes while simultaneously helping a young man cope with his disability.
Zephan Cantu is a 4-year-old Elkhart boy with cerebral palsy. Despite being confined to his wheelchair, Zephan is a cheerful boy with a love for superheroes and other comics. His favorite character is the Incredible Hulk, often wearing Incredible Hulk shirts to his doctor appointments to help him feel invincible.
Joe O'Reilly presented several sketches of Hulk themed ideas, but the drawing Zephan loved was a sketch of the Incredible Hulk riding in a smashed up jeep.
Beth Loth's Sculpture class is working with foam to form all the parts for the wheelchair costume. Under Beth & Joe's guidance, the students created full size drawings of the costume that they transferred to foam. Once the outlines were on the foam, the students cut out the patterns and began molding the pieces into shape.
Jim Langfeldt's Robotics class is tasked with animating the sculpted pieces. Their plans are to make the sculpture come to life with movement and lights in the arms, as well as sound effects that Zephan can activate by pushing a button inside the wheelchair.
Kyle Berres has put together a marketing plan with his Business & Marketing students to get the word out about the project. In addition to preparing materials showcasing the build, they have also been reaching out to local media to help spread the word.
Next up is Kevin McNulty's class. Penn News Network (PNN) students are documenting the build in video and pictures. The students have interviewed Joe O'Reilly in the PNN studios. Students learned about Joe's involvement with Magic Wheelchair as well as a description of how the various Penn classes, each in a different discipline, are collaborating to not only complete this project, but to make it a success on behalf of Zephan.
After the art students are done sculpting pieces, another community partner, Premier Arts, will professionally paint the creation before it comes back to Penn for final assembly.
Zephan will see his wheelchair costume for the first time on October 19th at a Halloween party hosted by A Rosie Place for Children, a non-profit organization/home situated on five beautiful acres in South Bend that serves all 92 counties in Indiana providing respite care for medically fragile children.
We are documenting all the students progress on this project and will continue to provide updates along with being there for the great reval on October 19th when Zephan finally gets to see his "Incredible Hulk Smash Machine" in person! Stay tuned ...