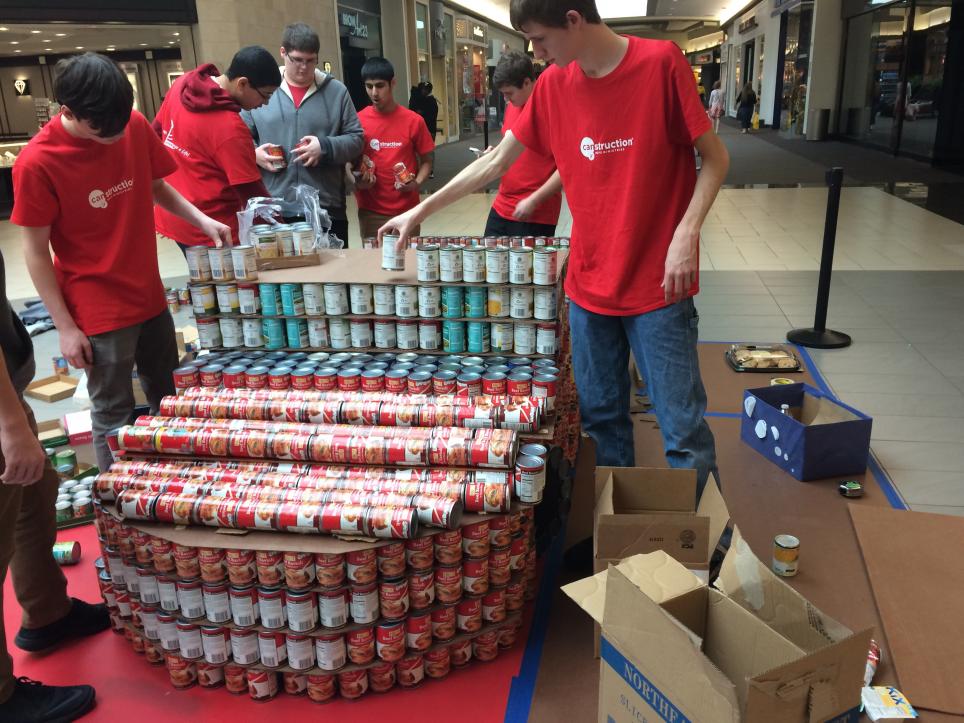 By CARTER DE JONG
Student reporter
Penn High School's engineering classes are participating in the CANstruction event at University Park Mall this year. The event benefits Hope Ministries of South Bend.
Four of Mr. Jim Langfeldt's Introduction to Engineering Design classes will be building different structures made completely out of donated cans of food. Penn students have been donating cans over the past few weeks for CANstruction.
About 6,000 cans will be used to build one structure.
Penn's Engineering and Tech classes were busy boxing and packing thousands of cans on Tuesday, Feb. 21, to take to the Mall at 6 a.m. on Wednesday. For 12 hours, students will stack cans into shapes they've designed and built in class. Penn will have four structures at the mall, while other local schools will also have their own builds. Click here to see the photo gallery of the build.
CANstruction will be on display Thursday, Feb. 23, through Sunday, Feb. 26. The public is encouraged to come out and see the structures, but to also bring canned goods for Hope Ministries and to vote on the best designs. So Penn students, families, teachers and staff … please head to the Mall and vote for the Penn CANstructions. Remember, get there by this Sunday, Feb. 26.!
Mr. Langfeldt's classes will be building structures based on Dory from "Finding Nemo", Lightning McQueen from "Cars", a spaceship, and an alien head. The past year's builds included Pac-Man and Rosie the Riveter, which was voted the winner.
On Feb. 26, all of the cans used in CANstruction will be donated to Hope Ministries. Hope Ministries will then distribute them to less fortunate members of our community. Click here to find out how you can get involved and volunteer at Hope Ministries.
The results of the voting won't be announced until the Awards Ceremony on March 26.
Langfeldt said that he appreciates the CANstruction event on different levels.
"I like to put students in new situations. Designing in class is one thing, but actually making your design is really the test!
"Canstruction has so much going on besides just building something out of cans," Langfeldt said. "You can actively engage 30 students in one project due to the many opportunities it brings into the classroom. From marketing to making community contacts, to a lot of research on costs, this class is much more than just design and build during CANstruction. The level of teamwork that is needed is rarely matched in a classroom. Students experience highs and lows and ultimately get to showcase their work to thousands of people from the community."
Langfeldt also likes the community service aspect of CANstruction.
"CANstruction has been a community outreach project that most of Penn has gotten around," Langfeldt said. "It has been very rewarding to see the outpouring of support from our school! My students are very motivated to help make a difference and truly have amazed me with their work!"