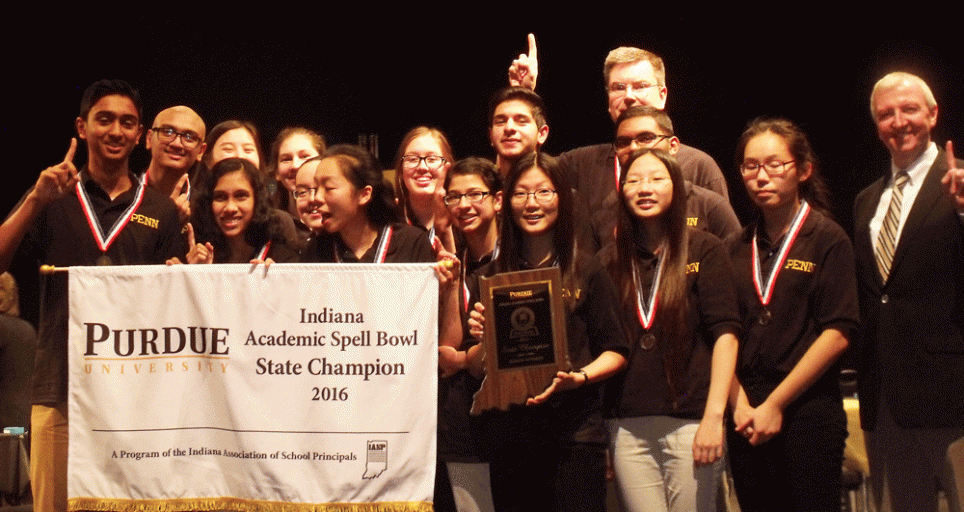 Penn High School's Spell Bowl Team, coached by Pete DeKever, captured its 16th state championship, on Saturday, Nov. 12, at Purdue University.
The Kingsmen dominated the competition, scoring 89 points out of a possible 90.
Penn's score was the highest of all the competing schools in all classes. Terre Haute South placed second with an 83.
"I am pleased for our players that their hard work and high expectations were rewarded with the team's 16th state championship," DeKever said. "The six-point margin of victory in the state finals is the largest since at least 1993 and reflects the dominant performances we had throughout the season.
"Our players put in more effort and time than any other Spell Bowl team in Indiana, and the competition allows that investment to directly translate into words spelled correctly. I always tell my players that they should be motivated to win a state championship for each other, and it was satisfying to see that expectation fulfilled on Saturday."
Coached by Pete DeKever, the Kingsmen finished the season unbeaten, winning seven invitationals, the regional and then state finals.
Perfect spellers for Penn were: Amy Bernard, Muqsit Buchh, Chelsea Chen, Maggie Finnessy, Hassan Kahn, Yewon Oh, Hannah Smith, Michelle Tapp, and Karen Wang.