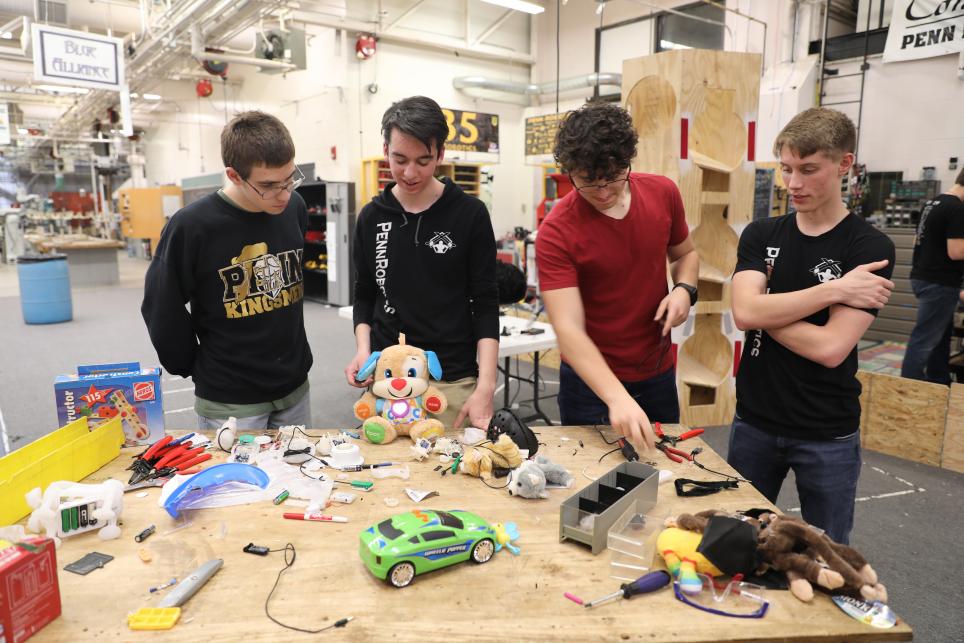 Penn Robotics Team 135 is planning on spreading a little holiday cheer this year!
They're calling on Penn and P-H-M students, families, staff, and members of the public to drop off toy donations. They are requesting electronic toys that have lights, make sounds, or have movements when a button is pressed. New toys in original packaging are preferred. The team will then take these toys and "adapt" them as part of the Team's Adapt-a-Thon event on Sat., Dec. 14 for children with disabilities. The team's goal is to collect 300 electronic toys that can be made compatible with a sensitive button that people with disabilities can activate.
Toys can be dropped off at Penn High School, inside Door A, during school hours of 8:00-3:30 (avoiding bus drop-off and pickup times are highly recommended). There will be a collection box inside Door A. Members of the public can gain admittance through the security at Door A to drop of the toys.
Penn Robotics will also set up bins outside of the CPA and the Main Arena so that students, families and patrons attending events at Penn High School Dec. 2-13 can drop toys off then as well.
Toys will be accepted at Penn through Friday, December 13.
On Saturday, Dec. 14, Penn Robotics students will be working to adapt the toys in an event that is free and open to the public:
Adapt-a-Thon
Saturday, Dec. 14
11:00 a.m. – 3:00 p.m.
Beacon Health System's Pfeil Innovation Center​, 420 N Niles Ave., South Bend
*Toy donations will also be accepted at this event.
*Families of children with disabilities are welcome and encouraged to attend the Adapt-a-Thon event. Those who have toys at home who'd like them to be adapted are welcome and encouraged to bring them. Those families who do not, can receive one free adapted toy per child. Supplies will be limited.
Thank you to Beacon Healthcare for sponsoring the event and providing the location.
For more details, please click here to visit Team 135's website.