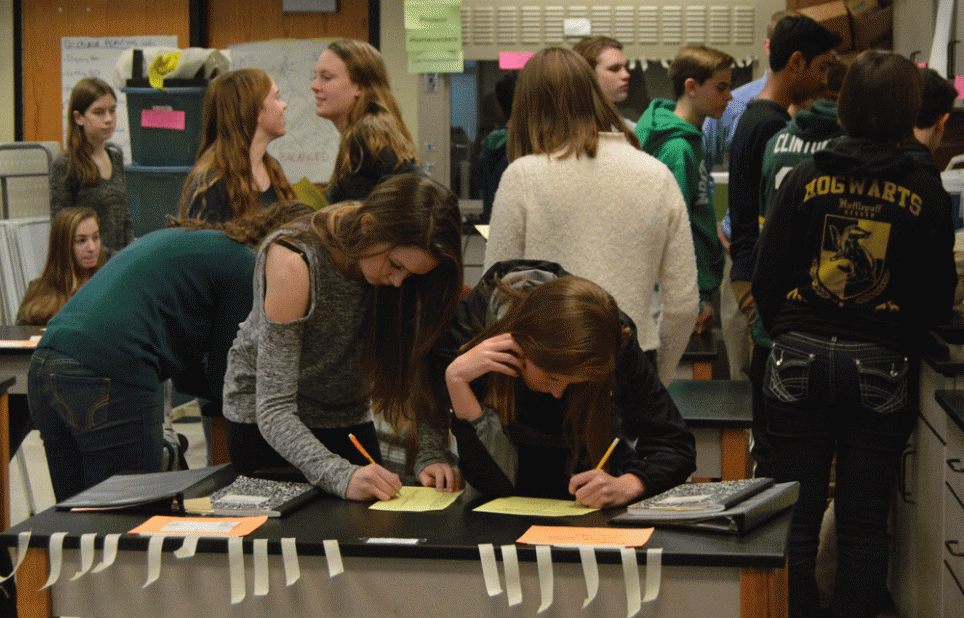 Penn High School Biology Instructor Shellie Harshberger challenges her students to 'think like a scientist.'
Students practice reading data tables, charts, and continually do lessons on scientific method and writing scientific text.
Andrew Warner, who also teaches Biology to freshmen at Penn, gets his students excited about Biology with engaging labs, such as the egg-cell membrane lab. Students learn that salty-sugary environments cause the cell (egg) to shrivel up and shrink in size, while water environments cause the cell (egg) to grow more than 40 percent of its original mass. Those lessons makes cell biology 'visible' and help students understand key concepts.
Whether it's getting students to 'think like a scientist,' or making cell biology a hands-on activity, Harshberger, Warner and the entire Biology instruction team at Penn have been difference makers.
Penn's Biology instructors – Shellie Harshberger, Chad Miller, John Gensic, Andrew Warner, Rob Berkheiser and Amy Tiebout – helped Penn students vault to the top of the state in achievement, as Penn ranked second in the state in ISTEP Biology scores, with 88 percent of its students passing.
"The success of our students on the Biology ISTEP is a reflection of the dedication of the Biology teachers," Penn High School Principal Steve Hope said. "The Biology teachers have dedicated themselves to delivering engaging instruction through inquiry-based and problem-based learning.
"This engaging instruction coupled with their commitment to establishing and maintaining positive relationships completed the recipe for great success," Hope said. "The Biology PLC (Professional Learning Community) has continuously worked toward becoming better and better. I am very proud of their efforts."
Penn's Science, Technology, Engineering and Math Academy leader, Assistant Principal Rachel Fry, also lauded Penn's leap from 10th in the state to second.
"Penn Biology teachers have worked collaboratively to build curriculum that allows students the opportunity to engage in authentic learning both inside and outside of our schools walls," Fry said. "We are finding an increasing number of students interested in STEM careers as they begin thinking about their futures, and I believe a lot of that has to do with the inspiration and experiences gained in their Biology classes as ninth graders.
"As a result of these efforts, I am not surprised at the remarkable student achievement results their students earned on the ISTEP," Fry said. "I applaud both the teachers and students for their hard work!"
Penn's Biology teachers use a variety of methods to help students excel on the state Biology test. Student-led lessons, online quizzes, practice tests, burning questions and literacy-rich classrooms help enhance the ability of students to excel.
John Gensic, who teaches Biology in Penn's Early College Academy and is the Biology Professional Learning Community leader, said that innovative techniques by Penn teachers have been key components in Penn's success.
"From teacher to teacher and day to day, a variety of best practices are happening in our classrooms," said Gensic, who was a finalist for Indiana Teacher of the Year in 2016. "Engaging students in critical thinking about ecology, genetics, and evolution have helped students learn the standards content more deeply. We practice literacy skills or reading, writing, and speaking. We also try to get students to read nature through observations, demonstrations, projects, and labs that challenge their current mental models in an attempt to help them refine and grow their understanding of the world.
"We ultimately believe that our strong ISTEP score is a result of the "ecology" that surrounds our students. Teaching primarily within the 9th Grade and Early College Academies, we get to work with teams of other content area teachers that we share students with. Working in these teams helps us best serve the students we have in Biology class."
Gensic said that Penn's outstanding ISTEP showing is a team effort beyond the classrooms at Penn.
"I think it says a lot about the families, middle, and grade schools that send their students to Penn," Gensic said. "The support systems in place through the Freshman Academy and Early College Academy are helping students continue their development in high school that builds on previous success. Penn's STEM Academy is being supplied with students who have the ISTEP measured skills at one of the highest levels in the state."
Penn's Biology teachers each bring a passion for Science and Biology into the classroom. The support and professional development opportunities through the administration, and collaboration among teachers – pillars in Penn's Academy system – has helped teachers develop various strategies to reach all learners.
Engaging instruction, teacher collaboration and strong administrative support have helped Penn Biology students rank in the Top 5 in Indiana ISTEP scores. It is a formula of success that has Penn students pursing excellence in learning.