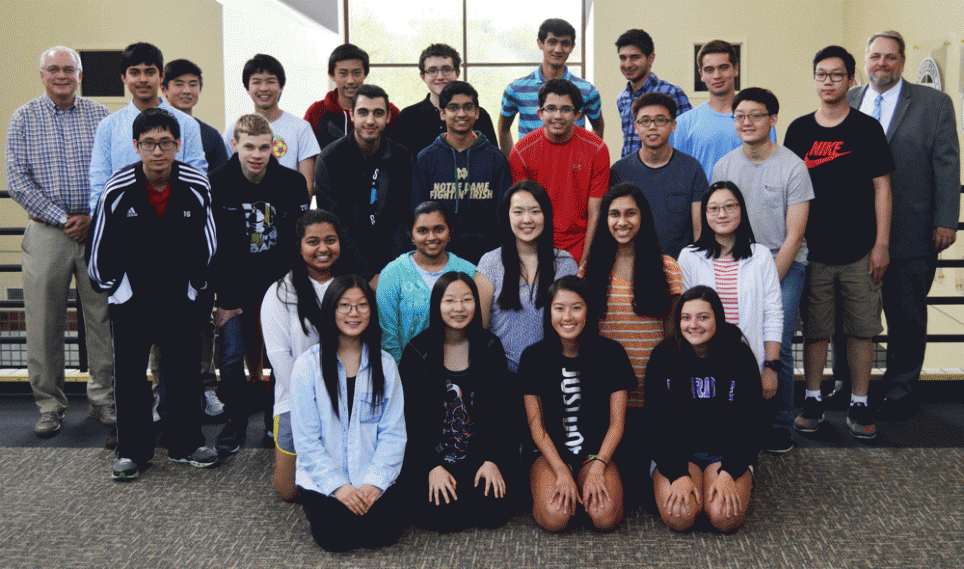 Penn High School's Mathcon Team earned a second consecutive national championship, and senior David Kim repeated as an individual national champion at the MathCon National Championships at the University of Illinois Chicago on April 22.
MathCon is a national mathematics competition for students in grades 5-12. First, there is an online qualifying contest lasting 45 minutes. Approximately 50,000 students participated in this online qualifier. A total of 576 students qualified to go to Chicago for compete at the national event, which was the top 1 percent of the online scores. There were 43 states were represented at the nationals in Chicago.
Penn qualified 19 students for the nationals. The national contest consists of 50 questions and lasts 75 minutes. Individual awards are then determined for each grade level and for the best high school and middle school. Out of Penn's 19 national qualifiers, 17 won an award.
"I would credit our success to our commitment for our academic extracurricular activities at Penn," Penn Math Instructor and MathCon coach Brad Grounds said. "We offer many opportunities to help these students develop their problem solving skills with Indiana Math League, the American Mathematics Competition, Trig-Star, and Math Academic Super Bowl (weekly meetings practicing higher level problem solving)."
Seniors:
David Kim National Champion (2nd year in a row)
Dat Luong Gold Medal
Matthew Shan Bronze Medal
Mason Lee Bronze Medal
Muqsit Buchh Honorable Mention
Baker Nasser Honorable Mention
No junior qualifiers
Sophomores:
Tina Lu Silver Medal
Corey Wang Honorable Mention
Chelsea Chen Honorable Mention
Hasaan Kazi National qualifier
Freshmen:
Seunghoon Sun Bronze Medal
Lyvia Li Honorable Mention
Jeffrey Du Honorable Mention
David Simonetti Honorable Mention
Noah Lang Honorable Mention
Tara Devaraj Honorable Mention
Abhinov Kotaru Honorable Mention
Rajeev Datta Honorable Mention
Yewon Oh National qualifier