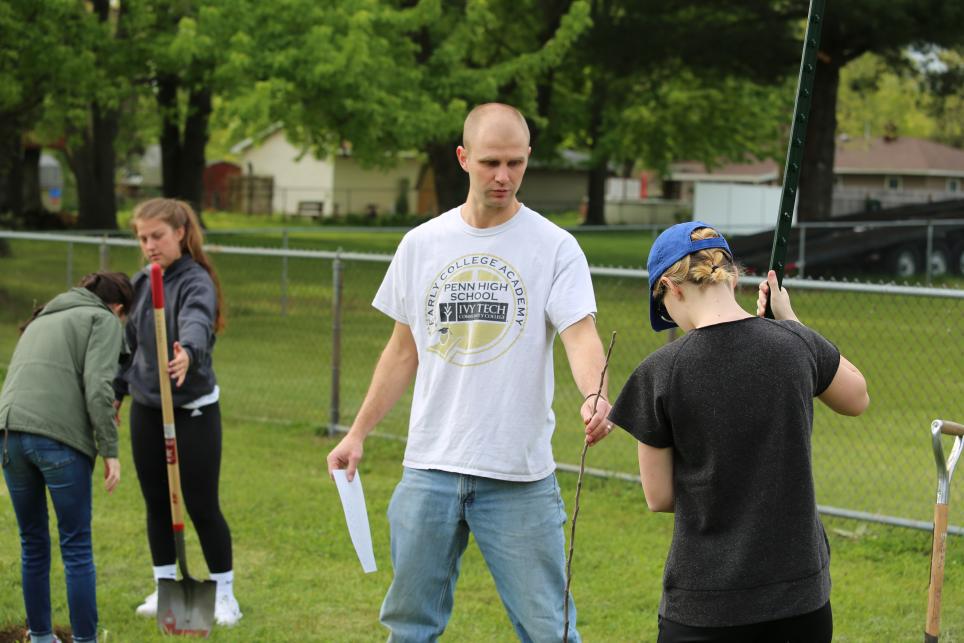 The weather couldn't have been better on Wednesday morning (May 10) for Penn Biology teacher John Gensic (2016 Teacher of the Year) and his nearly 100 Early College Biology students.
Gensic and his students departed on buses headed for Horizon, Elsie Rogers and Mary Frank Schools to plant dwarf fruit trees with the help of an estimated 324 elementary students. Today was the final step of the Phase 1 planting phase which began in the spring of 2016 at Horizon Elementary.
The "Giving Trees" project was the brainchild of Gensic, P-H-M's 2016 Teacher of the Year and top 10 finalist for Indiana TOY. The project was made possible by a 2016 grant from the P-H-M Education Foundation . Funding this year was a combination of grant money, Gensic's P-H-M TOY grant money from the Education Foundation, and a donation made by Springhope Farm.
The idea behind the project is for students to participate in a real world event that not only focuses on improving the local environment, but also provides food for the Penn-Harris-Madison school community. It is Gensic's hope that all the students involved in the project, elementary and high school, will be inspired to become agents of change leading the charge for a healthy environment and community.
The "Giving Trees" project is a four-phase plan with Phase 1 completed on the final planting day on May 15 at Elm Road Elementary. Phases 2, 3 and 4 will be the harvesting of the fruit for use in P-H-M's schools; and if all goes well, Gensic also hopes to provide fruit for the local community.
When all the planting is done, there will be a total of 64 fruit trees planted between Horizon, Mary Frank, Elsie Rogers and Elm Road. Out of the 64 trees, 40 are apple and 24 are pear trees.
Academically, this project will have the high school students focusing on Indiana Biology Standards 2 (matter cycles and energy transfer) and Biology Standard 3 (interdependence). The elementary students will also focus on Indiana Science and Language Arts Standards as a way to reinforce this great experience.
Please check out the pictures below taken at Elsie Rogers Elementary.