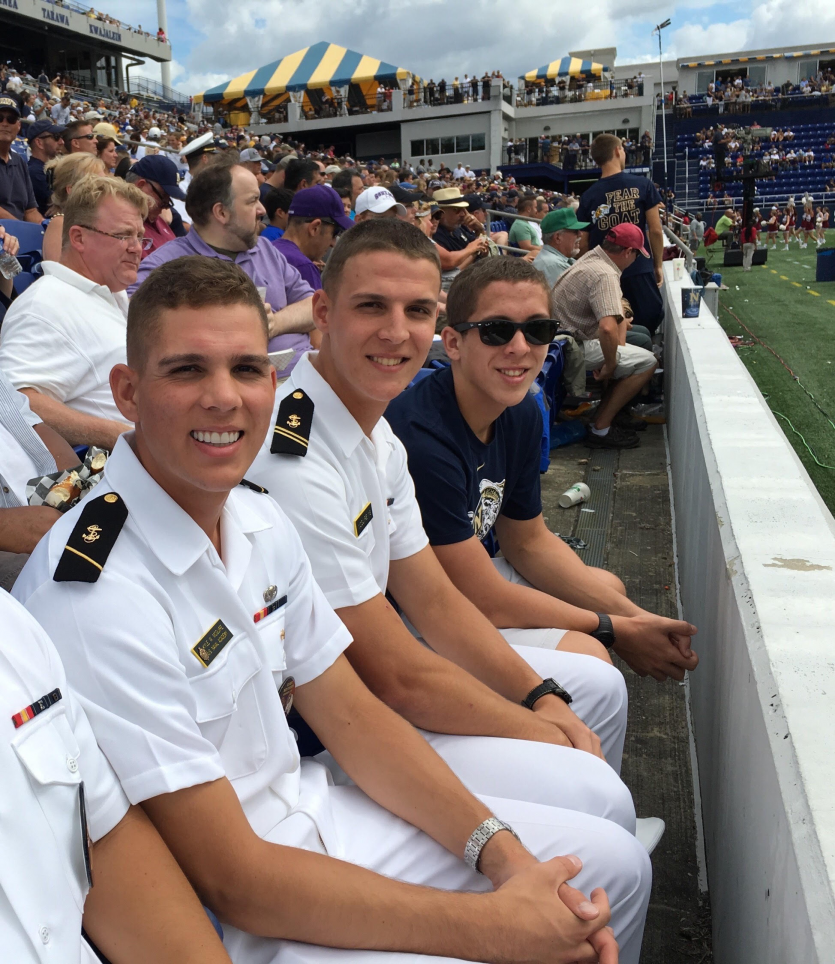 By COLE POLLYEA
Many families here at Penn High School have rich legacies at universities like Indiana University, Purdue, Ball State, or even schools such as Notre Dame and Michigan.
What is more uncommon is for families at Penn to have rich legacies at The Naval Academy, an East Coast Military Academy where admission is based on competitive applications as well as congressional appointment.
This is exactly what Penn has in the high-achieving McGuire family.
Logan McGuire will be the third of the McGuire boys to attend the Naval Academy after graduating from Penn. Without doubt, he has had a strong impact on Penn's student body and has played a critical role in elevating the reputation of the school in his four years. Logan has four years of lacrosse under his belt, and this year, he hopes to lead the team to a successful state run as one of the team's captains.
He has also been a part of Penn's National Honor Society, DECA, Freshman Mentoring, Dream Commission Society, Key Club, and in late March of this year, was recognized as one of Penn's 19 valedictorians, an incredible feat when it is taken into account that the 112th-ranked student in the class has a perfect 4.0. His GPA is a jaw-dropping 4.4286.
Logan acknowledges that Penn has played an integral role in his success along the way: "Penn provided me with many opportunities through classes and extracurriculars to explore my passions and subjects that I was curious about."
Logan found out that he had been admitted to Naval Academy while first semester was still in session. Needless to say, Navy is an extremely selective institution with an acceptance rate of nine percent and an abundance of difficult tasks to complete in order to achieve acceptance.
Aside from having to present an overall compelling academic and extracurricular application, one of these tasks include interviewing with a former military officer as well as completing a physical fitness test under his/her supervision — "push-ups, pull-ups, sit-ups, shuttle run, one-mile run, and basketball throw," Logan recalled.
Yet what is even more intimidating about the application process is that, in order to be admitted, one must earn a nomination from one of the state's congresspeople. "(Your) applications are reviewed by their own boards and this board then chooses candidates to interview from that initial pool. After interviews, each congressperson can nominate 10 people to USNA," Logan said. Without the nomination, it is impossible to be accepted.
Logan has two older brothers and both of them are attending the Naval Academy.
Kyle, the oldest, is a current sophomore and is majoring in Quantitative Economics. He is passionate about a number of roles within the Marine Corps, including pilot, Ground Intelligence, and Infantry. USNA graduates are required to serve a minimum of five years after graduating, and Kyle commented that "I'll need to get some time in my actual job before I can decide if I want to continue serving beyond my service obligation."
As far as this actual job goes, Kyle attended the Kelley School of Business at Indiana University Bloomington for two years before transferring to the Naval Academy. There, he developed a keen interest in consulting and he indicates that "The Naval Academy hasn't really changed those aspirations."
Connor, the next oldest brother, is a junior and also plans to major in Quantitative Economics, though he's not sure that his civilian life will consist of a job relating to his major. Right now, he is not eliminating any options for his future, one of which could be using his GI bill to earn an MBA. Like Kyle, Connor is also very passionate about pursuing a career in the military. Here, he eloquently explains the position that he is serious about pursuing after the Naval Academy, a Marine Corps infantry officer:
"In its simplest form they're the ones on the front lines leading men into combat, but an infantry officer has to be capable of leading men in the three-block war — particularly in today's day and age. The first block is full-on combat. The second block is peacekeeping operations. The third block is humanitarian aid. As a Marine Corps infantry officer you are called upon to lead your men through all of these blocks, and sometimes you'll be working through all three blocks in a matter of hours. That's an immense leadership challenge and a high calling, and I'm looking forward to being a part of it all."
It is clear that the McGuire brothers have had a profound influence on each other's life choices up until this point. But the influence did not just stem from the brothers' choices.
Logan's parents also have a strong military background: "My father served for 12 years in the Marine Corps and was decommissioned as a Captain. My mother was in Air Force reserves for 3 1/2 years (medical school) and active duty for six years. She was decommissioned as a Major. Both of my half-sisters also served in the Air Force. Now, both of my brothers are at USNA." He is soon to join them.
"We have always been proud of all of our sons because each of them have always been great young men. As far as their Appointment to the Naval Academy, we would have to say we are more happy for them than proud, because they each set a goal of getting that Appointment and they each achieved that goal through their own hard work, dedication and discipline. We're also proud of their drive to serve their country and defend freedom for future generations," stated Mr. and Mrs. McGuire.
When asked about how he feels about serving in the military, Logan responded with insight, gratitude, and maturity. He indicated that his motivation to serve is multi-layered. On one hand, he values his future military service because of the values it instilled in his parents, who he admires. And on the other hand, he views service as the appropriate way to pay back his country for providing him with all that it has, which he is grateful for.