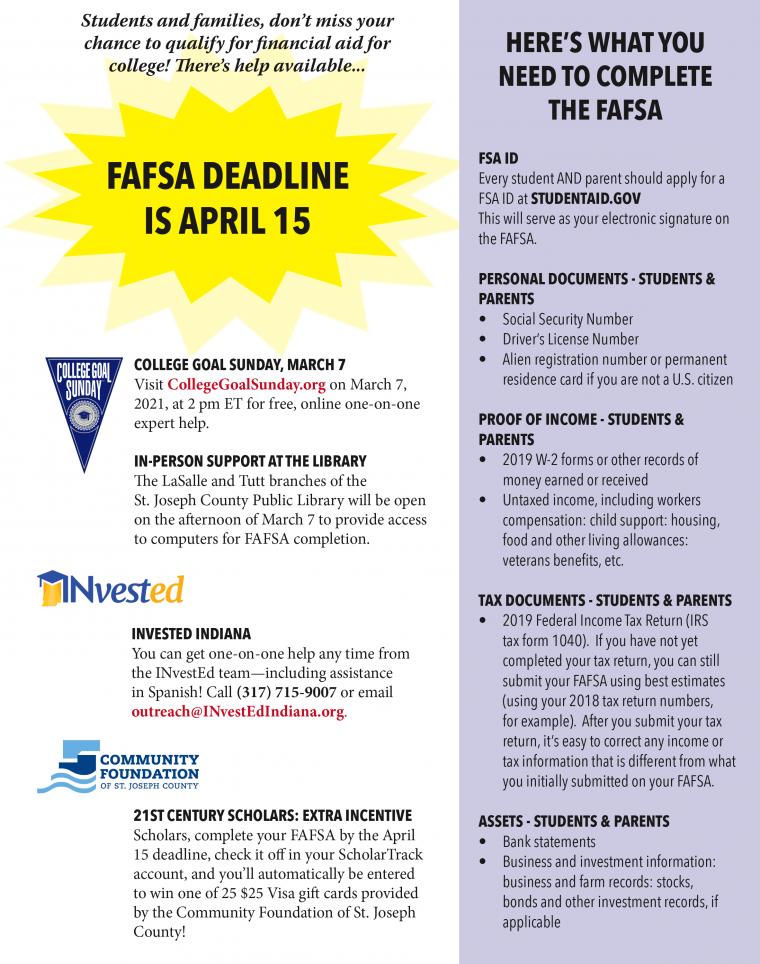 Sunday, March 7, is the College Goal Sunday FAFSA Assistance Event (CGS) from 2-4 p.m.
Click here for FAFSA support information.
FAFSA – Free Application for Federal Student Aid – enables college-bound high school seniors to apply for federal grants, work-study, and loans. Your college uses your FAFSA data to determine your federal aid eligibility. Many states and colleges use FAFSA data to award their own aid.
The St. Joseph County Public Library is opening its LaSalle & Tutt branches during this time for assistance and increased computer access. The LaSalle Branch is located at 3232 Ardmore Trail, South Bend, and the Tutt Branch is located at 2223 Miami St., South Bend.
Seniors must complete by April 15th to maintain 21st Century Scholar status.
The Indiana Commission for Higher Education (CHE) announced last month that "due to the ongoing disruption of the COVID-19 pandemic, the College Entrance Exam (SAT/ACT) activity of the Scholar Success Program (SSP) will not be required for senior 21st Century Scholars graduating in the spring of 2021. This is for class of 2021 only and if possible, CHE is still encouraging students to take an exam.
Other activities include Quick Start grant application process open for YOUR 21st Century Scholar enrollment or SSP activities (up to $2,500), communications audit documenting how we're all currently communicating about 21st Century Scholars, SSP event planning (more info to follow), and expanding resources available online. For more info, visit our website.