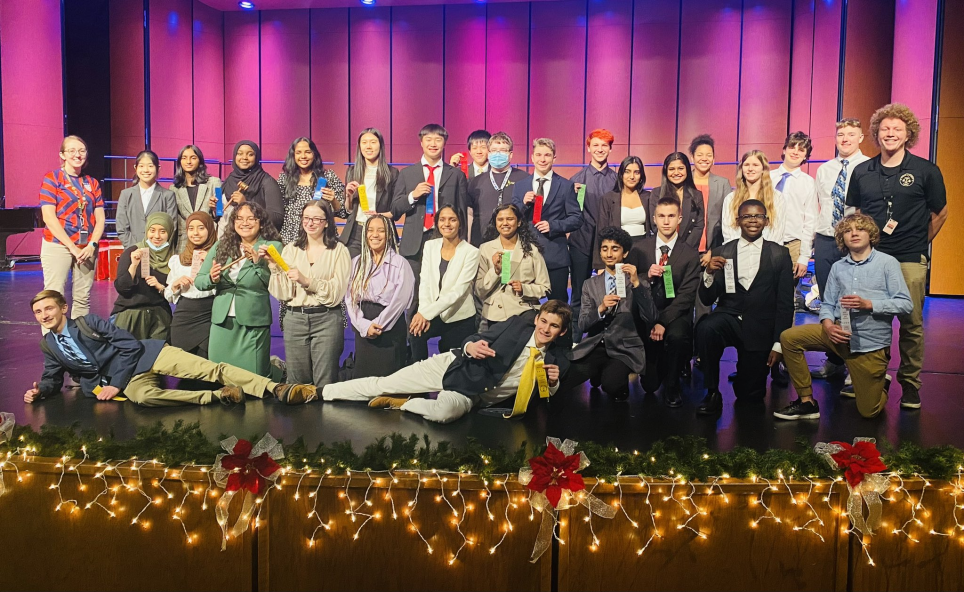 Penn's Debate Team placed first in an Indiana Speech & Debate Association Tournament held Saturday, December 3, 2022 at Penn High School.
Penn beat out Chesteron, Munster and Crown Point.


Debate Coach Mr. Jeremy Starkweather was named National Speech & Debate Association Diamond Coach on November 30. First Diamond Coaches receive the degree of merit for coaching a minimum of five years, and earned 15,000 points. Each point represents dedicated coaching and hours of practice, revision, and growth for students.
Penn results:
Novice Lincoln Douglas Debate: 5th Place Rishita Maheshwaram
Novice Public Forum Debate: 1st Matt Voor and Max Scheidler
Novice Student Congress: 6th Place Avison Collier, 5th Place Landon Graves, 4th Place Autumn Weimer, 3rd Place Jason Mbianda, 1st Place Ishita Masetty
Varsity Lincoln Douglas: 8th Place Olivia Bulger, 7th Place Sarah Rooney, 5th Place Alex Wagler, 3rd Akul Bhambhani, 1st Place Chris Chen
Varsity Policy Debate: 5th Place Braden Fox and Bray Sappenfield; 1st Place Sarah Ahmed and Lynn Chung
Varsity Public Forum: 7th Place Alina Luck and Jaanavi Kaushik; 6th Place Malak Shamkhi and Aasmaa Shamkhi; 4th Place Noah Schafer and Bohdan Kolomeiiets; 2nd Place Noah Shafer and Stanley Liew
Varsity Student Congress: 4th Place Janet Yu; 1st Place Tasneem Ahmed
World Schools Debate: 5th Place Luke Drzewiecki, Yiheng Lu, Ben Edwards, Logan Chodzinski, and Keegan Fall; 3rd Place Max LaFleur, Jacob Kyle, Mira Yaradi, Ishita Awasthi, and Benjamin Galiher

CONGRATULATIONS to Penn Debate & Coach Starkweather!