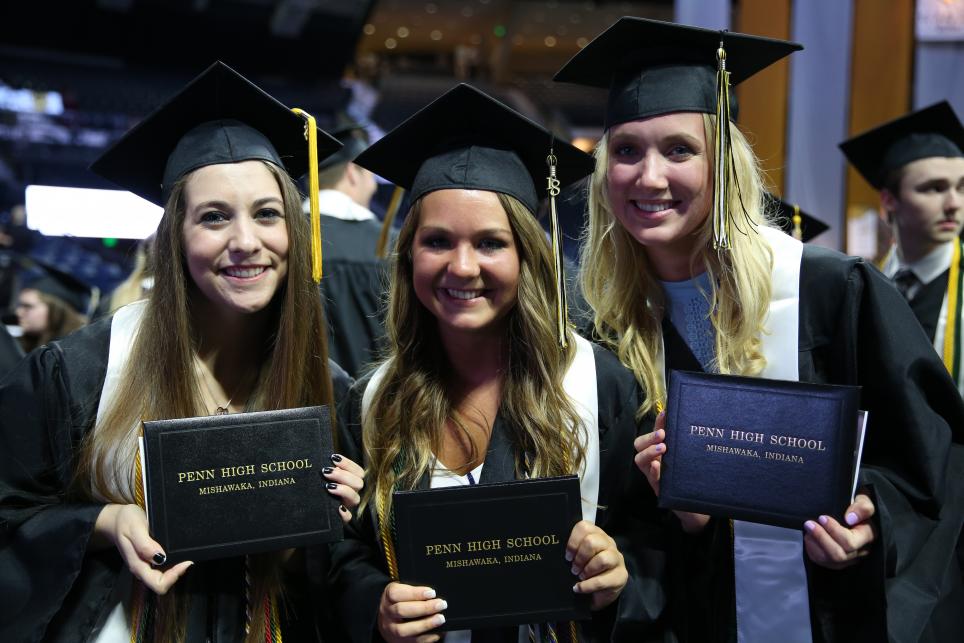 On Friday, May 25, 869 Kingsmen graduated from Penn High School in Commencement Ceremonies at Purcell Pavilion on the University of Notre Dame campus.
All 17 valedictorians spoke during the ceremony. They spoke on a joint theme passing along the lessons they learned the past four years and their defining moments at Penn High School.
Click to read the amazing accomplishments of Penn's Class of 2018.
Click to watch Class of 2018 Excellence Happens Here student profiles on Penn-Harris-Madison's YouTube channel.
Please click to see the photo gallery below of Commencement.
PLEASE NOTE REGARDING PHOTOGRAPHY:
These photographs in the photo gallery below were taken by the P-H-M District Communications Office. They are just intended to capture a snapshot of the excitement and mood of the evening, NOT ALL STUDENTS WILL BE PHOTOGRAPHED.
To download high resolution jpg files from the photo gallery below, just simply click the "DOWNLOAD" button on the bottom right-hand corner of the photo while viewing it in the Photo Gallery function. We are happy to provide this service to you free of charge.
*HR Imaging photographed all graduates at the ceremony. HR Imaging will contact parents soon after the ceremony with viewing and purchasing options -- you'll receive login information to view images securely online at http://shop.hrimaging.com.