The letter from Penn Principal Sean Galiher was sent to senior parents on April 14.
Dear Parents or Guardians:
Congratulations on helping your senior graduate from Penn High School during these challenging times. We share your pride in your senior's achievement and are excited to announce additional details for our in-person ceremony for Friday, June 4th outside at Penn High School on TCU Freed Field.
The purpose of this letter is two-fold: To provide you with information about our ceremony and to solicit your assistance in helping make the graduation activities reflect the dignity, solemnity, and importance of your senior's achievement. This year's graduation will definitely look different as we will need to ensure a safe environment for those who choose to participate. All candidates for graduation and guests will be required to follow state and local health protocols, including social distancing guidelines, wearing a mask and additional safety and security measures. Thank you in advance for your cooperation and partnership with Penn High School.
COMMENCEMENT INFORMATION
Penn High School's commencement will be held on Friday, June 4th at 7:00 p.m. Should rain or inclement weather delay our plans, the ceremony will be moved to Sunday, June 6th at 7:00 p.m.
Seniors participating should arrive at Penn by 4:00 p.m. on June 4th. Seniors with last names starting with A-K should plan to enter through Door C, using the Bittersweet entrance to Penn High School. Seniors with last names starting with L-Z should plan to enter through Door M, using the Jefferson entrance of the staff parking lot. With limited parking availability, please make arrangements for seniors to be dropped off at the designated entrance. Seniors arriving after 4:30 p.m. will not be in alphabetical order and may be required to be seated at the end of the line. Seniors are required to wear a mask that will be provided, caps, and gowns, and to have appropriate attire under their gowns. Also, no decorations on the caps and gowns will be allowed.
Seniors are asked to refrain from bringing valuables to commencement. Please bring only those necessary items that you will need at graduation. Cell phones, gifts, hangers, food, or drinks will not be allowed. Each graduate will be provided with a bottle of water by their chair. Girls may bring a small handbag/purse and may not wear stiletto heels in order to protect our field.
Parents and guests are to enter through the Larry Beehler ticket entrance on the north end of the stadium. Gates open at 5:30 p.m. The facility is handicap accessible. Attendance will be limited to two (2) family members per graduate. The names of each family member must be included on the sign-up form which is included later in this communication. If a student has more than two parents/guardians, they must contact our main office for additional information.
YARD SIGNS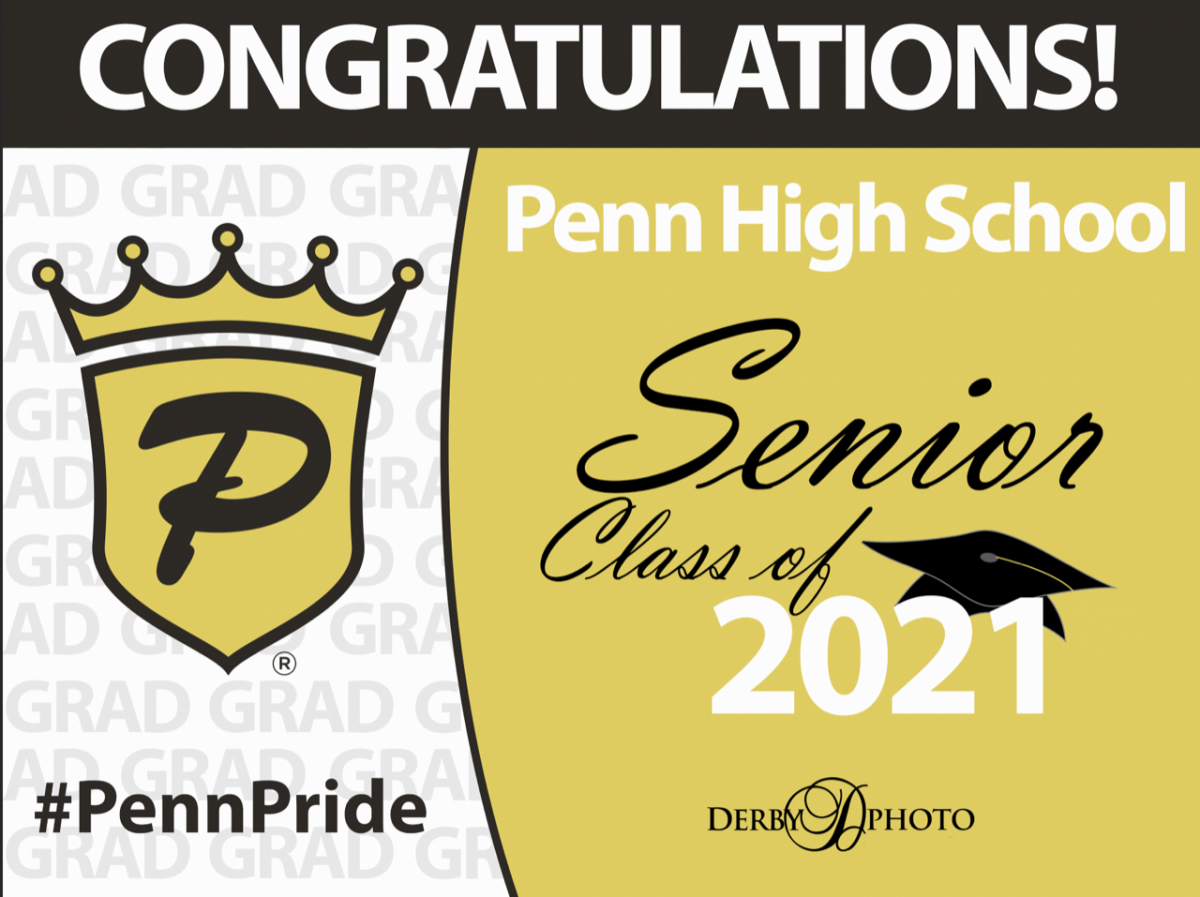 Senior yard signs were popular last year thanks to generous donations from our community members. We would like to provide this option again this year. Yard signs from Derby Photography will be available for purchase for $7.00 each. Click here to order one if you are interested. Payment and pick-up will be at Penn High School. Cash or check only, please. Checks need to be made payable to Penn High School. In order to schedule the delivery in early May, orders will only be accepted up to April 23rd.
SENIOR PARADES
In 2019, we celebrated our first senior parades where graduates visited their elementary schools. This was a wonderful experience for our graduates and current elementary students and staff. We are scheduling these parades again this year on June 1st and June 2nd; they will be held outdoors. Additional details will be shared with seniors during senior commencement rehearsal meetings later this month.
PARTICIPATION IN COMMENCEMENT
Please remember that graduation participation is a privilege, not a required activity. New this year, students will need to complete a form and indicate if they will be participating on June 4th. We will only be reserving a chair for every student who completes the form indicating they will be attending the event. Please click here to fill out the form of the names of your guests who are planning on attending. This form must be completed by May 24th.
TICKETS
Admission to graduation is free-of-charge, but not open to the public. Seniors will be allowed to have two (2) guests in attendance. These guests must be on the list from the Google Form completed by each family. This is a non-negotiable number, due to the maximum occupancy in the stadium. We understand this is not an ideal situation, but we need to do our best to follow health safety guidelines. Every person who attends as guests counts, including babies and children. We will be issuing paper tickets that will be distributed to students during senior commencement meetings. Every graduate must use the online form to enter the names of his/her two (2) guests. Students will be able to enter/alter the names of their guests up until May 28th. If a student has more than two parents/guardians, they must contact our main office at 574-254-2878 for additional information.
LIVE STREAMING
Due to the COVID limitations, our commencement ceremony will be live-streamed so that family members and friends who are unable to attend may watch the ceremony. A link will be provided before the date of commencement.
2021 COMMENCEMENT CEREMONY
Parents should make prior arrangements as to where to meet their seniors after the graduation ceremonies have ended. Please do not interrupt the procession as the graduates exit the stadium. The graduates will be released to meet with family and friends after re-entering the school. We ask all spectators to honor the accomplishments of all of our seniors by refraining from any behavior that is a distraction from the ceremony. If an audience member's behavior detracts from the formal environment that has been established, he/she may be asked by security to leave the ceremony.
COMMENCEMENT REHEARSAL
Information related to commencement will be given to seniors when they meet with administrators on April 28, and April 29, 2021. During these mandatory meetings, detailed instructions for commencement participation will be discussed. The arrangement of facilities at Penn High School will allow us the opportunity to practice and go over last-minute details on the day of commencement just prior to the formal activities on June 4, 2021. However, the information shared during the senior meetings will be extremely important for seniors participating in the commencement ceremony.

CAPS AND GOWNS
Jostens will be at Penn High School to pass out caps and gowns on April 28-29th after the senior meetings. If students are not able to pick up their cap and gown on those dates, they can come to the Main Office to pick up these items up between 7:30 a.m. - 3:00 p.m, Monday - Friday.
DIPLOMAS
Students will be able to pick up their diplomas beginning Monday, June 14, from 8:00 a.m. – 3:00 p.m. Pick up will be inside Door A.
PHOTOS
Inter-State Studios will be positioned to take individual pictures of seniors with their diplomas. Every student will be photographed and all photographs will be available for purchase on a protected website. Click here to access Inter-State Studios' secure website. Password = Penn2021. We know you want to take photos of your graduate. With social distancing guidelines in effect, we cannot allow guests to move around during the ceremony to take photos. Guests will not be allowed to move around from their seats. Any pictures taken will need to be taken from your seats. After the ceremony, you are welcome to take photos at one of the photo opp locations around the school.




PARKING
Graduating seniors should be dropped off at Penn at the arrival time. Parents and guests should park in the student lots on the north side of the high school.

SEATING
Seating is first-come, first-served. All ticket holders for each graduate must sit together. Please refrain from visiting with other families in the bleachers. Handicap seating will be available during the ceremony. Family members must wear a mask while attending this event.

ENTERING AND LEAVING STADIUM
All attendees must use social distancing when arriving and leaving the stadium. Families are expected not to congregate outside or inside the stadium at any given time. Hand sanitizer stations will be available at all entrances and along the bottom of the stands on both sides of the stadium. Participating students and family members are encouraged to monitor their health and should not attend if they have any symptoms associated with COVID-19.
Your assistance and cooperation in conforming to the instructions outlined in this letter are needed and appreciated. If you should have any questions about any of the activities outlined above, please do not hesitate to call.
Again, congratulations to you and your senior! We wish the newest members of the Penn High School Alumni the very best! They have, indeed, been very special!
Sincerely,
Sean Galiher
Principal