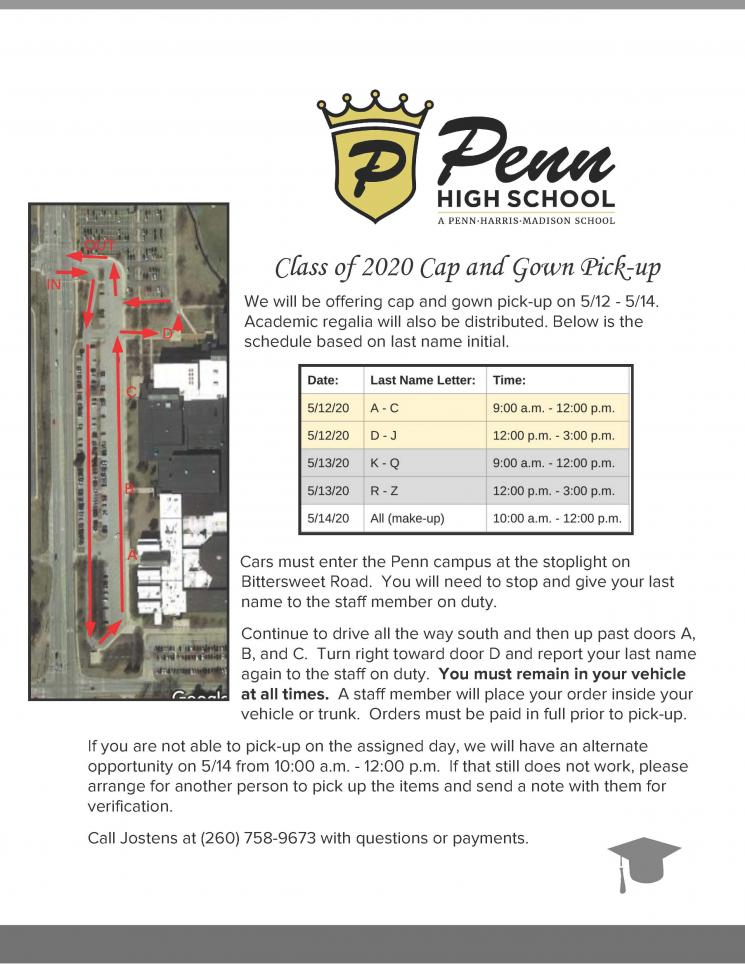 Caps, gowns and academic regalia pickup will begin Tuesday, May 12. We're asking students to pickup their materials based on their last name. Please follow this schedule:
Tues., May 12, 9:00 a.m. – 12:00 p.m. (A-C)
Tues., May 12, 12:00 p.m. – 3:00 p.m. (D-J)
Wed., May 13, 9:00 a.m. – 12:00 p.m. (K-Q)
Wed., May 13, 12:00 p.m. – 3:00 p.m. (R-Z)
Thurs., May 14: 10:00 a.m. – 12:00, Make-up day
Cars must enter the Penn campus at the stoplight on Bittersweet Road. You will need to stop and give your last name to the staff member on duty. Continue to drive all the way south and then past doors A, B, and C. Turn right toward door D and report your last name again to the staff on duty. You must remain in your vehicle at all times. A staff member will place your order inside your vehicle or trunk. Orders must be paid in full prior to pick-up.
If you are not able to pick-up on the assigned day, you can pickup your items on Thursday, May 14 from 10:00 a.m. - 12:00 p.m. If that still does not work, please arrange for another person to pick up the items and send a note with them for verification.
Call Jostens at (260) 758-9673 with questions or payments.