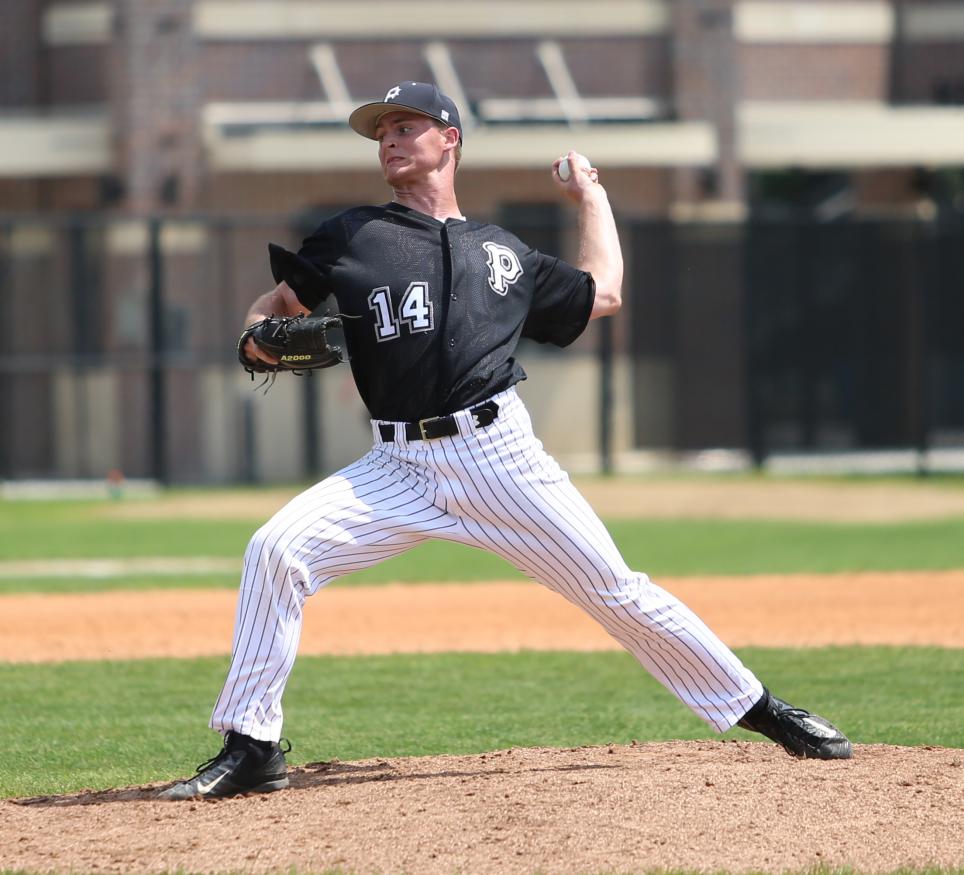 Ryan Lynch of Penn High School has been named the Gatorade Indiana 2019-2020 Player of the Year for Baseball, Gatorade announced on Thursday, May 21, 2020.
 
A left-handed pitcher/centerfielder, Lynch signed a National Letter of Intent to play Baseball at the University of Notre Dame.​
 
"It means a lot to receive this award," Lynch said. "It doesn't just focus on what I've done on the field, but what I've done behind the scenes to help the community. I know there have been many great athletes who have won this award. It is an incredible feeling to be a part of those who have won before me.
 
"I am also glad to represent Penn High School," Lynch continued. "The coaches and staff there have done so much for me and they deserve a lot of recognition.
 
"One of my biggest takeaways from my Penn baseball experience was learning how to play as a team," Lynch said. "Being around great teammates and coaches helped me learn to play less selfish and do things for the better of the team. This lesson is something I will never forget no matter where life takes me." 
 
Lynch, the son of Gregory and Diana Lynch, is now part of a 30-plus year legacy that includes past Gatorade State Player of the Year winners such as Derek Jeter, Peyton Manning, Abby Wambach, Karl-Anthony Towns and many other sports icons.
 
Penn High School Coach Greg Dikos, who has guided the Kingsmen to four state championships, said that Lynch has set a gold standard for his program.
 
"Without a doubt, Ryan is one of the most gifted athletes I have had the privilege to coach in my 40 years as a High School Baseball Coach," Dikos said. "He not only has the respect of his teammates and the Baseball Coaching Staff, but he has the respect of our entire Athletic Department, Administrators, and our community as well.  He truly exemplifies excellence on and off the Baseball Field.
 
"I only wish I had one more chance to coach him on the Penn Baseball Field," Dikos said. "I know deep in my heart that he would trade this award in a second if he could have his senior year back for one last run at the State Title alongside his team mates."
 
The Gatorade Player of the Year program recognizes the nation's most elite high school student-athletes not only for outstanding athletic excellence, but also high standards of academic achievement and exemplary character.
 
Lynch's sister, former Penn standout Kristina Lynch, was named the Gatorade Girls Soccer Player of the Year in Indiana in the 2017-2018 school year. Kristina Lynch now plays women's soccer for Florida State and helped the Seminoles win the 2018 National Championship.
 
Lynch will graduate with the Latin Academic Honors distinction Cum Laude (4.25 grade-point average or higher on a scale of 4.0), and he has been accepted to attend the University of Notre Dame, where he plans to continue his academic and baseball careers.
 
As a member of Penn's Student-Athlete Leadership Council, Lynch has taken the lead in Penn's commitment to education-based athletics, creating and implementing lessons such as social media responsibility and how to take care of yourself and your teammates. He has helped organize events ranging from building community to freshmen student-athlete mentoring.
 
Boasting a fastball consistently clocked in the 85-90 miles-an-hour range, Lynch posted a 7-0 record and had a 2.86 earned-run average as a Freshman in the 2017 season and helped Penn reach the State Championship Game. He hit .350 and drove in 26 runs.
 
In 2018, Lynch finished the season with an 8-2 record and a 2.07 ERA. Lynch hit .456 and drove in 44 runs.
 
As a Junior in 2019, Lynch was 5-1 with a 1.61 ERA. He hit .330 and drove in 20 RBI's.
 
In his Kingsmen pitching career, Lynch was 20-3 in three seasons with a 2.18 ERA, striking out 201 and walking 79. He had a career batting averaging of .378 with 90 RBIs.