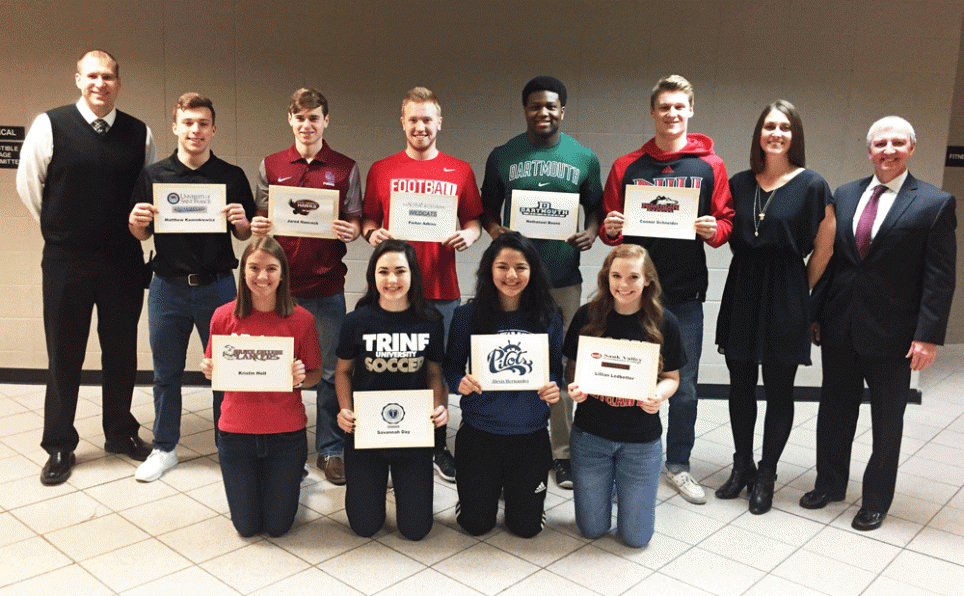 NCAA Signing Day features nine student-athletes from Penn High School
Student-Athlete

College

Sport

Penn Coach

Parker Adkins

Indiana Wesleyan

Football

Cory Yeoman

Nate Boone

Dartmouth

Football

Cory Yeoman

Jared Hancock

St. Joseph's

Football

Cory Yeoman

Matt Kominkiewicz

St. Francis

Football

baseball

Cory Yeoman

Greg Dikos

Connor Schneider

Northern Illinois

Football

Cory Yeoman

Kristin Holt

Grace

Golf

Dominic Demeter

Savannah Day

Trine

Girls Soccer

Jeff Hart

Alexis Hernandez

Bethel

Girls Soccer

Jeff Hart

Lillie Ledbetter

Sauk Valley

Softball

Beth Zachary
PARKER ADKINS
Indiana Wesleyan University
As a 6-foot-0, 200-pound force at linebacker, Parker Adkins helped continue a proud tradition for the Penn High School football program. Now, he will help start a football program at Indiana Wesleyan.
"I wanted to be a part of the first team at IWU, and start a new tradition with a good group of guys," Adkins said. "IWU allows me to play football while getting a Christian education, at the collegiate level. Another thing that attracted me was the brand new facilities they are putting in for football and a new stadium."
In 2016, Adkins had five tackles for loss, 3 interceptions, and 35 tackles for the Kingsmen.
A two-year starter for Penn's 'Wild Bunch' defense, Adkins helped lead the Kingsmen to a State runner-up finish in 2015 and a Semi-state appearance in 2016.
"Penn Football has matured me greatly and taught me how to act on and off the field," Adkins said. "Penn football as made me mentally stronger and physically more capable.
NATE BOONE
Dartmouth College
Nate Boone, defensive end for the Kingsmen, has decided to carry on his football career at Dartmouth College. Dartmouth is a private Ivy League school located in Hanover, New Hampshire. Boone was second QB sacks with 7 this season for Penn, adding 8 tackles for loss, and 7 QB pressures. He had 30 tackles and a caused fumble.
Boone was an impact player for the Kingsmen.
"I am excited for the opportunities that Dartmouth provides academically and athletically." Boone said, "I am also looking forward to a chance to play against my old QB, Cam Bohn." (ex-Penn quarterback Camden Bohn currently plays football at Harvard University)
Boone stands at 6-foot-3 and weighs 220 pounds. As he is one of the largest and strongest players on the team, he still manage to get a 4.7-second 40-yard dash time. Dartmouth will take advantage of Boone's size at speed on the defensive line.
"Work ethic, drive, great leader by example, on and off the field," Penn head coach Cory Yeoman said in describing Boone.
Yeoman believes Boone will thrive at Dartmouth, because he is "intrinsically motivated." "I am real excited to see what Nate does career-wise, but more excited to see what he does after he graduates from Dartmouth, and see what kind of man he will be. I know he is going to be a great dad. He will do great things in this world."
JARED HANCOCK
St. Joseph's College
A three-year starter, Hancock kicked three field goals and 47 extra points his senior season.
Hancock chose St Joe because, "The football team has had success the past few seasons and I can't wait to be part of it."
Hancock said that Penn football has helped him be ready for the next level.
"The coaches pushed me to become a better player on the field and in the weight room," Hancock said."
The special teams weapon for the Kingsmen is pursuing a life-long dream.
"Playing college football has been a dream of mine since I was a kid," Hancock said. "Now that I have the opportunity to have a fresh start and new teammates is great feeling."
​
MATT KOMINKIEWICZ
University of St. Francis
A 5-foot-8, 165-pound wide receiver, Kominkiewicz led Penn with 36 receptions for 545 yards and nine touchdowns in 2016. He also scored four touchdowns on punt returns and one touchdown on a kickoff return.
"I've been around Saint Francis since I was 11 years old watching my brother (Brandon) play," Kominkiewicz said. "I realized the football team was like a family. The football team has had a lot of success in NAIA, they won the 2016 NAIA National Championship.
Kominkiewicz started on Penn's baseball team last season for coach Greg Dikos, and was on the 2015 state championship baseball squad.
"I'm ready for the challenge," Kominkiewicz said. "I know the obligations of being a two-sport athlete, and I need to focus on my academics a little bit more and work harder in the weight room. Penn has definitely prepared me to compete at the collegiate level.
"Coach Cory (Yeoman) and Coach Dikos both have had their share of competing at the collegiate level, and they run practices like a college program would, pushing athletes to give their all, which will contribute to their readiness for the next level," Kominkiewicz said. "I'm excited for the challenge ahead of me, it's going to be a fun experience!"
CONNOR SCHNEIDER
Northern Illinois University
Penn defensive end Connor Schneider (6-foot-4, 210 pounds) has officially committed to Northern Illinois University to play football. Schneider was first-team all-Northern Indiana Conference and help Penn earn three conference titles, three Final Four appearances and one state championship game appearance in his career.
"I chose Northern Illinois because it was a great fit for me academically and for football," Schneider said. "It's a great opportunity it has always been a dream of mine to play Division I football."
Schneider rocked opposing quarterbacks for seven sacks in 2016, and had 11 tackles for losses.
"Northern Illinois has been a very successful program recently" Schneider said. "They have won many MAC Championships and went to the Orange Bowl recently, along with many other bowl games."
Schneider said that playing football at Penn is a great stepping stone to the competition he will face in the Mid-American Conference.
"Penn Football has given me the opportunity to play against many great teams and players, which will help me in college," Schneider said.
KRISTIN HOLT
Grace College
Holt earned first-team all-Northern Indiana Conference honors, and helped lead the Kingsmen to a state finals appearance.
"I chose Grace because I felt it was the best all around fit for me academically, athletically and spiritually," Holt said.
"Penn has prepared me to play collegiate golf by giving me an opportunity to compete in all of the tournaments which allowed me to improve my game to where I was able to be recruited to play at the next level," Holt said.
SAVANNAH DAY
Trine University
Day will continue her academic and athletic careers at Trine University.
Day has been a member of the Penn Girls Soccer program for four seasons, and was a senior leader on this past season's state championship team.
"I visited the campus last summer and fell in love with the atmosphere at Trine," Day said about choosing Trine. "The head coach and his coaching staff were the main deciding factors."
Day, who carved out a reputation as a lockdown, aggressive defender, also spoke about how much the Penn program helped mold her into a college caliber soccer player.
"The competitiveness in the Penn program makes every player better, and is one of the reasons Penn Girls Soccer consistently plays at the state level," Day said.
ALEXIS HERNANDEZ
Bethel College
Hernandez, who played in the Penn Girls Soccer Program for three seasons, will wear the Blue and White colors of the Bethel Pilots next season.
"It's an honor to get to play at the collegiate level," Hernandez said. "It's something I've always wanted to achieve as a soccer player.
"I decided on Bethel because I knew I would get a great intentional education in a smaller school. I also wanted to attend a school that would help build my faith. Bethel College is a school that meet all of those areas for me."
Penn coach Jeff Hart said that Hernandez will be able to make a significant contribution to the Bethel program.
"Alexis has a very deep understanding of the game," Penn Girls Soccer coach Jeff Hart said. "She has great vision on the field, and understands what plays need to be made from the midfielder position."
LILLIE LEDBETTER
Sauk Valley Community College
Ledbetter, an outfielder, played in 15 games for the Kingsmen softball that reached the state championship game last season.
"I chose Sauk Valley because as soon as I stepped on campus, I knew that this was where I wanted to spend my next two years," Ledbetter said. "The coaching staff is absolutely amazing and Sauk has a great nursing program."
Ledbetter will play in the same conference - the Arrowhead Athletic Conference - as her sister Emma, who plays for Kankakee Community College.
"I'm actually really excited for it!" Ledbetter said of playing against her sister. "I can't wait to see what the outcome of the game will be!"
Ledbetter said that Penn's academics and the softball program have been essential in her development.
"I would've never been able to reach my goal without the help of Penn Softball, to teach me how to work hard and stay disciplined and organized," Ledbetter said. "While at Penn, I maintained an overall 3.8 GPA and was on the high honor roll all four years."
Penn softball coach Beth Zachary said that Ledbetter will contribute greatly to the Sauk Valley program.
"Lillie has consistently been a quiet and focused leader for us," Zachary said. "She works hard and sets a great example for younger players in our program. We are looking for Lillie to do big things for us this Spring. Lillie's college team is lucky to have her; we are so proud of her!"