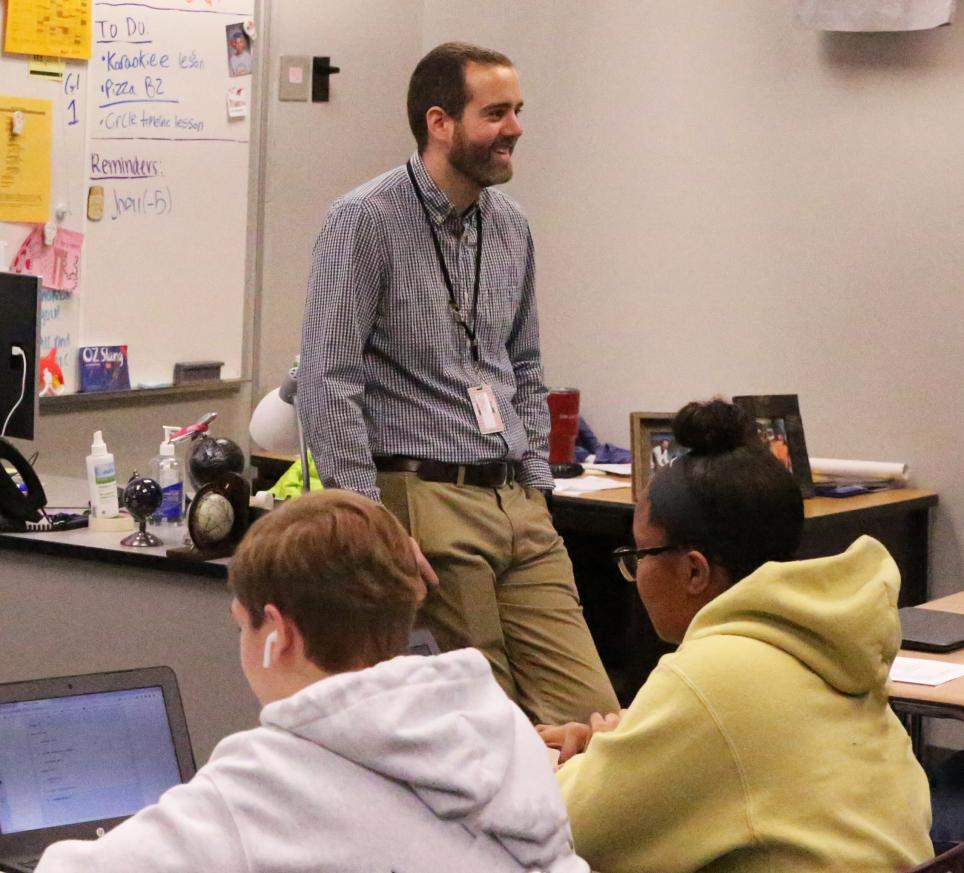 By OWEN WISEMAN/Student Reporter
Penn High School's long and storied athletic tradition will start a new chapter in the spring of 2019. The Kingsmen will field a Unified Track and Field Team! The announcement was made by Penn Athletic Director Jeff Hart in conjunction with March being Disabilities Awareness Month.
Unified Track and Field is the newest Indiana High School Athletic Association sport in the Champions Together format. It is partnered with Special Olympics. Unified Track and Field pairs students with and without intellectual disabilities who have the opportunity to compete for a varsity sport.
"P-H-M and Penn High School works diligently to create an inclusive culture for all students," Penn Principal Sean Galiher said. "Starting a Unified Track team is another example of providing a valued-add to the school experience for our students."
Penn will participate in three regular-season Unified Track and Field meets. The Kingsmen will open the Unified Track and Field season on Wednesday, April 24, at Elkhart Memorial, the 2018 State Champion. That meet is scheduled to start at 6 p.m. Penn will then compete at Goshen on Friday, May 3 (5:30 p.m.). The lone home meet will be on Wednesday, May 8 (5:30 p.m.) when the Kingsmen host Elkhart Central. The Kingsmen will also participate in the IHSAA State Tournament, starting with the Sectional on Saturday, May 18, at Bremen (1 p.m.).
Hart also announced that Bennett Blazo will be the head coach of Penn's Unified Track Team. Pam Walters, Karen Tagliaferri, Noah Lipsky and Francisco Cardoza are assistant coaches.
Students interested in participating in Unified Track and Field can see Coach Bennett Blazo in Room 123 or go to the Penn Athletic Department. The team will have two practices a week.
Hart said that he is excited for Penn students to have the opportunity to be involved in Unified Track.
"It's an excellent idea for many kids to compete in an atmosphere with very little pressure," Hart said. "I love the inclusiveness of the idea, and it gives many kids with hardships the opportunity to compete for their school and family. It's also a great way for other kids to be mentors."
Blazo, a Pickerington, Ohio, native, is a graduate of Indiana-South Bend. He helped lead the Indiana-South Bend running club and was an assistant coach for Mishawaka High School Cross Country and Track and Field.
"Team sports bring people together and Unified Track and Field does just that," Blazo said. "Students will learn quickly with Unified Track that training together and playing together is a quick path to friendship and understanding.
"It is exciting that Penn has made the decision to add Unified Track to its amazing athletic program," Blazo said. "It opens the door for everyone at Penn to participate in something very special and develop meaningful relationships with other each other that would last a lifetime."
Blazo's background includes involvement with Special Olympics in St. Joseph County in both Basketball and Track and Field.
"I have so much passion for students who may have disabilities and students who do not have disabilities," Blazo said. "When I heard that Penn was going to add Unified Track and Field as a sport for the school, I felt like it was a calling for me to come join this program and make it into something very special."
Hart said that Unified Track and Field may be just the beginning of Penn's commitment to inclusive sports.
"We are absolutely looking into the idea of having more unified sports at Penn in the future," Hart said. "The IHSAA is expanding unified sports each year with more chances for students to compete and have fun."