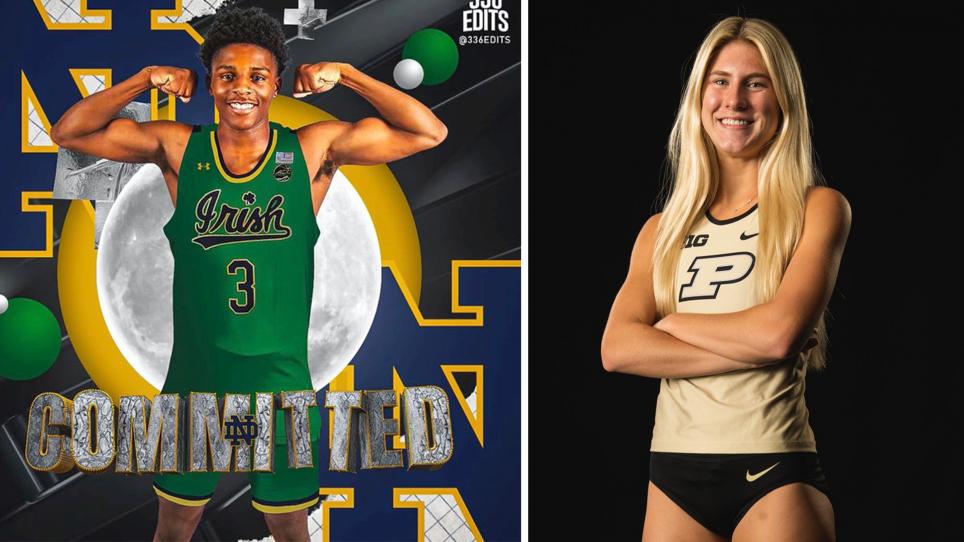 Every year, approximately 40-50 Penn High School student-athletes go on to compete in athletics at the collegiate level. A majority of these students receive at least some scholarship money that helps open doors to attend a post secondary school that they otherwise might not be able to attend.
There are four national signing days throughout the year in order to accommodate the seasonality of sports. The first signing day of 2022-23 is on Wednesday, November 9th, 2022.
This week 11 Penn student-athletes will "sign on the dotted line," thus committing them to their school of choice.
Headlining this group is Basketball Player Markus Burton and Cross Country & Track Athlete Julia Economou.
Congrats to Penn Boys Basketball Player Markus Burton on your commitment to Notre Dame Men's Basketball !!!! pic.twitter.com/rDKQygMq3G

— Penn Kingsmen Sports (@The_Pennant) July 29, 2022
On why Markus Burton chose Notre Dame, he said "I feel like being home at Notre Dame is great because I have the whole 574 supporting me … Coach [Al] Rhodes was a part of my growth throughout the years I was at Penn and I thank him a lot."
Julia Economou is another Penn standout who, although she excelled at Basketball, will be running at Purdue.
GIRLS XC: Penn races to @NIC_athletics Championship !!!! Kingsmen place 7 in the Top 10.

2. Mary Eubank 18:52.34, 3. Julia Economou 19:15.83, 4. Ellie Stabnik 19:37.38, 6. Ari Balinnang 19:50.90, 7. Belle Rebolloso 20:13.23, 8. Morgan Collins 20:25.97, Aubrey Morgan 20:46.89. pic.twitter.com/LxxLPA0rV4

— Penn Kingsmen Sports (@The_Pennant) October 1, 2022
Economou said she chose Purdue because of the program and the team community. "On my visit, the girls that would become my future teammates made me feel like a part of the team, and I loved the enthusiasm and dedication they showed to the sport and the team," Economou said. "Additionally, Coach Oliver and the rest of the Coaching staff amazed me in both their coaching methods and the way they cared about the athletes wellness and success in and outside of the sport."
Julia and Markus will be joined at the signing table by 9 other Penn Seniors. Of the 11 who will be signing, 7 will be competing at Division 1 schools.
Markus Burton, Boys Basketball (Notre Dame)
Julia Economou, Girls XC & T&F (Purdue University)
Macy Hatkevich, Volleyball (Toledo)
Ian Hernandez, Baseball (Marietta College)
Kiley Hinton, Softball (Austin Peay)
Mackenzie Konanz, Girls Wrestling (Aurora University)
Payton Ladson, Girls Soccer (Holy Cross)
Adam Lehmann, Baseball (Western Michigan)
Zoe Montgomery, Girls Lacrosse (Manhattan College)
Emin Penic, Soccer (Holy Cross)
Brayden Schoetzow, Baseball (Wright State)
For complete biographies of all 11 student-athletes click on the image below!