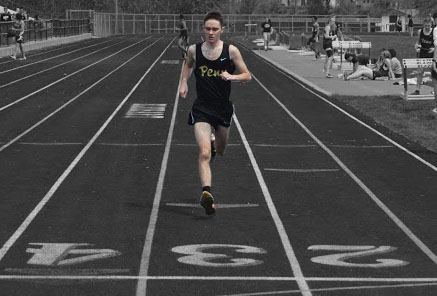 It was obvious that as Penn High School track athlete Tyler Davis ran toward the white finish line for lane three in the Northern Indiana Conference Junior Varsity meet on Saturday, May 7, that the victory was already won.
By the time Davis crossed the finish line in his first race since undergoing brain surgery for a golf-ball sized tumor in his cerebellum five weeks previously, tears were welling up in the eyes of family members and some of his teammates.
After successful surgery and treatment for stage one cancer, Davis embraced physical, speech and education therapy.
A time and place far below Davis' standard didn't matter.
Saturday's run in the 400-meter race was a triumph of Davis' spirit and determination.
Click here to see WSBT reporter Adam Derengowski's report on Tyler. Click here for a photo gallery of Tyler Davis at the NIC JV track meet.
"I wasn't sure I could run today," said an exhausted Davis. "But a lot of my teammates were like, 'I'd give up my spot to let you run.' That gave me the motivation to get out there.
"Even if I had to crawl to that finish line, I would have done it."
Davis, who usually competes for Penn's varsity, didn't get the OK to run the one-lap race until Friday night. Penn coach Jon Carroll contacted NIC and Elkhart Central officials to get Davis entered in the meet, although the entry deadline had passed.
"It was great," Davis said. "I was just so thankful for my coaches to let me have the opportunity to run, for my teammates believing in me.
"When I crossed that finish line, it was like, I can do this. Things can get back to normal, and I'll be OK. It was great feeling to be with my family and my friends. My team was there for me … it was so emotional. I was close to bawling. I was trying to hold it in.
"I don't know my time. It didn't matter to me what place I finished. I knew I was going to be last. But when I crossed that finish line, it didn't feel like I got last."
As soon as he crossed the finish line, Davis was hugged by his twin brother, Troy. Then came hugs from teammates, parents and coaches.
"It meant a lot to see Tyler back on the track," Penn junior Nate Boone said. "He's taught us to never give up, to always keep going. A lot of people wouldn't have come back, but he did come back, and he's been an inspiration to us. It was great that he kept running, and he didn't walk. He pushed through. He's always been a tough kid."
Davis, who is a junior, said that he appreciated all of the efforts on his behalf.
"I've been so grateful for everybody who has been supporting me … my doctors … everybody who has helped me along," Davis said. "I know it couldn't have been easy for them. It certainly wasn't easy for me. I feel like it was tougher on them just to deal with me. I'm so grateful. I will never take my family, my friends, anybody who's been there for granted. I can never take track for granted."
Penn's track team and Penn High School has rallied around Davis.
People surrounding Penn have shown support for Davis and encouraged him along the way. He showed incredible strength during this time and inspired the track team to rally around him.
Davis has been an inspiration to the team, as well as the whole school, and his twin brother Troy in particular. Running for his brother, Troy Davis set a personal record in the 800.
Penn track coach Jon Carroll said that Tyler Davis has been a leader because of his strong work ethic.
"Since I became the head coach two seasons ago, Tyler has consistently been one of the hardest workers on the team," Carroll said. "He was always willing to go in whatever race we needed him in, and he always worked hard in the offseason as well."
Carroll said that Troy Davis has also shown great toughness during his brother's ordeal.
"One of the coolest things that I saw this entire track season, was that the day after the surgery, Tyler's twin brother Troy managed to put aside everything else going on and compete against Warsaw," Carroll said. "I know it was inspirational for the team and it was a great moment of this season."
As Tyler Davis continues to work toward a full recovery, the Penn Track team will continue to send its support and work to improve and race for him. Tyler Davis displayed courage that is seldom found by anyone, much less a high school student. The rallying of his team showed how athletics can truly impact lives and bring people together through hard times.