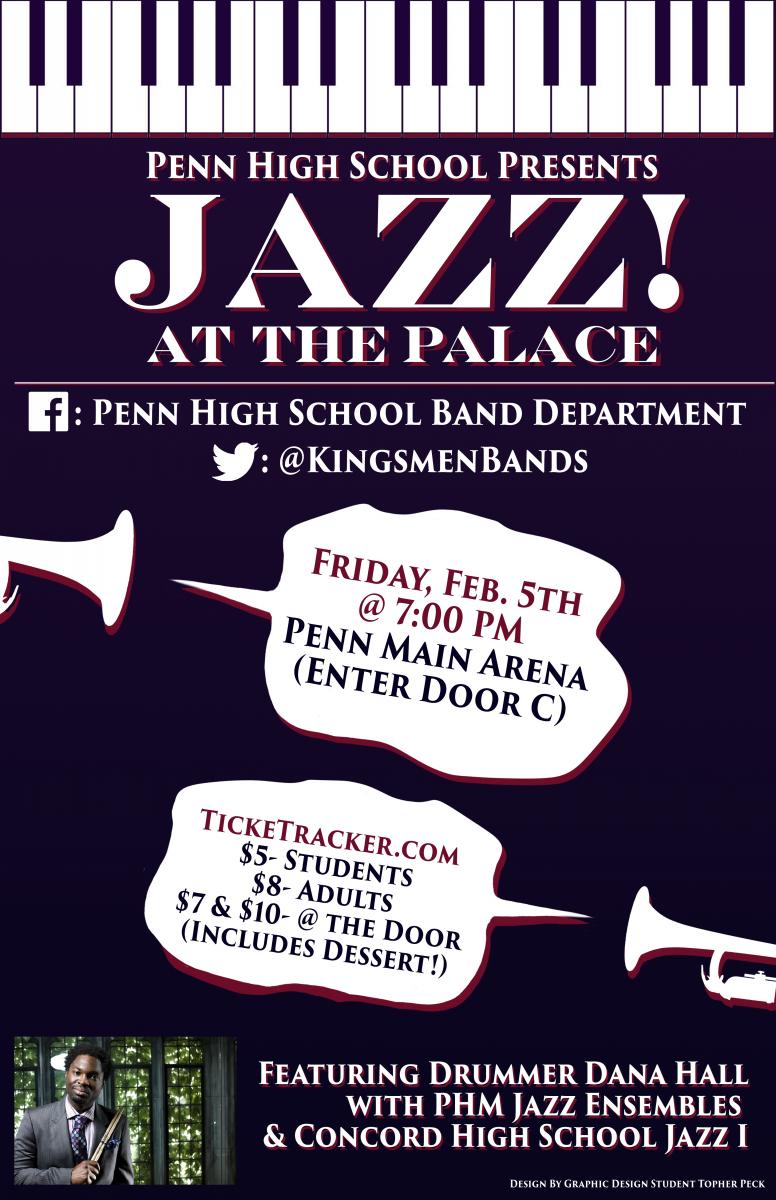 By ARIELLE KIRSCH
Student reporter
At 7 p.m. on Friday, Feb. 5, relaxing and fun jazz music will sail through the Main Arena of Penn High School, as music lovers settle down for an exciting evening of Jazz at the Palace.
Showcasing ensembles from Penn High School, Discovery Middle School, and Concord High School, the program will feature world-famous drummer Dana Hall, a professional musician since 1992 who has performed on six continents. Click here to watch a video of Dana Hall performing.
Included in the purchase of $7 student tickets and $10 adult tickets are free desserts for all who attend Jazz at the Palace. The performances will feature contemporary and traditional pieces by composers including Duke Ellington and Alan Baylock.
Originally billed as "Jazz a la Mode" in the Penn High School cafeteria in 1995, Jazz at the Palace has now been moved to the Main Arena of the high school. "As the event grew, especially over the past 7-8 years, we decided a larger scale format with the opportunity for better lighting, sound and atmosphere was the next step in making this a special event for the community," said Bill Leather, a music instructor for the bands performing at Jazz at the Palace.
Overall, Jazz at the Palace has been very well received by the P-H-M community.
"We typically bring in anywhere from 450-500 people for this event. The community seems to enjoy the event," said Leather. "Both Dr. Thacker and Mr. Hope said last year's event was 'one of the best events of any kind (they) have ever seen at Penn High School.'"
Tickets can be preordered for $5 for students and $8 for adults, by clicking here.