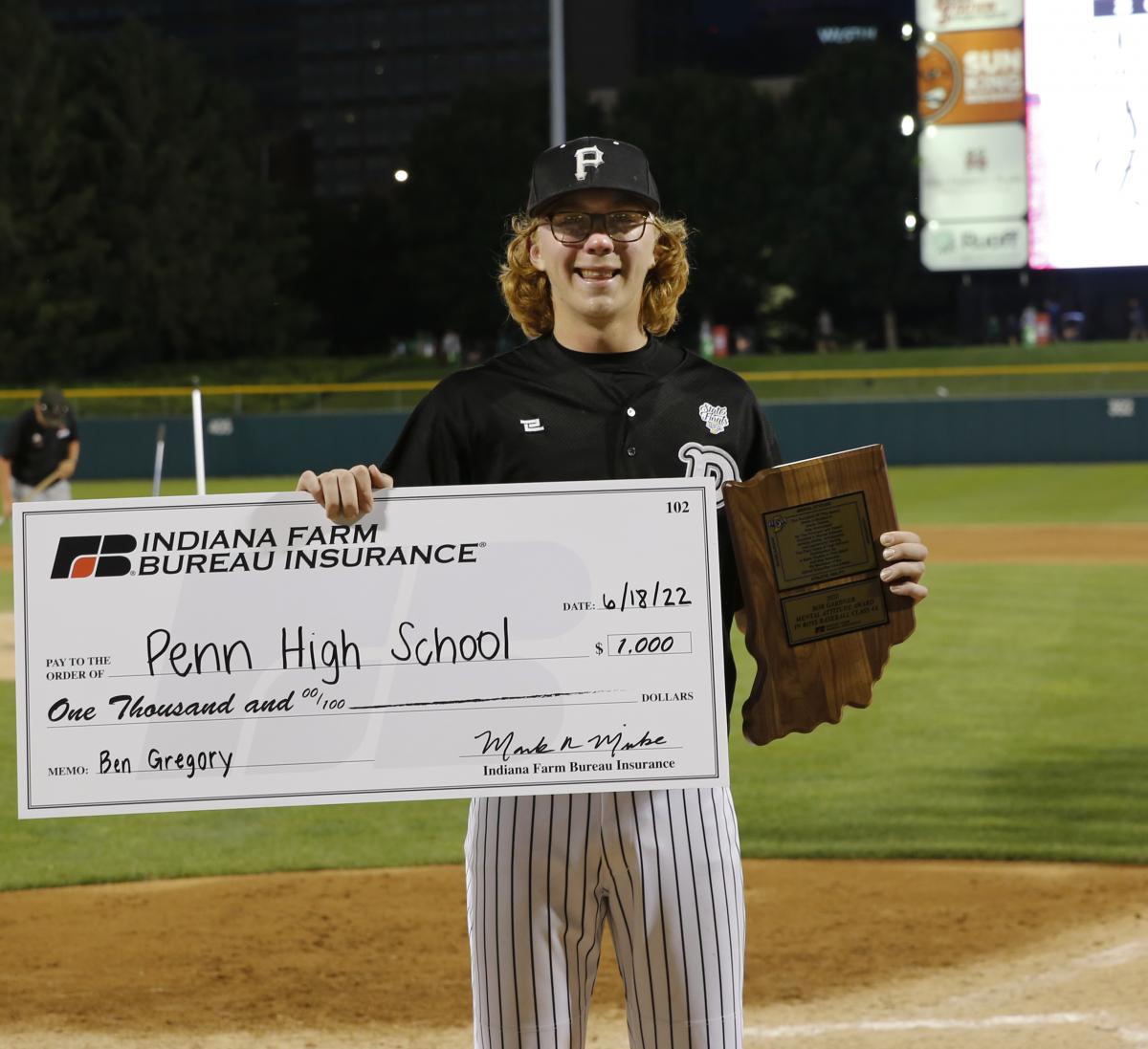 Penn's Ben Gregory won the 2022 Baseball Mental Attitude Award.
The IHSAA Executive Committee presents the Mental Attitude Awards to the outstanding senior participant in each classification of boys and girls state championships.
The recipients of these awards, who were nominated by their principals and coaches, must excel in mental attitude, scholarship, leadership and athletic ability in basketball. Presenting sponsors, which include the Indianapolis Colts, the Indiana Pacers and the Indiana Fever, donate a scholarship to each school in the name of the recipient.
Penn student-athletes have been named IHSAA Mental Attitude Award Winners 26 times:

1983-84, Football (4-A), Mark Plencner
1989-90, Football (5-A), Eric Kline
1992-93, Girls Cross Country, Jill Nace
1995-96, Football (5-A), Matt Geesman
1996-97, Football (5-A), Scott Becker
1997-98, Baseball (4-A), Blake Gaugler
1997-98, Football (5-A), Brad Monhaut
1999-00, Boys Soccer, Matthew Abbott
2000-01, Football (5-A), Justin Smith
2002-03, Girls Tennis, Lauren Woodward
2003-04, Girls Golf, Casey North
2003-04, Football (5-A), Wade Iams
2004-05, Girls Cross Country, Laura Carr
2005-06, Boys Tennis, Chris Jordan
2010-11, Girls Basketball (4-A), Ashley Lutz
2011-12, Girls Golf, Deanna Song
2011-12, Volleyball (4-A), Kaitlyn Hickey
2011-12, Football (5-A), Patrick Adkins
2014-15, Wrestling, Chase Osborn
2014-15, Baseball (4-A), Tim Lira
2015-16, Soccer (2-A), Kamra Solomon
2015-16, Football (6-A), Camden Bohn
2015-16, Softball (4-A), Alyssa Griman
2016-17, Soccer (2-A), Alexis Marks
2016-17, Baseball (4-A), Trevor Waite
2017-18, Soccer (3-A), Kristina Lynch
2021-2022, Baseball (4-A), Benjamin Gregory